The Word Meghan Markle Said Over 200 Times In Her First Podcast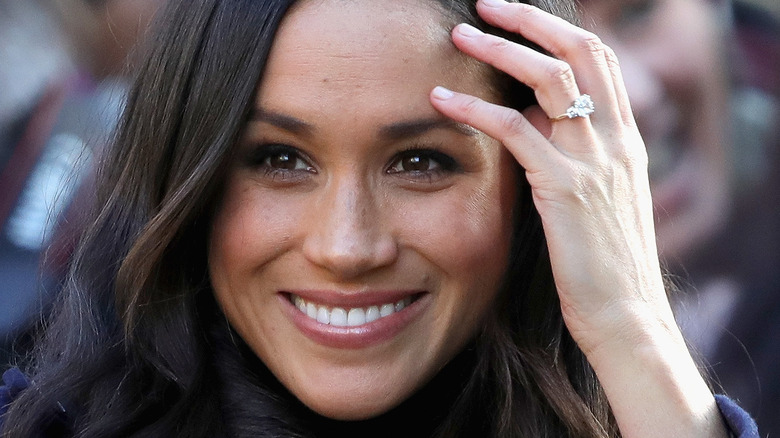 Christopher Furlong/Getty Images
Earlier this year, Meghan Markle found herself in hot water with Spotify, partly because the Duchess of Sussex hadn't lived up to the expectations of her multimillion-dollar deal with them. As Newsweek reported, despite signing an agreement in December 2020, to date Markle and her husband Prince Harry had released just one short podcast episode. Meanwhile, the former "Suits" star chatted with feminist icon Gloria Steinem for Vogue, which seemed an odd choice given she was supposed to be creating her own content.
Luckily, her long-gestating podcast project, "Archetypes," has finally arrived. Per Hello!, Serena Williams was the first of many celebrity friends the duchess will have on her podcast, with the two women discussing all facets of being a woman of color in the public eye, with a particular focus on how their ambition has been used against them. Naturally, the Duchess of Sussex also found time to relive her overwhelmingly negative experiences with the royal family, sharing a shocking anecdote about a fire in Archie's nursery.
Although The Firm initially attempted to discredit the story, a source confirmed to South African outlet The Citizen that it really did happen. However, Markle is now being criticized for something else she said on the podcast that could also put her future as a legitimate commentator in jeopardy.
The Duchess of Sussex was reportedly too focused on herself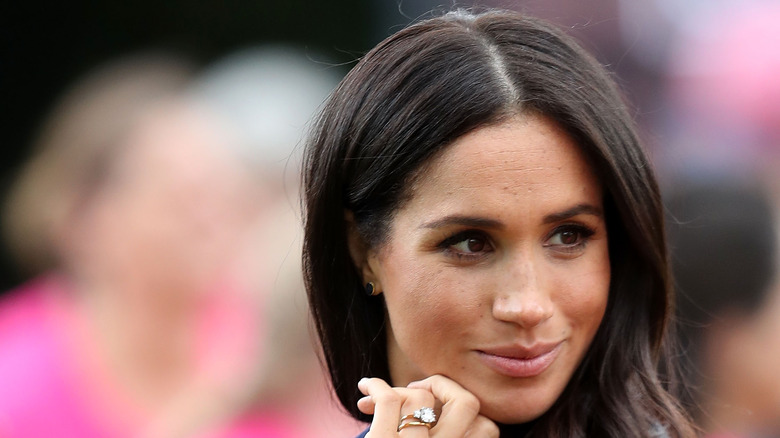 Chris Jackson/Getty Images
A royal expert is warning Meghan Markle not to be so self-centered during future episodes of her podcast. According to Express, Kinsey Schofield claimed during a recent appearance on GB News that the Duchess of Sussex dominated the conversation when she sat down with Serena Williams, to the detriment of the show, since most listeners were likely tuning in to hear about the tennis icon's struggles with adversity rather than Markle's.
The aim of "Archeytpes" is reportedly to "investigate, dissect, and subvert the labels that try to hold women back." But, as the royal commentator pointed out, there's little room for those important conversations if Meghan remains solely focused on increasing her own profile. Schofield noted, "I highly doubt Mariah Carey will give her as much time to talk about herself as her friend Serena Williams did," which could spell trouble for the former actor.
As the showbiz reporter asserted (via Express), the podcast presents a huge opportunity for Meghan to establish herself as an activist. Unfortunately, "She said the word 'I' over 200 times in this 50-something minute podcast. So, obviously, she wants the focus to be on Meghan." It's worth noting Williams paid tribute to her beloved friend on Instagram, following her appearance on "Archetypes," gushing that she "loved talking about so many important topics" with Meghan and encouraging followers to listen.
Meghan Markle's podcast has been savaged by reviewers
Max Mumby/indigo/Getty Images
The majority of reviews for the first episode of "Archetypes" were scathing, with several even echoing Kinsey Schofield's assertions about Meghan Markle being more interested in selling her personal brand than having a proper discussion with guest Serena Williams. The Telegraph claimed, "Meghan's podcast is just another way she can talk about herself," even contending that, at certain points, it feels like the duchess is "interviewing herself." 
The Times, meanwhile, reassured readers that they listened "so you don't have to." As reputation management expert Mark Borkowski explained to iNews, there's a "generational divide" in how the former "Suits" star is perceived since, despite the negative reviews, "Archetypes" has topped the Spotify charts, meaning Meghan is even giving Joe Rogan a run for his money. He argued, "Older traditionalists don't get Meghan but Gen Z does." Borkowski continued, "There are millions of young people across the world who share Meghan's values and they want to hear her unfiltered and her celebrity mates." 
The problems will only arise if she can't keep up with the constant influx of A-listers, or if the duchess wants to stop discussing her time with the royal family, which is another major pull for audiences. "Meghan needs to build a strong creative team around her. She has to move on and reinvent herself," Borkowski suggested. Whether that means taking a step back and letting somebody else have the floor remains to be seen.