The Truth About Tessa Thompson's Sexuality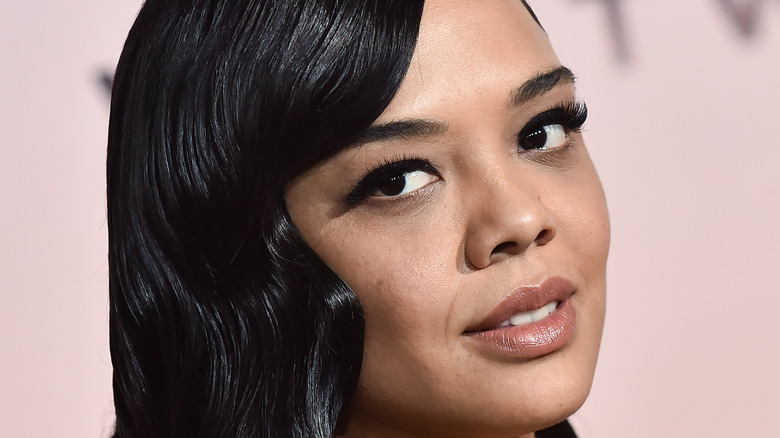 DFree/Shutterstock
Tessa Thompson has been part of the Hollywood scene for a long time. But, in a lot of ways, she still feels, as The Guardian notes, like "a rising star." After initially breaking out in "Veronica Mars," opposite Kristen Bell, all the way back in 2005, Thompson has since become a Marvel star as Valkyrie, featured opposite Michael B. Jordan in the "Rocky" reboot "Creed" and the sequel "Creed 2," and returned to TV in the sci-fi mega-hit "Westworld." 
There was a big gap between her breakout moment and Thompson's recent re-emergence in the industry, however, with the actor explaining that she got sick of being offered the same one-dimensional roles over and over again. Thus, she bided her time until she "was going to burn for something." Thompson's stunning net worth demonstrates how successful her approach has been, even if the Los Angeles native feels there's still plenty more left to do. 
This is especially true when it comes to representation in Hollywood, she told W magazine. Still, the "Passing" star did acknowledge how special it is that she's "been able to hang out in so many different genre spaces and to make movies both big and small." 
Thompson represents even more of a fascinating first because, aside from being a prominent Black woman, she's also an LGBTQ+ rights activist from the inside out.
The actor fought to keep one of her most famous characters bisexual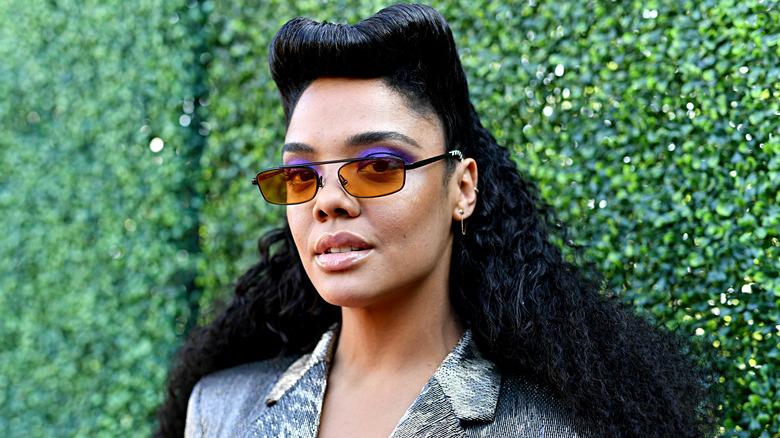 Emma Mcintyre/Getty Images
When Tessa Thompson took on the role of fan-favorite comic book character Valkyrie, she made sure that her queer identity was protected. While sharing a piece on Valkyrie's bisexuality on Twitter, the actor confirmed, "Val is Bi in the comics & I was faithful to that in her depiction. But her sexuality isn't explicitly addressed in 'Thor: Ragnarok.'" 
As Yahoo! Entertainment notes, Thompson herself is openly bisexual, and, as she asserted, it's about time superheroes represented her community. She argued, "There's this real want in audiences to see characters be very clearly queer or LGBTQIA inside these spaces. And I think it's hugely important to have representation." 
She clarified, however, that sexuality isn't everything. "And also as humans I think that we are not defined by our sexuality, and by who we love," she said. "And so sometimes I think to hang a narrative completely on that is a way of actually diminishing the humanity of the character. Because you don't allow them to be anything else."
Per Time, fans are constantly gushing over how much Valkyrie means to them and how important it was that Thompson took a stand for her, too. The actor doesn't judge her contemporaries for staying in the closet to protect their careers, though. "I don't begrudge anyone who wants to keep that separate from their professional life," she said. "There's not just a perceived risk of coming out in Hollywood. There's a real one." 
Tessa Thompson was rumored to be in a relationship with singer Janelle Monáe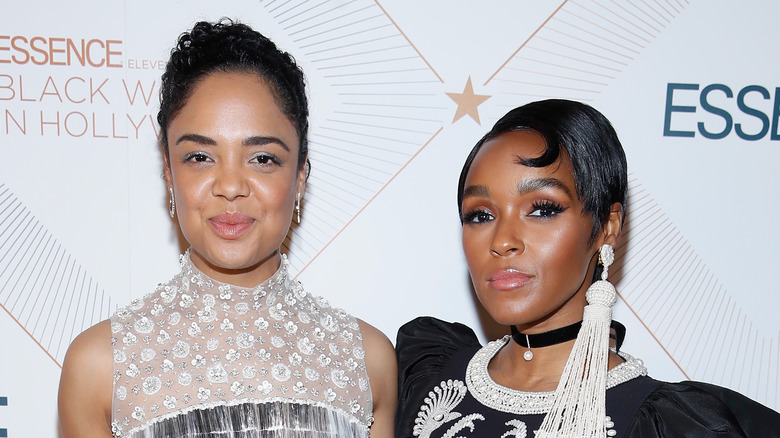 Randy Shropshire/Getty Images
As Porter points out, Tessa Thompson was front and center in the promotion of Janelle Monáe's proudly Sapphic "Dirty Computer" record. But she wouldn't confirm or deny rumors that they were in a romantic relationship. 
"It's tricky, because Janelle and I are just really private people and we're both trying to navigate how you reconcile wanting to have that privacy and space, and also wanting to use your platform and influence," Thompson explained. 
The actor stated that her family has no issue with her bisexuality. "I'm attracted to men and also to women," she said. "If I bring a woman home, [or] a man, we don't even have to have the discussion." 
Thompson wants every member of the LGBTQ+ community to find that same love and acceptance, which made her wonder whether declaring her status with Monáe would help move the needle in the right direction. "We love each other deeply," she said. "If people want to speculate about what we are, that's okay. It doesn't bother me." 
Moreover, as the "Thor: Love and Thunder" star informed InStyle, she wants to help create opportunities for other women of color and queer people through her production company. "Because, frankly, I don't belong in every narrative," she said.
For the time being, though, playing an openly queer superhero has already helped fans all over the world accept who they are (via Variety).