Hallmark Star Lacey Chabert Reveals Her Favorite New Co-Star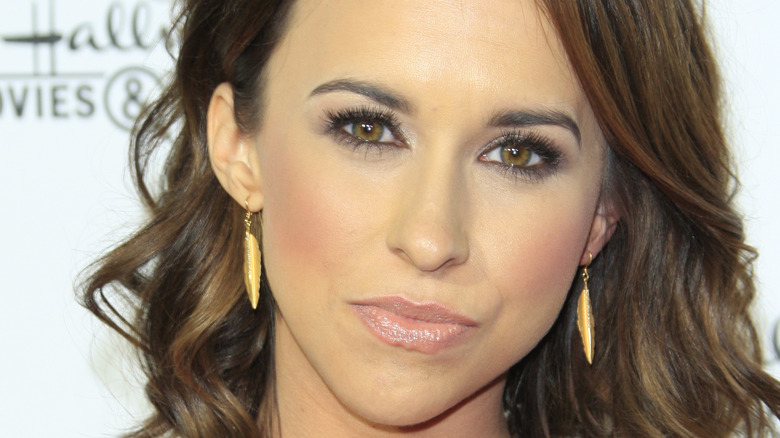 Joe Seer/Shutterstock
If you're a fan of the Hallmark Channel, you definitely know Lacey Chabert. If you're not, you almost certainly recognize Lacey Chabert's face and even her voice. You may know her from her role as Claudia Salinger on "Party of Five" or as the famous Gretchen Wieners in "Mean Girls", but you also may recognize her voice from some of her voice acting roles, like "The Wild Thornberrys" or "Family Guy," among others.
Lacey Chabert has also starred in many, many Hallmark movies. In fact, since 2010, she's starred in thirty Hallmark movies, and it's certain that there will be more to come when the holiday season rolls around (via QC Approved). With that many Hallmark movie under her belt, Chabert has definitely had her fair share of costars. Yet, recently the star shared an Instagram post that reveals that she actually has a favorite among all of those scene partners, and it's not who you'd expect (via Instagram).
Lacey Chabert's sweet Instagram post
Okay, so Lacey Chabert's new favorite costar definitely had a leg up on the competition — two legs to be exact. Chabert made an Instagram post in honor of her latest Hallmark Channel original movie, "Groundswell," captioning the pic, "#Groundswell is premiering this Sunday on @hallmarkmovie so I thought I'd share some pics from set with you over the next few days. The cast was so wonderful, but I have to say my favorite costar is pictured in the 4th photo if you swipe left."
While the first photo on the carousel featured the movie's other romantic lead, Ektor Rivera, the fourth photo in question actually showed Chabert with another star from the movie who just so happens to be a super cute dog. We all know that Chabert's famous "Mean Girls" character, Gretchen Weiners, couldn't "make fetch happen," but we have a feeling that Chabert makes fetch happen IRL whenever she gets a chance. She's a self-proclaimed animal lover and major supporter of the American Humane Society (via YouTube).
While a dog actor is her current favorite costar, there's another Hallmark Channel star that Lacey Chabert dreams of working with: Holly Robinson-Peete. Chabert told E! News, "Holly Robinson Peete, I just adore. We have tried to put some stuff together and I hope we get the chance to work together soon."
What's next for Lacey Chabert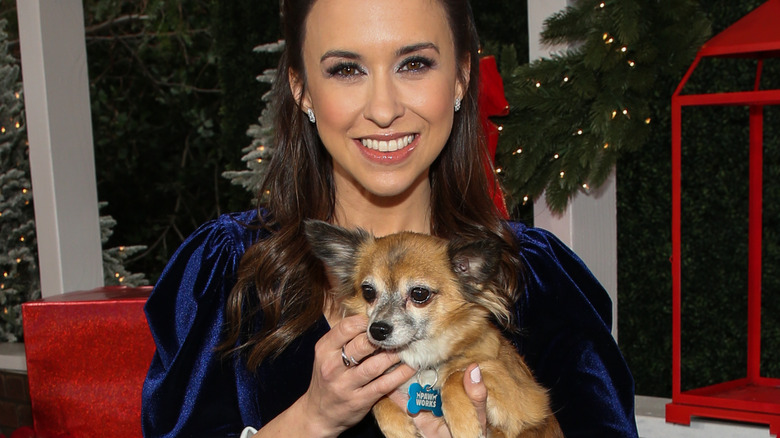 Paul Archuleta/Getty Images
Besides the inevitable Lacey Chabert x Holly Robinson-Peete collab that we're now all hoping for, what does Chabert have coming up next? Apparently, the answer is a lot more Hallmark movies. Per Deadline, in February 2022, Chabert made a multi-movie deal with Crown Media Family Networks (aka the company that owns The Hallmark Channel). For the next two years, Chabert will star in and executive produce multiple movies for The Hallmark Channel.
In a statement, the EVP of Programming at Crown Media Family Networks Lisa Hamilton Daly explained why The Hallmark Channel wanted to strike up a deal like this with Chabert, saying, "Lacey's warmth, talent, relatability, and creative sensibilities have endeared her to millions of Hallmark viewers for more than ten years, making her one of our most in-demand stars." 
The Hallmark Channel is known for its holiday content, especially its popular Countdown to Christmas, which usually starts as early as October (via Hallmark Channel). We're sure that we'll be seeing plenty of Lacey Chabert once the holiday season rolls around, and hopefully she'll be accompanied by another doggy costar who she can "make fetch happen" with.