Are Jill And Joe Biden Compatible Based On Their Zodiac Signs?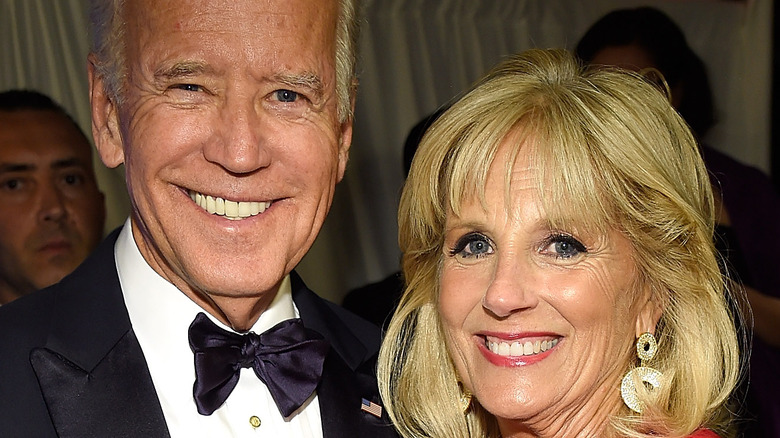 Kevin Mazur/Getty Images
President Joe Biden's love story with his wife, Dr. Jill Biden is sweet, emotional, and a bit heartbreaking. When the couple first met during a blind date set up by Joe's brother, per Brides. However, it wasn't an easy road for the future president to meet Jill. Three years prior to their first date, the unthinkable happened. Joe received a devastating phone call revealing that his first wife Neilia and their baby daughter Naomi had been killed in a car accident. This left the then-senator of Delaware a single father to his sons, Beau, 4, and Hunter, 3, per Oprah Daily.
Joe and Jill hit it off and quickly began a relationship. Jill revealed in her memoir "Where The Light Enters" that she would often help Joe with his parenting duties which enabled her to bond with his sons before the couple were married in 1977. "She gave me back my life. She made me start to think my family might be whole again," Joe wrote of his wife in his own memoir "Promises to Keep" (via People).
The Bidens have opened up about what makes their marriage work, revealing that they are very supportive of each other and are able to know when to give and take in the relationship, per She Knows. They even have a unique way of solving their arguments (via Harper's Bazaar).
While Joe and Jill certainly seem compatible, do their zodiac signs confirm that they're a perfect match?
Joe's zodiac sign is Scorpio, while Jill is a Gemini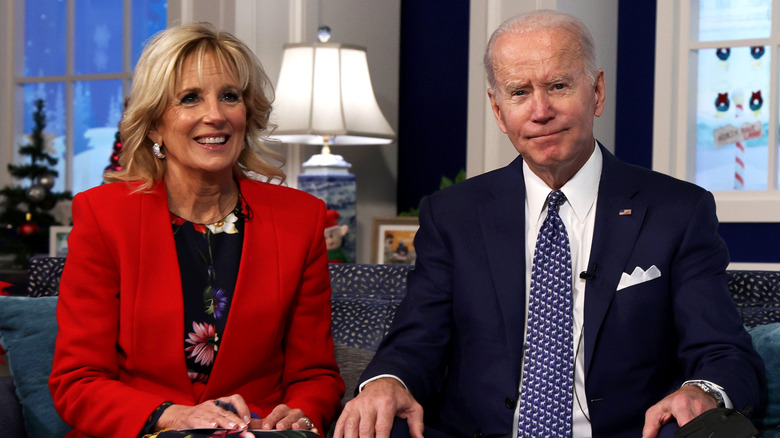 Alex Wong/Getty Images
President Joe Biden was born on November 20, 1942, which makes his zodiac sun sign Scorpio (via Astro Charts). Scorpio men are known for having some very strong traits, such as being goal-oriented and very intelligent, per Thought Catalog. The water sign has a reputation for being hard working and persistent. They won't give up on their hopes and dreams until they achieve them, and it seems that's what Joe has done when it comes to his political career. Male Scorpios are also said to be very honest, which can sometimes come across as rude or brutal in the eyes of others. However, their confidence gives them the power they need to say whatever they feel is right.
Meanwhile, Dr. Jill Biden was born June 3, 1951, making her a Gemini, per Astro Theme. Female Gemini are said to be inspiring to others as they have a knack for enjoying life to the fullest and being able to see the beauty around them (via Astrology.com). The air sign is also a great communicator and a people person, and can have deep conversations with anyone around them as they love to learn about others lives and experiences. Gemini women are also known for their love of exploration and freedom. They're often intelligent to the point where they'll get bored if they're not keeping themselves busy.
Joe and Jill Biden seemingly have much in common, but do their zodiac signs prove they're compatible partners?
Joe and Jill Biden are a zodiac power couple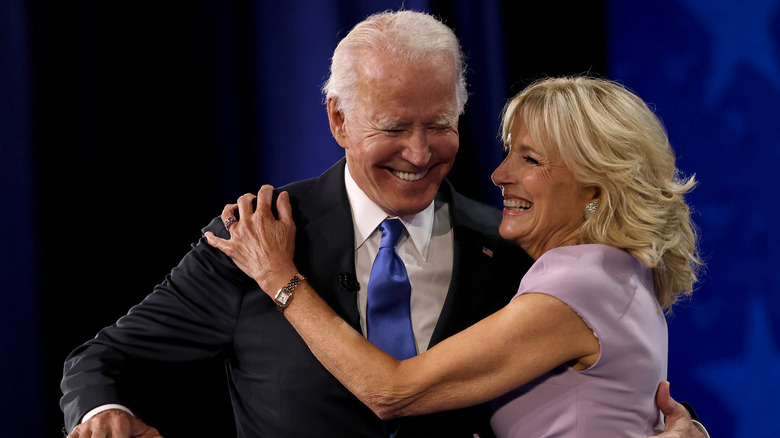 Win Mcnamee/Getty Images
A Scorpio and Gemini match like President Joe Biden and First Lady Dr. Jill Biden can prove to be very intriguing (via SunSigns.org). Gemini women are said to be very engaged by a Scorpio man, while he's said to find her creativity and intelligence charming. According to Elite Daily, the Bidens' zodiac signs are very compatible and make them a powerful couple. However, they aren't without challenges as trust and setting limitations can prove to be tricky for people born under their signs.
Joe and Jill also make a great match because of the alignment of the planets in their birth charts. Jill's Pluto alignment paired with Joe's Mars is said to be a strong and motivational combination, per Women's Health. "[They] have the ability to focus on anything they set their minds to," astrologer Rachel Lang tells the outlet. The astrologer goes on to reveal that while Jill and Joe's zodiac signs may often trigger the other's temper, and that it's important that the power couple remember to have fun together as well as help each other in their work.
It seems that Joe and Jill Biden really do make a compatible pair, and it's no wonder that they've celebrated more than 40 years of marriage together and still seem to be going strong.