What We Know About Jane Fonda's Cancer Diagnosis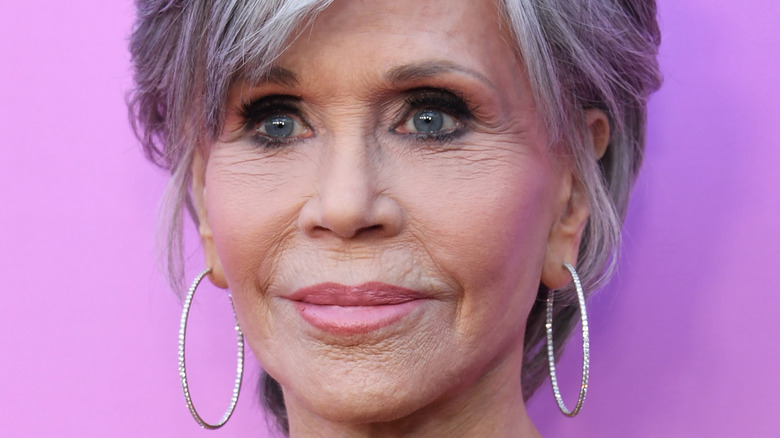 Jon Kopaloff/Getty Images
Jane Fonda is best known for her revolutionary home workout videos throughout the 1980s and 1990s, as the character of Grace in Netflix's "Grace and Frankie," and for her work as a committed activist. In fact, Fonda has used her platform as a celebrity to protest and support a number of different causes over the years. In the 1970s, she protested the Vietnam War, and after her 1972 visit to North Vietnam, she earned the nickname "Hanoi Jane" — and some thought her actions were treasonous, per The Washington Post. More recently, Fonda helped start "Fire Drill Fridays" in support of tackling climate change, and in 2021 she called out Hollywood at the Golden Globes to work on greater inclusion and diversity. And, as for the money she earned from selling nearly 17 million workout videos, the actress has donated much of it, according to CBS News.
Fonda has lived a full life, and at 84 years old, she's still going strong. The award-winning actress has talked candidly about health and aging; on CBS News she talked about not being able to be as physically active as she used to be after having her knees and hips replaced, and said she knows she's "closer to death. And it doesn't really bother me that much." Now, Fonda has shared her latest health update with the world. 
Jane Fonda has been undergoing chemo for six months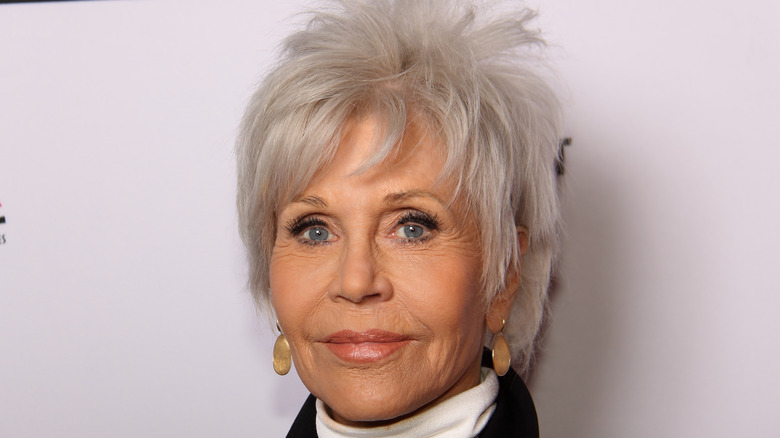 Serge Rocco/Shutterstock
In a long Instagram post, Jane Fonda revealed that she has been diagnosed with non-Hodgkin's Lymphoma and has begun chemotherapy treatments. "This is a very treatable cancer. 80% of people survive, so I feel very lucky," Fonda wrote, adding that she has been undergoing "chemo for 6 months and am handling the treatments quite well."
The actress also acknowledged the privilege she has of having health insurance and quality health care, which not everyone does. She also used the post to advocate for the causes she supports, writing, "I will not allow cancer to keep me from doing all I can, using every tool in my toolbox and that very much includes continuing to build this Fire Drill Fridays community and finding new ways to use our collective strength to make change."
She tied in her cancer diagnosis with the climate crisis. Fonda said she wanted people to focus on more than "cures [for cancer] but causes so we can eliminate them," explaining that "people need to know that fossil fuels cause cancer. So do pesticides, many of which are fossil fuel-based, like mine."
Fonda has previously talked about having cancer and previously opened up to British Vogue about having skin cancer spots removed. In 2010, she also had a breast cancer tumor removed, according to CBS News.