Donald Trump Jr. Is Getting Slammed For His Bizarre Rant About Lizzo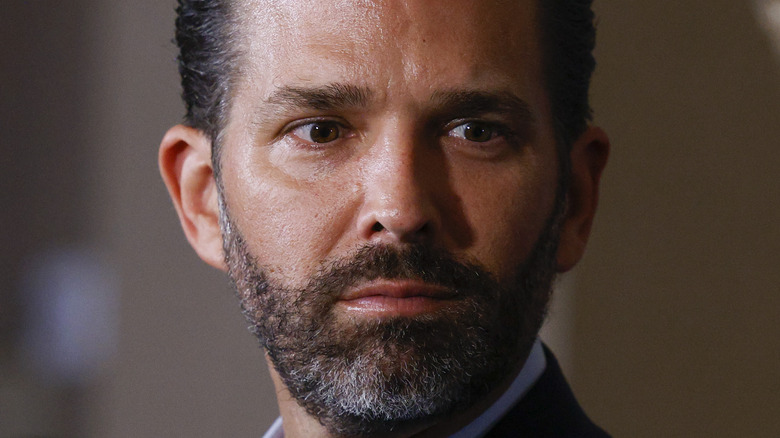 Douglas P. Defelice/Getty Images
When he's not speaking at Republican PAC events or accompanying his dad to golf tournaments on the family links, Donald Trump Jr. spends his free time sounding off on social media. And when he's not criticizing the Biden administration, he's usually slamming a liberal-backed policy or cause. In 2021, he took a shot at the LGBTQ+ community with a tweet about Mr. Potato Head after Hasbro took the "Mr." out of the brand. When Disney+ added a disclaimer to some episodes of "The Muppet Show," Don Jr. fumed inaccurately that "the Muppets have been canceled...Liberalism is a disease."
His latest target once again has many voicing their own disgust. The VMA Awards roster includes the Video for Good award, which is given annually to musicians who "push us to be better to ourselves and nicer to each other." The 2022 winner was Lizzo, who is well known for the message she sends to fans about self-acceptance. Lizzo's speech focused on the importance of voting, which she said "means everything to make a change in this country. So, remember when you're voting for your favorite artists, vote to change some of these laws that are oppressing us," per USA Today.
That set off Don Jr., who posted a reaction video on Rumble. "Apparently, Lizzo is oppressed!" he said. "I didn't realize that being really famous, that being a darling of the media, being worth $12 million ... made you oppressed in America today." Then he took an even deeper dig at the "Juice" artist. 
Donald Trump Jr. went on a body-shaming rant against Lizzo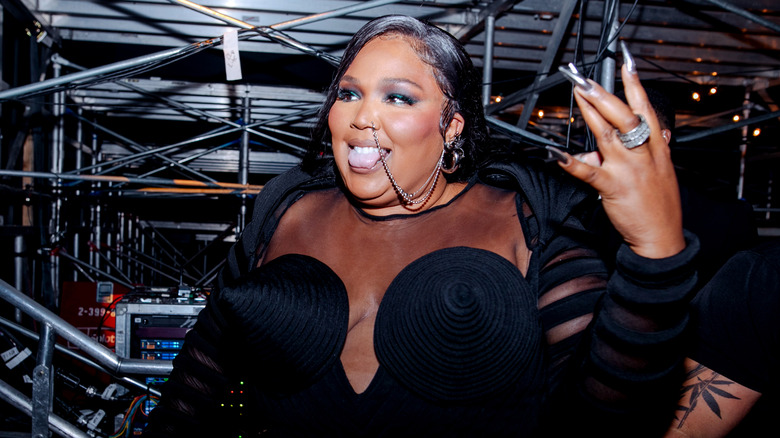 Catherine Powell/Getty Images
The latest Rumble editorializing from Donald Trump Jr. blasted Lizzo for talking about oppression in the face of other outrages. Among the ones he singled out were inflation, vaccine mandates, and the FBI raid on his father's mansion. "If Lizzo is oppressed, then so am I!" he opined. "I didn't realize that ... taking photo shoots in a bikini while being north of 300 pounds and like being 'healthy' — this is the 'new beauty' — that makes you oppressed in America." 
He didn't stop there. Don Jr. also referred to the "About Damn Time" singer as being "overfed" and having "a body mass index of about a billion." For good measure, he referred to the voluminous dress she wore to the VMA Awards as "a black garbage bag."
When the Rumble clip was shared on Twitter, followers didn't hesitate to bash Don Jr. for his fat-shaming. One commenter asked, "His Daddy has to be pushing 300 lbs and he's critiquing people on their weight??? And still with the yelling and the Crazy Eddie commercial hand gestures..Yikes." Another response imagined an appealing image: "Well, 10 seconds into that was too much. However, today I envisioned President Biden dancing to Lizzo's 'About Damn Time' today in his office."
The artist herself hasn't responded to Don Jr.'s taunting. Perhaps Lizzo felt she said it all when she delivered the ultimate clapback to body-shamers during her VMA Awards speech. Via her tweeted clip, she explained that the reason she doesn't respond to negative remarks in the press is because, "I'm winning!"