The Documentary You Never Knew Jamie Lee Curtis Narrated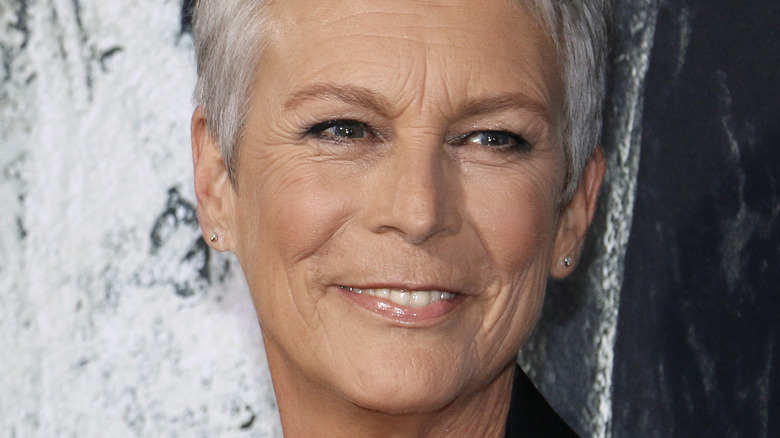 Tinseltown/Shutterstock
Whether she's swapping bodies with Lindsay Lohan in "Freaky Friday" or dancing with hot dog hands in A24's recent hit "Everything Everywhere All At Once," Jamie Lee Curtis is a force to be reckoned with. Curtis grew up in a famous family, the daughter of two Hollywood A-Listers — Tony Curtis and Janet Leigh. In 1978, the slasher film "Halloween" jumpstarted the actress's career, and she went on to headline as Hollywood's go-to scream queen throughout the 1980s (per IMDb). In a 2022 ET exclusive, Curtis discussed the upcoming release of "Halloween Ends" and the emotional conclusion to the franchise. "I said a farewell to a group of people that I've made three movies with," she commented. "I've said farewell to a woman who I've inhabited for 44 years."
When she's not running from Michael Myers, Jamie Lee Curtis is working on her very own production company, Comet Pictures. "The point of the matter is I'm gonna die sooner than later," she explained to Vogue. "I want to pursue work where I'm not the star and instead get to be a cheerleader who supports artists in front of the camera." In 2009, Jamie Lee Curtis proved she's one of the most down-to-earth celebrities in Hollywood, narrating the critically-praised, "Dirt!"
Jamie Lee Curtis is Dirt's groundbreaking narrator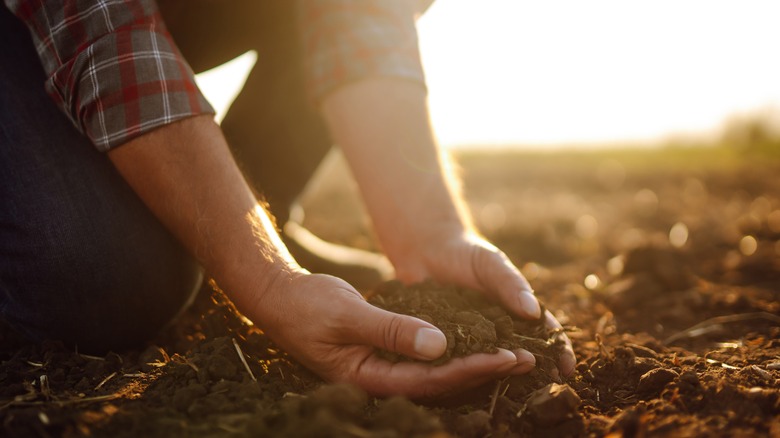 maxbelchenko/Shutterstock
There's more to dirt than you might think. Jamie Lee Curtis teams up with co-directors Bill Benenson, Gene Rosow, and Eleonore Dailly to narrate 2009's "Dirt!" — a story honoring the very ground we walk on (per IMDb). Soil is one of life's cornerstones, playing a key role in politics, the economy, and our environment. Just like humans, dirt is alive, housing billions upon billions of microorganisms, PBS reported. However, due to industrialization, our soil is under attack. "Dirt!" is a call to action, exploring the catastrophic repercussions of neglecting the earth that sustains us.
But Curtis doesn't just talk the talk as the film's narrator. In 1987, she patented "Infant Garment," a pocket diaper complete with built-in wipes, according to The Hollywood Reporter. However, the "Halloween" star is insistent on making the product biodegradable, refusing to move along with production until a more sustainable model is possible (via Lemelson-MIT). Recently, Curtis teamed up with Russell Goldman to write "Mother Nature," described as an "eco-horror graphic novel" by Entertainment Weekly. Set to publish in the fall of 2022, "Mother Nature" will be made into a movie of the same name, directed by Curtis herself. "When I was 18 I had an idea for an eco-horror film called Mother Nature," Curtis told Vogue in a 2021 interview. "At the time the idea of a pipeline blasting oil through a mountain was the cause de rigueur, and obviously things haven't exactly improved."
Jamie Lee Curtis is a celebrity godmother
Vivien Killilea/Getty Images
Jamie Lee Curtis's famous connections extend far beyond her movie star parents. She's also godmother to Jake and Maggie ​​Gyllenhaal, both famous actors in their own right (via Cosmopolitan). According to Curtis, it was Jake Gyllenhaal that got her interested in doing a 2018 "Halloween" sequel. As she told Vogue, "The phone rings and it's my godson Jake Gyllenhaal, saying, 'My buddy David wants to talk to you about a Halloween movie.'"
In 1984, Jamie Lee Curtis married Christopher Guest, former SNL cast member and creator of comedies like "Best in Show" and "This is Spinal Tap," per IMDb. "I met my husband by seeing his picture in a magazine and saying out loud to a friend of mine, 'I'm going to marry that dude,'" the actress told Today. Since adopting her first child in 1986 — here's everything we know about Jamie Lee Curtis' daughter, Annie — Curtis has penned 12 children's books, per CBS 19 News. As the actress told The New Yorker in a 2019 interview, her writing career was "all by accident." According to Curtis, "The last thing I ever thought I'd do, besides being an actor, would be to be a writer . . ."