Here's What Joy Taylor Looks Like Going Makeup Free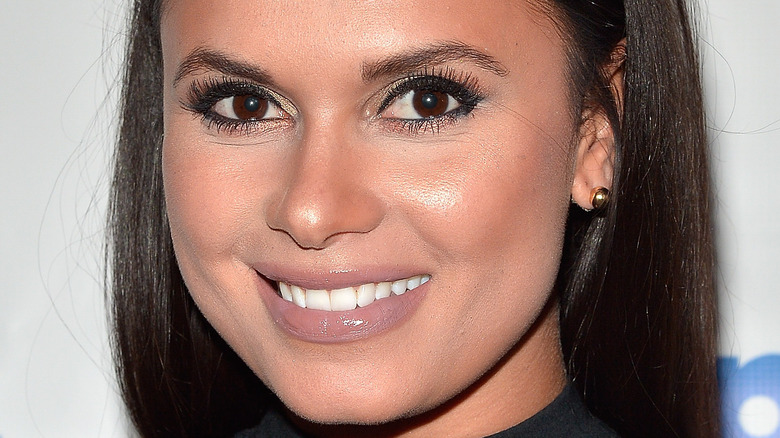 Charley Gallay/Getty Images
Combining sports and mascara is a thing Joy Taylor does extremely well. As she told VoyageLA, "I host sports opinion shows, which give me the opportunity to react daily to news and games, and express my opinions about topics I'm extremely passionate about."
She's the co-host (along with Kristine Leahy) of "The Herd with Colin Cowherd," a sports talk show on the FS1 sports network (part of FOX sports), for which she goes full-glam on a daily basis. Taylor also hosts her own sport-centric radio show, "The Joy Taylor Show," on FOX Sports Radio and has her own podcast, "Maybe I'm Crazy," all included in her bio on FOX Sports.
In an interview with Sweat, Taylor shared she spent her time growing up in Pittsburgh, Pennsylvania playing sports. "I played basketball, soccer, volleyball, and ran track in high school," she shared. In addition, her brother, Jason Taylor, is a former Miami Dolphins player who was inducted into the NFL Hall of Fame, as reported by Front Office Sports.
Joy Taylor is beautiful with and without makeup
When she's on-screen talking about touchdowns and three-pointers, Joy Taylor is usually glammed up with a full face of makeup (you can see her getting ready in a "Day in the Life" video for Togethxr). In March 2020, though, she posted the above photo to both her Instagram and Facebook pages with the caption, "A little unconventional, but you guys did always say go natural!" Geared up with headphones and a microphone for her gig on "The Herd with Colin Cowherd," Taylor's makeup had been toned down for a more natural look, possibly enhanced with a filter for a glowing complexion.
Though you're more likely to find the host talking sports during any interview she does, Taylor has revealed a few of her favorite makeup moves. On Twitter, she shared, "I use a lot of different glosses but I always start with a @NyxCosmetics liner in the color Natural." She also likes Victoria Duke lipstick.
In addition, Taylor revealed she's a fan of the Laura Mercier cosmetic line, and sent thanks to the brand on her Instagram page. "Thank you to Laura Mercier for sending me some of my favorites! Their Translucent Loose Setting Powder is the best!" she raved. 
The sports host appreciates her fans and gives back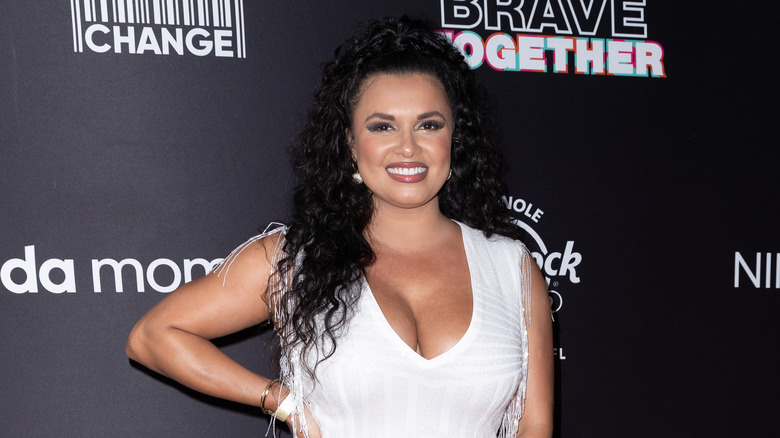 John Parra/Getty Images
With over 405,000 followers on Twitter, and over 562,000 followers on Instagram, both under the handle @JoyTaylorTalks, Joy Taylor likes to interact with fans on a variety of topics, from sports to travel and even ice cream flavors. She shared on Instagram, "One of my favorite parts of what I get to do every day is hearing different perspectives on topics we are passionate about."
Taylor also feels strongly about giving back to the community. She started the Joy Taylor Foundation, whose mission is "to serve the homeless, survivors of domestic violence, and promote education and youth empowerment in the communities of Los Angeles, Miami, Pittsburgh, and NYC."
A graduate of Barry University, Taylor set up a scholarship with her alma mater, the "Joy Taylor Communication Scholarship," according to the school's website. "As a proud alumna of Barry and a female person of color, Joy wishes to establish this scholarship for students pursuing a communication degree to help them complete their studies," the university reported.