How Lady Gaga Keeps Her Skin Looking Flawless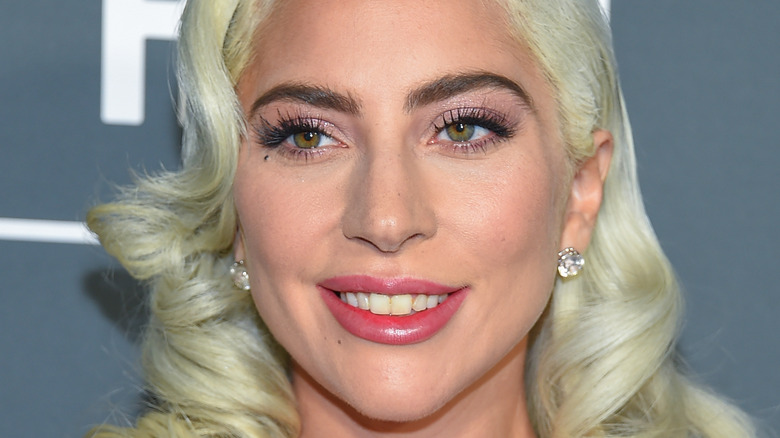 DFree/Shutterstock
Lady Gaga has been a Hollywood fixture for so long that it's difficult to imagine a time when she wasn't around. But the chart-topping pop star and actor still manages to surprise us, by constantly reinventing herself through outlandish hair, fashion, and makeup looks. As Gaga told Vogue Arabia emphatically, of her approach, "I was told I wasn't good enough, but it didn't stop me," and that drive continues to fuel her. 
Gaga has pushed the boundaries in Hollywood by refusing to sand down her edges or hide who she truly is. In many ways, makeup has become like armor for her, with the "Poker Face" hitmaker admitting to Allure, "I never felt beautiful, and I still have days that I don't feel beautiful. All of the insecurities that I've dealt with my whole life from being bullied when I was younger, they come right back up to bite me."
However, "Then I put makeup on, and before I know it I feel this superhero within. It gives me those wings to fly." The key to making every killer beauty look stand out is ensuring she has a great base to work with, and unsurprisingly Gaga doesn't scrimp on skincare. 
The superstar singer has a number of go-to products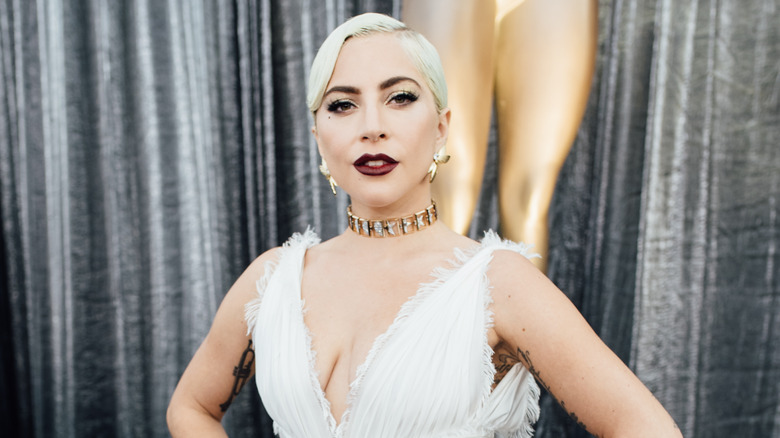 Emma Mcintyre/Getty Images
When a fan asked Lady Gaga how she stays looking so flawless on Twitter, in response to a stunning fresh-faced selfie, the platinum-selling pop star simply replied, "I have quite a skincare routine, rituals I learned from my mother and my friend's mothers." If you're wondering what Lady Gaga really looks like underneath all that makeup, suffice to say she glows from the inside out. And, as the lady herself acknowledged, it takes a lot of work to keep her skin looking so good. 
In fact, makeup artist Sarah Tanno gushed to Today that Gaga "has the most incredible skin in the business." She preps using the Olehenriksen Truth Serum, "which is rich in Vitamin C and leaves the skin feeling tight, smooth and glowing" while a good anti-aging mask is essential, with Tanno shouting out the Talika Bio Enzymes Purifying Mask and eye patches, which are especially helpful for detoxing after sweaty performances, during which Gaga typically wears a ton of product.
During a chat with Allure, the singer herself pointed to the Embryolisse Lait-Crème Concentrate moisturizer as a personal favorite too, alongside Supergoop sunscreen. Gaga's big beauty extravagance, meanwhile, is a "microcurrent facial." The "Bad Romance" hitmaker explained, "There are actually two attachments — one goes on the aesthetician, and then one goes on you. The electricity flows through both of our bodies at the same time to lift the muscles. It's also a stress reliever." 
Lady Gaga went completely bare-faced in A Star Is Born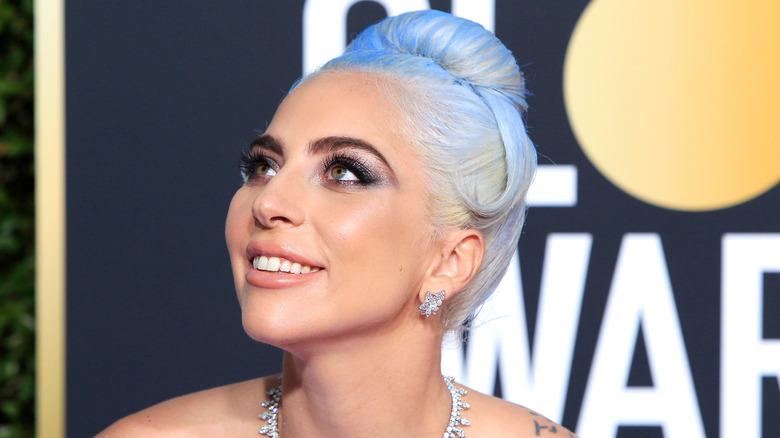 Joe Seer/Shutterstock
As Refinery 29 notes, Lady Gaga spends a large portion of her time onscreen in "A Star Is Born" without a stitch of makeup on, per director Bradley Cooper's request. Esthetician and owner of Faceworks Inc., Joomee Song, who worked closely with the star to get Gaga ready for her big, fresh-faced moment, confirmed, "She had no makeup on." In fact, "If she was going to have close-ups, I would do a scrub with hyaluronic acid or something that would help reduce redness" but that was really it. 
Although Gaga typically uses makeup to help her face the day, when it came to getting into character, she found going without helped her fully inhabit the role. "It put me right in the place I needed to be, because when my character talks about how ugly she feels — that was real," the Oscar winner told the Los Angeles Times. Gaga elaborated, "I'm so insecure. I like to preach, but I don't always practice what I preach." 
She clearly ensures her skin is well taken care of regardless, so going makeup-free wasn't too frightening. What Gaga eats in a day also helps her shine from within, naturally, given her diet is clean, filled with fresh foods, and involves drinking plenty of water, too.