Meghan Markle Is Red Hot In Her Latest Fiery Ensemble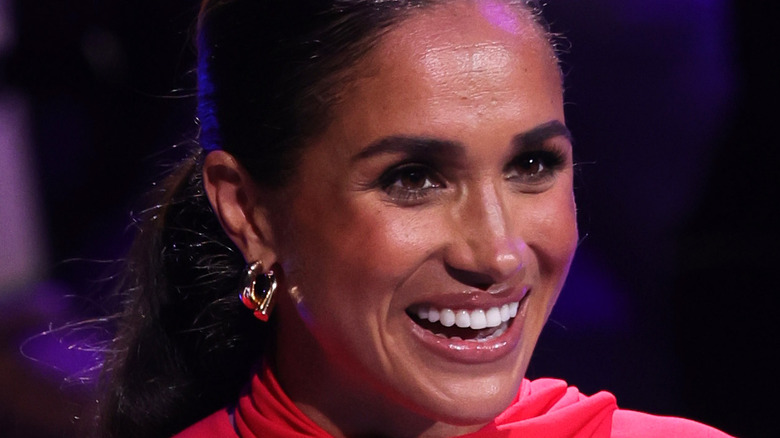 Chris Jackson/Getty Images
It was September of 2021 when Meghan Markle wore a fuchsia ensemble that had fans comparing her look to Michelle Obama's 2020 inauguration pantsuit. Unfortunately, the fashion choice received its fair share of criticism, but that didn't scare the Duchess of Sussex away from donning another fiery, monochromatic outfit for a recent appearance.
Meghan and Prince Harry have been on hand for the One Young World Summit in the UK this week, which is where she stepped out in a look reminiscent of her brightly-hued getup from last year, delivering a speech during which she told the audience in part, "You are the ones driving the positive and necessary change across the globe now" (via Daily Mail). 
As soon as admirers saw the all-red fashion choice, outlets like the Independent immediately advised as to how to copy the look without spending as much as the self-professed non-diva (via The Guardian).
The details of Meghan Markle's red look revealed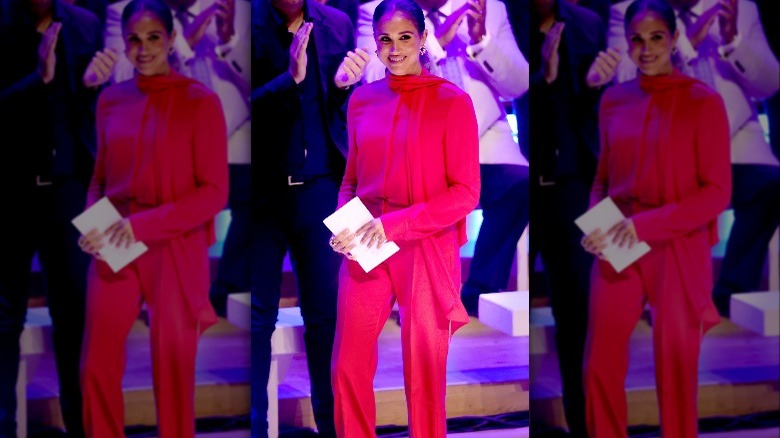 Chris Jackson/Getty Images
As for Meghan Markle's specific ensemble, which is obviously going to be widely copied, the pants and top were created by Another Tomorrow, and cost well over $1,000 according to Fashionista.
The separates were accessorized with a matching red Aquazzura pump, a brand which as fans know is one of the duchess' favorites. We first saw her wear the swoon-worthy high heels for engagement photos back in 2017 (via Newsweek). The enviable footwear trend has even been copied by Meghan's sister-in-law, Kate Middleton.
Meanwhile, Twitter lit up with reaction to Meghan's cherry-red pantsuit and matching shoes, with one fan calling the look, which she complemented with a simple ponytail and gold earrings, "spectacular." Incidentally, Page Six reports the earrings and matching ring the duchess wore were designed by ethical brand Tabayer.
Of course, everything the Duchess of Sussex does is controversial, and not everyone felt the love for the heart-hued suit. 
Not everyone loved Meghan Markle's look while some saw Diana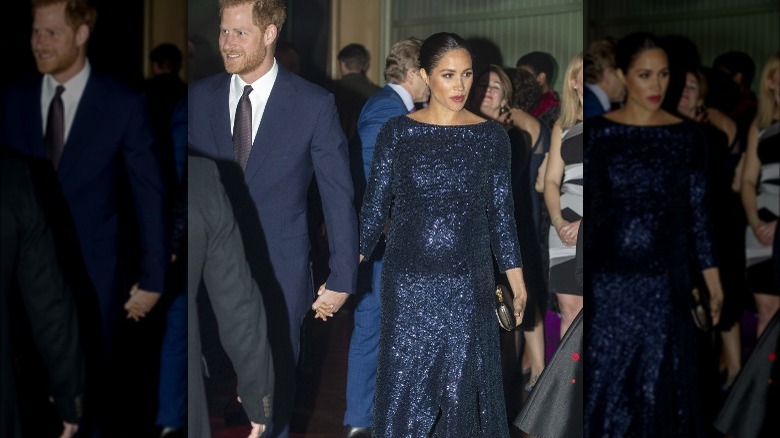 Wpa Pool/Getty Images
Criticism comes with the territory of being Meghan Markle. Just this week, former Fox News host Megyn Kelly opined that her new podcast, "Archetypes," showcases how much of a "narcissist" the royal mom of two really is. As such, plenty of critics were ready to tweet that the red ensemble didn't fit the duchess properly.
Interestingly, Vogue Arabia instantly compared the Duchess of Sussex's take on red to the similarly-styled Valentino outfit her mother-in-law Princess Diana wore for a photo shoot in 1997. This would hardly mark the first time that Meghan has looked to the Princess of Wales for style inspiration if this report is true, with Grazia Daily noting many memorable fashion moments that saw the two women looking eerily alike.
Our favorite? That blue-sequined dress Meghan wore while pregnant that reminded us of the similar style Diana donned in 1990.