How Meghan Made Harry Blush During The One Young World Summit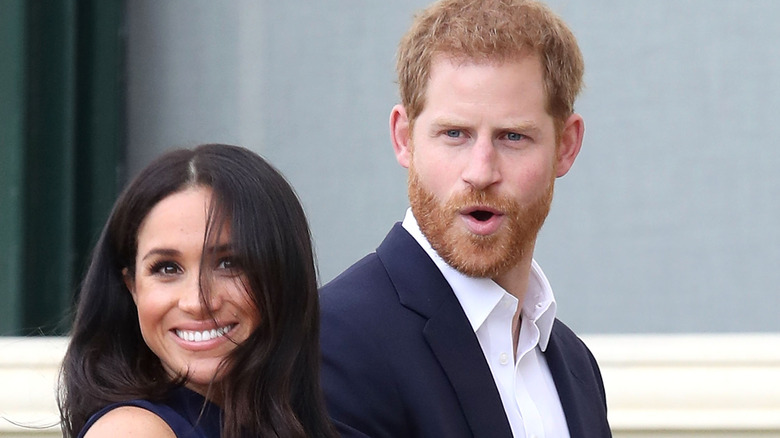 Chris Jackson/Getty Images
Prince Harry and Meghan Markle, Duke and Duchess of Sussex, are in the midst of another trip to the United Kingdom. After visiting for Queen Elizabeth's Platinum Jubilee in June, the couple is now in Manchester so that Meghan can make the keynote speech at the One Young World summit. Meghan has been connected to the youth-based charity for years, according to People, and in 2014 and 2016, she served as a counselor at One Young World summits.
In front of 2,000 people at Bridgewater Hall, Meghan — dressed in a red ensemble — told the crowd that it was "very nice to be back in the U.K," per Town & Country. She also talked about her work with One Young World and why it is so important to her. "You are the future," Meghan explained. "But I would like to add that you are also the present. You are the ones driving the positive and necessary change needed across the globe now in this very moment. And for that I'm so grateful to be in your company today."
Meghan and Harry were greeted with cheers when they were first introduced, and some watching the duchess's speech pointed out that Harry seemed to be blushing at one point during his wife's remarks.
Meghan Markle was 'thrilled' her husband could join her at the summit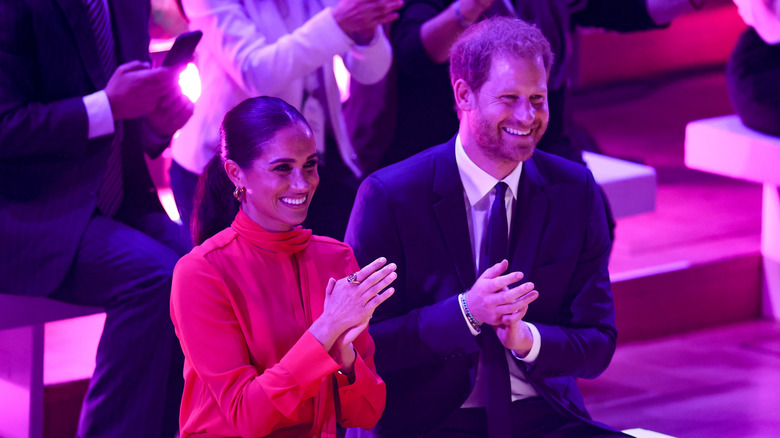 Chris Jackson/Getty Images
Meghan Markle, Duchess of Sussex, made sure to give her husband, Prince Harry, Duke of Sussex, a shout out during her keynote speech at the One Young World summit. During her remarks, Meghan spoke about her experience with the charity when she first joined in 2010. Back then, she was a single actor with a starring role on 'Suits." Fast forward to 2022 and Meghan is now a married mother of two. "I'm thrilled that my husband is able to join me this time to see first hand my respect for this organization," she added, per the Daily Mail.
Some watching the speech online noticed that Meghan's sweet words really seemed to touch Harry. "They never miss an opportunity to express pride in being with each other. It's natural for them," one person on social media wrote. "It also shows how much they love each other, support each other, [and] complement each other. The fact that Harry is blushing is just adorable."
The couple's visit to the U.K. is not done yet. Although they are expected in Germany to announce that the Invictus Games will take place in Düsseldorf next year, Harry and Meghan are returning to London later on in the week to attend the WellChild Awards, per Town & Country.