How The September 10 Full Moon Will Affect You If You're A Pisces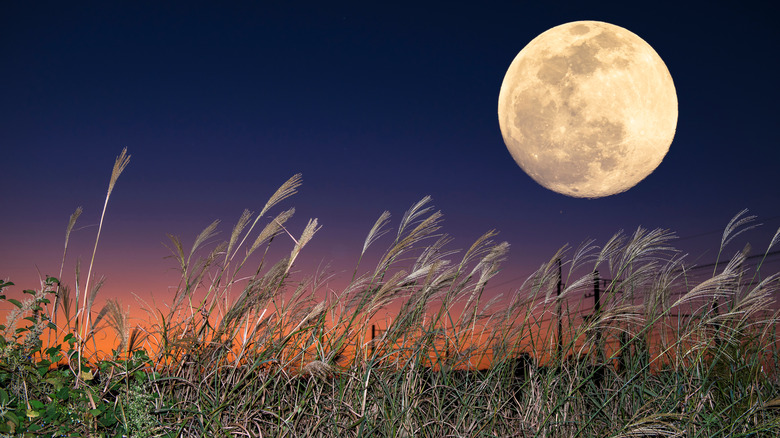 Japan's Fireworks/Shutterstock
Summer is winding down, and with it comes the final full moon of the season. The lunation will occur on September 10 in the sign of Pisces. This month's full moon has been dubbed the Harvest Moon, and gets its name from the time of year when farmers would harvest their summer crops in the Northern Hemisphere (via Old Farmer's Almanac).
According to PopSugar, the harvest moon is unique from other full moons when it comes to its timing and brightness in the night sky. Astrologer Anya tells the outlet that the lunation is all about taking things in stride and living in the moment. This could mean catching up on your rest and relaxation, spending time with your loved ones, deep cleaning and organizing your living space, or simply curling up with a good book. "During the Harvest Moon, it's best to slow down, wait, and see what happens in your life," Anya says. "Enjoy the beautiful September sunsets, look back at your achievements, and take a deep breath ... the tricky bit is nearly over!"
If you're a Pisces, the full moon in your sign could leave you feeling a lot of emotions and may even bring you some good luck.
September's full moon encourages Pisces to dream big and be honest with themselves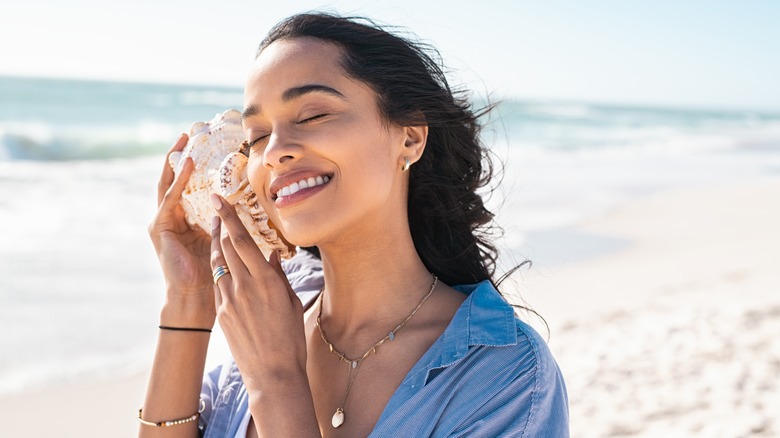 Rido/Shutterstock
If you were born under the sign of Pisces (February 19 to March 20), the full moon on September 10 is all about you. This is your time to shine and pull all of your dreams into reality. According to Bustle, manifestation could be key for Pisces during the lunation so sit down and really think about everything you would like to achieve and have in your life. Then get down to the business of visualizing, journaling, or whatever you like to do to manifest your desires.
Woman & Home notes that the full moon falls into Pisces' first house of self, which is all about how you perceive yourself. So, love yourself and decide if there are any areas of your life that you want to work on. If so, make a plan and move forward with love and respect for the person you are and the person you'd like to be. Let your feelings flow freely, both good and bad and acknowledge how grateful you are for everything you already have and as well as what you're working towards. Be honest with yourself about your specific wants and needs.
Pisces should tap into their intimate side during the full moon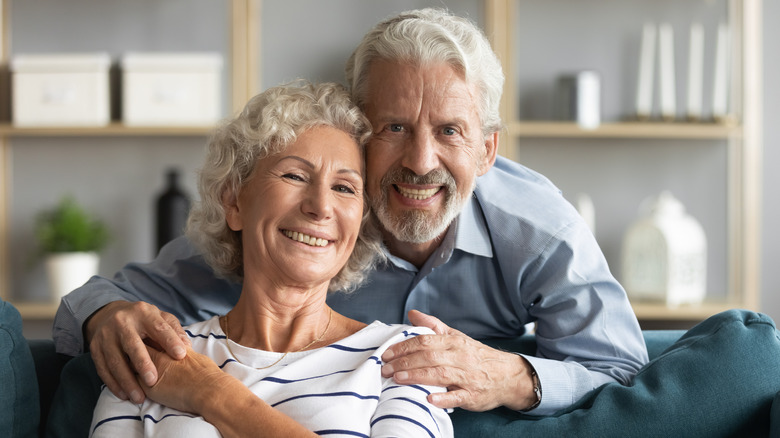 fizkes/Shutterstock
According to PopSugar, the full moon on September 10 may also be a time for Pisces to strengthen their relationships with those closest to them. The water sign may find themselves longing for interaction, especially when it comes to romantic partnerships. "Now, more than ever, you are craving intimacy from your loved ones, particularly from your significant other if you have one," astrologer Anya tells the outlet. "With the moon in Pisces, the Harvest Moon is the perfect time to level up intimate relationships and deepen your commitment to the people around you."
Allure reveals that Pisces should lean into their intimate feelings as the full moon is the perfect time to ignite their passions. This month is also said to be big for your love life, so spending some extra time in bed may be high on your list of priorities during the lunation. Of course, if you're single and find yourself not wanting to interact that's okay as well. Perhaps the person you need to connect with most is yourself, so do what makes your heart happy, like reading a book that's great for Pisces. Basically, do what sends you into the final days of summer feeling fulfilled and joyful.
It appears that Pisces may be in for some big changes during the full moon, and because the lunation falls in their sign, it seems that most of their interactions will be positive and set them on the path of self discovery and happiness.