Here's What Users Dislike The Most About The Eharmony Dating App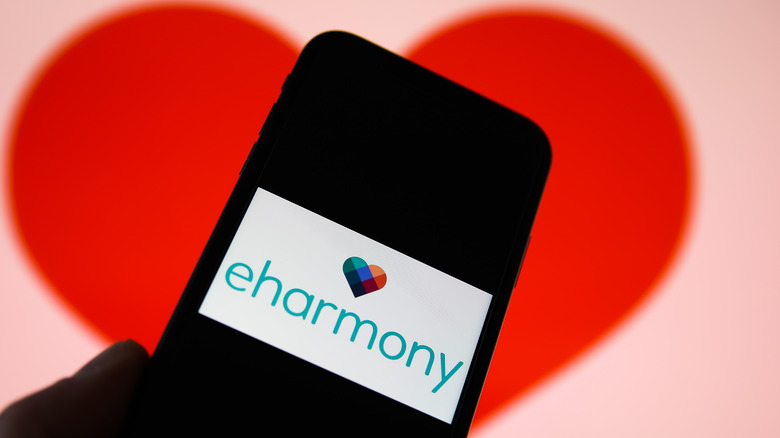 Ralf Liebhold/Shutterstock
There's no denying that modern dating requires most people to connect with others digitally. It can be difficult to stumble upon your future partner in-person, especially in the post-pandemic age. Because of this, millions of daters around the world have turned to dating apps in their search for a companion. Since the more popular dating apps, like Tinder, have already reached their 10-year mark of use, per The Guardian, the online dating industry has grown tremendously in both profit and number of users. There are also dozens of popular dating apps available to try, so it can be difficult to figure out which dating app is best for you.
Among the newer dating apps are a few tried-and-true online dating options that have been around for decades — like eharmony. According to Crunchbase, eharmony was founded in 1999 as a full website for online dating. One of the first of its kind, the site used a lengthy, comprehensive questionnaire to match users with others sharing things like core values, personality traits, and interests. Now also offered in mobile dating app form, eharmony has remained a major player in the dating app industry game.
As with any of these apps, eharmony has pros and cons for usage, depending on factors like your dating intentions, budget, and time available. If you're curious to learn more, here are some of the cons to using eharmony.
eharmony requires a hefty investment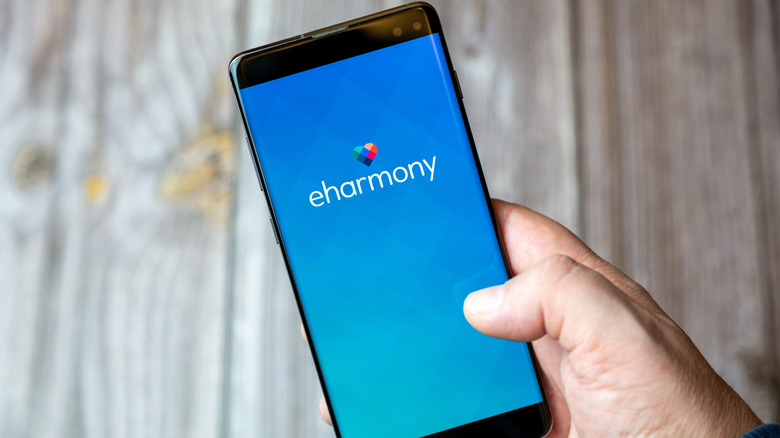 Gary L Hider/Shutterstock
There are several ways to go about dating, and several of them have little to no cost. Meeting someone through a mutual friend, at an event, or even at a bar can have minimal effect on your wallet. When it comes to current dating apps, however, this isn't always the case. Over the 10 years that many of the most well-known dating apps (like Tinder or Bumble) have been around, new paid features and membership options have been created that rake in quite a profit for the dating app industry; in fact, in 2021 the industry was estimated to have a worth of 7.5 billion, according to Grand View Research.
While there are plenty of different one-time use options or membership levels on other apps, eharmony stands out among the rest as one of the most expensive online dating avenues — a common complaint among users. While Mashable says that the app is the best for "marriage-minded" daters looking to find their future spouse, DatingScout reports that eharmony is among the most expensive dating apps, with the lowest membership plan priced at $35.90 per month. The free membership, according to both sites, is very restricted and may not be worth trying. For most users who are familiar with apps like Tinder or Hinge, which offer plenty of free features, this may be too large of a cost.
The app features a membership process that isn't suitable for everyone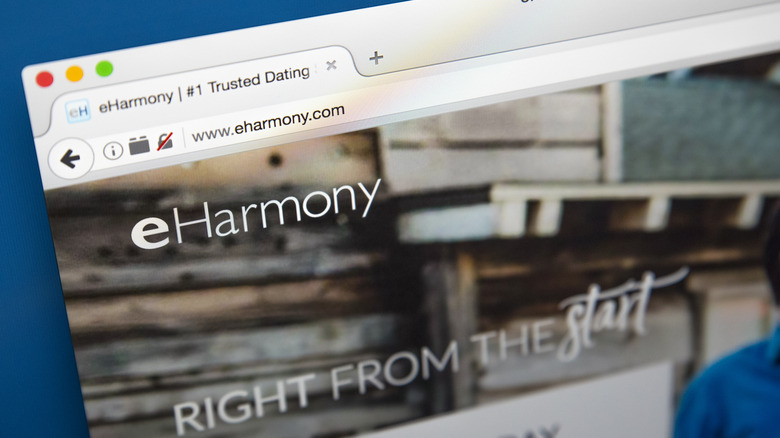 Chrisdorney/Shutterstock
Not only does eharmony require a considerable financial investment, but using the app can also take quite a bit of time for most users. Whereas many dating apps allow you to jump right in and begin matching with others after answering a few basic questions, DatingScout reports that eharmony involves an extensive (and required) questionnaire in order to start getting matches and having conversations. In addition to the mandatory questionnaire, a reviewer at Mindbodygreen shared that filling out your bio and profile sections can take at least 20 minutes, which may be more time than some potential users want to spend after fulfilling the initial test requirement.
According to Healthy Framework, the time and energy needed to properly begin using eharmony would not be suitable for those who are looking for casual dating or hookups. While this may deter people looking to send unsavory messages to the users on eharmony who are looking for a serious relationship, it can also keep people who are short on time yet also looking for love off the app solely because of the time commitment needed.
Additionally, Mashable notes that eharmony is not well-suited for members of the LGBTQ+ community, or those are non-binary — so you may want to consider alternatives if you're looking for a more inclusive app setting.