Recent Photos Of The Queen Have Fans Concerned For Her Health All Over Again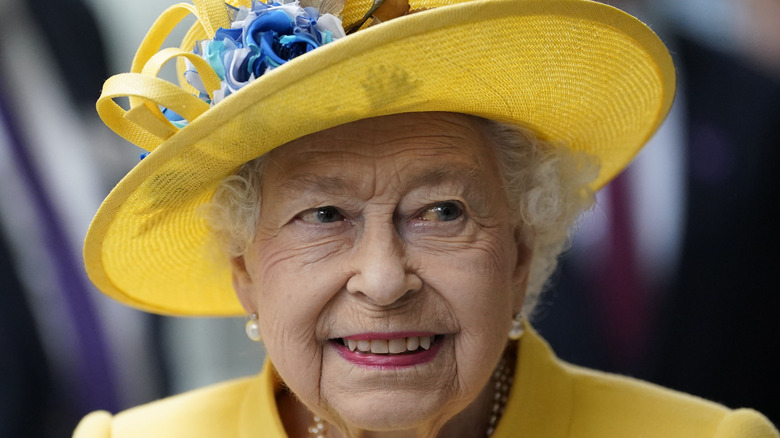 Wpa Pool/Getty Images
Queen Elizabeth has been through a lot in the past couple years. The 96-year-old monarch battled COVID-19 in February 2022, per the BBC, and buried the love of her life, her husband, Prince Philip, in April 2021 (via NPR). That's not to mention the headache of Prince Harry and Meghan Markle defecting from the royal family in 2020.
Through it all, she's tried to carry on as usual, but the queen's health problems are affecting her royal duties, including preventing her from attending a few recent events like the opening of Parliament (via CBC). Buckingham palace released a statement in May. "The Queen continues to experience episodic mobility problems," it read (via Insider).
In June, Elizabeth celebrated her Platinum Jubilee, commemorating her 70-year reign. Her Majesty was present for the opening ceremony, Trooping the Color, but, instead of taking the salute from 1,500 officers and soldiers on the ground as she has always done, the queen took the salute from the balcony of Buckingham Palace (via NBC News).
In later Jubilee events, the queen had to miss important parts of her Platinum Jubilee by skipping both the Service of Thanksgiving and the Epsom Derby.
Now there is a resurgence of concern about Elizabeth's health.
Queen Elizabeth's hand looks blue or bruised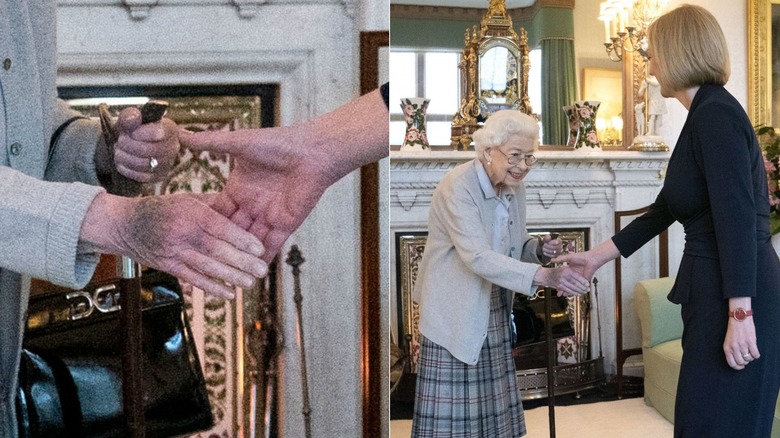 Wpa Pool/Getty Images
Recently, Queen Elizabeth met the UK's new Prime Minister, Liz Truss, at Balmoral Castle in Scotland, where she was formally appointed (via People). It's the first time the queen has appointed a new prime minister in Scotland in the past seven years.
When official photos of the meeting were released, many shared concern over Elizabeth's health. In a photo, the queen is reaching out to shake hands with Truss, and the back of her hand appears to look blue or bruised.
Naturally, the photos caused Twitter to speculate. One Twitter user wrote, "What is going on with the Queen's hands? All blue and purple?" Another commented, "My mum and dad's hands went like that, I think it's to do with the skin becoming thinner with age and therefore more susceptible to bruises."
According to Healthline, having blue hands can be due to a wide range of causes, from too tight jewelry and impeded blood flow to deep vein thrombosis and heart failure.
No official word has yet been released from Buckingham Palace.