Good Trouble Star Zuri Adele Has Some Thoughts About Malika's Polyamorous Storyline - Exclusive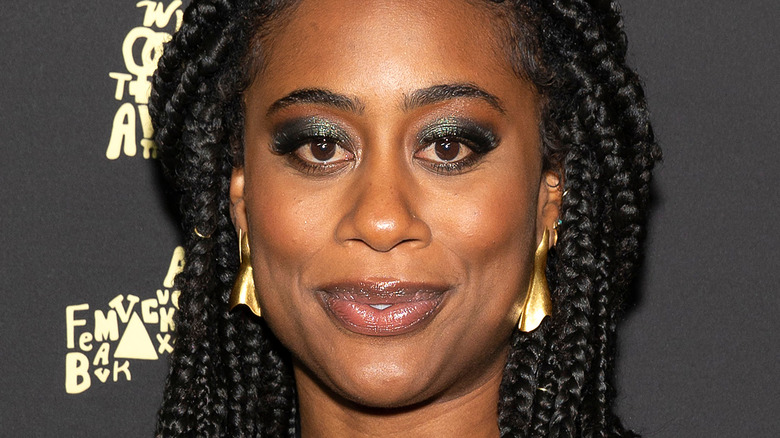 Ovidiu Hrubaru/Shutterstock
Freeform's "Good Trouble" — a spin-off series of "The Fosters" with a few main characters coming along for the ride — expands viewers' understanding of social issues that television typically shies away from. In an exclusive interview with The List preceding the series' shocking Season 4 finale, actress Zuri Adele, who plays Malika Williams, praised how the show brings viewers into important conversations. "Somebody told me the other day, 'Your show's like millennial Sesame Street,'" she shared. "At first I was like, 'I don't know if I like that,' but it is, and I'm okay with that."
Exposing viewers to new perspectives while stirring the pot are some of the things the show does best, and its cast often learns lessons through their characters right alongside the audience. "We're learning new words and we're getting on the surface of a lot of things, because we have a lot of storylines," Adele said. "I was excited to add that in through Malika's storyline in particular."
Malika is an accomplished abolitionist rising through the ranks of the Los Angeles political sphere, and in both her career and personal life, she's unwilling to settle for less than what she's worth. As she moves through her first polyamorous experiences, she has broadened Zuri Adele's own understanding of non-traditional relationship structures; the actress is thrilled that they're on this journey together.
The actress is all for educating viewers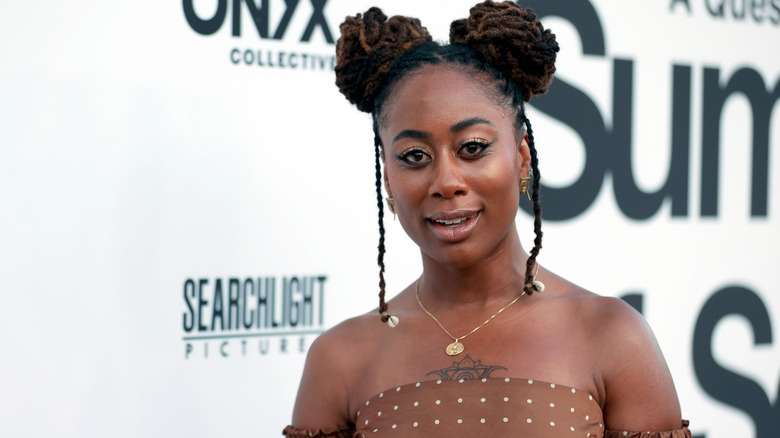 Matt Winkelmeyer/Getty Images
"Good Trouble" makes a point to introduce polyamorous storylines using well-informed and sensitive writing, and actress Zuri Adele told us everything she's taken away from her journey on the show. "This show is such a great classroom," she gushed. "I've learned so much, and I'm learning and I'm continuing to learn more about the polyamorous experience ... through Malika's experience and also through my own research inspired by Malika's experience."
Adele also addressed the wide range of stories represented on the show, from life in the foster system to homelessness to a spectrum of experiences of gender, sexuality, and identity. "We have so many different cultural backgrounds, so I've gotten to learn a lot there." Specifically, Adele noted, "I'm really grateful for the trans visibility that we are contributing to with our show."
Regarding Malika, the actress shared, "She is someone who is a former foster kid, who was formerly unhoused, so the idea of chosen family is really important, it really resonates her with a different way than the other Coterie members." She also had insight into why polyamory is right for Malika at this point in her life. "Having her own safe place and then having multiple lovers outside feels really safe and exciting for her at the same time."
She's inspired by Malika's journey with her sexuality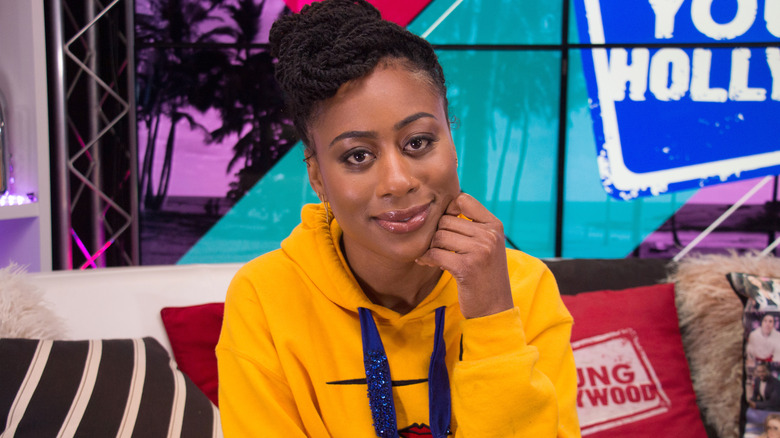 Young Hollywood/Getty Images
Malika's storyline on "Good Trouble" is super relevant to actress Zuri Adele's own life, and she explained how the show's relationships may inform her own approach to romance. "As a millennial queer person, polyamory is something that is very interesting to me and that I haven't learned a lot about how to practice [it] myself, and the idea of consensual non-monogamy is something that is interesting to me." 
The actress also understands the importance of representation through characters' storylines and praised the show's writers for depicting polyamory in thoughtful ways. She'd often only previously seen it represented in non-monogamous storylines on television, explaining, "It has been more so about a sexual experience of a threesome, for a man to fetishize being with two women, or something that's particularly more of a white experience." 
"Good Trouble" is on its way to changing these preconceptions of how multiple partner relationships can work — especially outside the lens of whiteness. "It's been really cool to be a part of this millennial, Black experience where it's normalized that, 'Oh yeah, this guy Dyonte has a primary partner.' We're using this vocabulary."
The "Good Trouble" Season 4 finale aired September 1 on Freeform.