Why Hallmark Star Paul Campbell Married The Same Woman Twice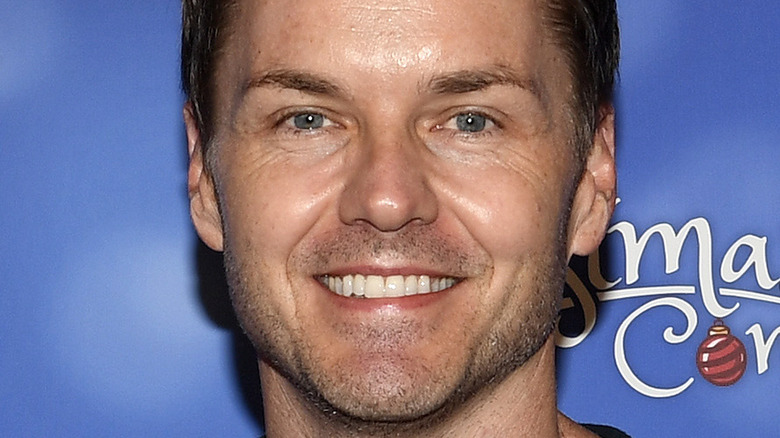 Michael S. Schwartz/Getty Images
Marrying the same woman twice sure sounds like the makings of a rom-com you'd see on the Hallmark Channel. It's fitting, for that reason, that one of Hallmark's favorite leading men, Paul Campbell has experienced this IRL, via Us Weekly. 
From "Surprised by Love" to "A Godwink Christmas," we've seen Paul Campbell in more Hallmark flicks than we can count, via QC Approved. As a result, we've watched him get paired up with his fair share of romantic partners. When it comes to Campbell's real life, though, we don't know as much about his longtime leading lady as we do his onscreen loves. Since stars of the rom-com-loving network sometimes keep their private lives private, we often don't get as much insight into the real-life partners of Hallmark Channel stars as we do other celebs. It's clear, though, that Campbell's off-screen love story is just as romantic as the ones he portrays in front of the camera. In fact, his marriage with his wife is so nice, they tied the knot twice.
The woman Paul Campbell married
In 2009, the then-30-year-old Paul Campbell eloped with his partner, Lorie Metz, via Us Weekly. While their actual wedding day was shared just between the two of them, two years later, the pair had a big wedding in Palm Springs with all their loved ones there to celebrate. In 2019, Campbell shared an adorable photo on Instagram of he and his wife on the day they officially said "I do." He captioned the post, "Seeing as how the premier of The Last Bridesmaid (June 22nd on @hallmarkchannel ) and my 10th marriage anniversary (June 25th) are both fast approaching, it seemed only fitting to share some wedding pics of my own. This pic from our first wedding in 2009 (we eloped in Vancouver then had a proper wedding in Palm Springs years later)." 
When you hear that Paul Campbell married his wife twice, you may have initially thought that the Hallmark star went through a divorce before reconnecting with his love. Luckily, in their case, Campbell and Lorie Metz didn't need to break up for "I do" No. 2. Ironically, though, Metz knows a thing or two about breakups. She's a divorce coach and a life coach, via The Love Well Coach. If the Campbells' love story is any indication, it seems like double the nuptial celebrations means double the luck for any marriage.
Paul Campbell's family life
In 2016, after seven years of marriage, the couple welcomed their son, Kingston, to the family, via Us Weekly. These days, it seems that the Campbells are living happily ever after, as both Campbell and Metz aren't shy about showing us on social media. 
When it comes to his work life, Campbell is thriving in that arena, too. We know that some stars have left the Hallmark Channel, but it looks like Campbell is here to stay. While he hasn't made a formal announcement that he'll be returning for the channel's famous Countdown to Christmas season of new movies, he was eager to share about his role in the Hallmark movie "Dating the Delaneys" that premiered last month, via Instagram. Campbell has also been pretty clear in the past that he's at home on the Hallmark Channel. In an interview with My Devotional Thoughts, he said, "With Hallmark, they realize the value of bringing people back time and again because the audience falls in love with those people ... Hallmark is a well-run, good company to work for." He added that working with Hallmark is "definitely the direction that I feel I'm headed." We're happy we'll be seeing more of Campbell on the small screen, and we're ready to watch the many love stories he acts in while his real love story plays out in real life.