If You Love Boy Bands, You May Recognize Hallmark Star Nikki DeLoach's Husband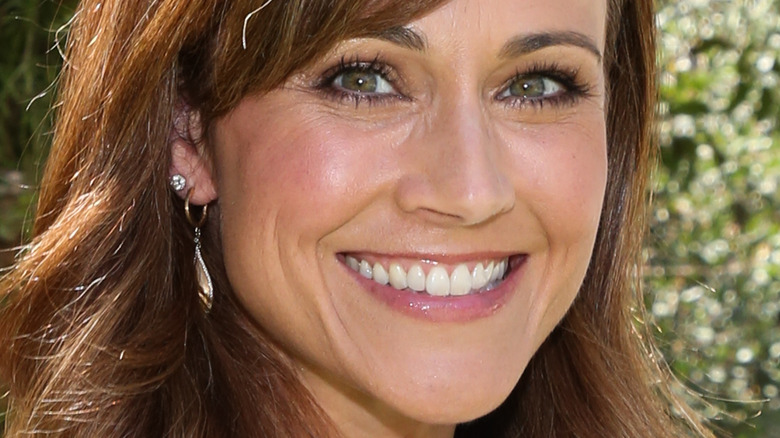 Paul Archuleta/Getty Images
If you're a fan of the Hallmark Channel, you surely know Nikki DeLoach. From "The Perfect Catch" to "Cranberry Christmas" to many, many more, DeLoach is one of the Hallmark Channel's favorite leading ladies, via Wide Open Country. In fact, last year, she starred in the film, "Five More Minutes," which she also co-wrote, via CMT. If you're not as well-versed in the Hallmark Channel, you probably recognize Nikki DeLoach's face from one of her many guest appearances on shows like "Castle," "Mad Men," and "Grey's Anatomy" or from her role on the MTV sitcom, "Awkward," via IMDb.
We feel like we know Nikki DeLoach after seeing her in so many different roles, but that doesn't mean that we actually know much about her personal life. While we're used to seeing the Hallmark Channel's favorite actors in lots of storybook love stories on screen, there's a lot we don't know about many Hallmark stars' real-life partners. Nikki DeLoach is no exception to this, but as it turns out, she's living her very own real-life love story with a fellow star.
Nikki DeLoach's boy band hubby
For those of us who grew up in the '90s and early 2000s, we remember the boy band Take 5, via Discogs. The band was spearheaded by brothers, Ryan and Clay Goodell, along with three other bandmates, Stevie Sculthorpe, TJ Christofore, and Tilky Jones. Take 5 formed in 1997 and split in 2000, but despite the group's short life, Take 5 still gave us some hits we remember. In 2009, nine years after his band's breakup, Ryan Goodell tied the knot with Nikki DeLoach.
While it sounds like DeLoach and Goodell came from two entirely different corners of Hollywood, their careers actually started out far more similarly than we realized. According to ABC News, Nikki DeLoach got her start with Disney, as she started out singing, dancing, and acting on the "All New Mickey Mouse Club" with costars like Christina Aguilera, Justin Timberlake, and Britney Spears. DeLoach was then a member of the girl group, Innosense before chasing her acting dreams full time, via IMDb. Besides being an ex-pop star, herself, apparently our girl, Nikki, has a thing for boys from boy bands. While on the All New Mickey Mouse Club, she met JC Chasez from *NSYNC and dated him for five years.
Their fabulously famous fam
In a classic story of ex-boy band star meets ex-girl group star, Nikki DeLoach and Ryan Goodell celebrated their 13-year wedding anniversary this month, via IMDb. The musical pair has two sons together, nine year-old, William Hudson Goodell and five year-old, Bennett Christopher Goodell. DeLoach told ABC News that becoming a mom is "the greatest thing that has ever happened to me." After her son was born, she said, "I love when he smiles; it is pure joy and lights up every room. I love watching him discover the world. For me, it's like rediscovering the world through fresh, innocent eyes."
Aside from relishing all that parenthood has to offer, DeLoach and Goodell have both made career pivots since their singing and dancing days. Goodell has left the spotlight but hasn't strayed too far from his roots; he's now an entertainment lawyer, via JukeBugs. Of course, we know what Nikki DeLoach has been up to, and we're excited to see what she's got in store for us on the Hallmark Channel this upcoming holiday season.