Camilla Parker Bowles Canceled A Major Appearance Amid The Queen's Health Concerns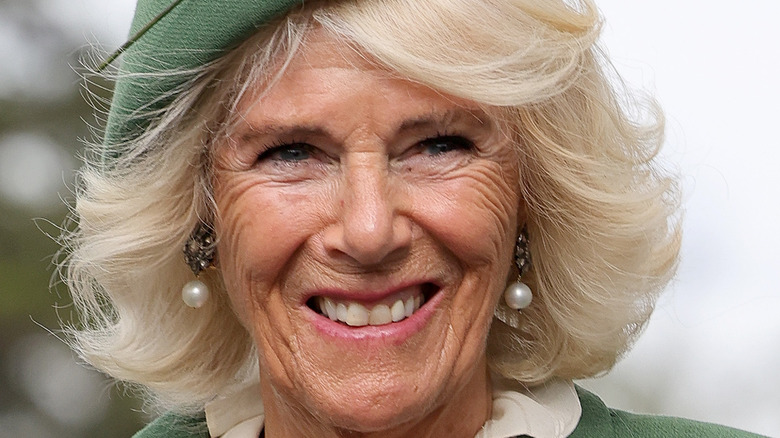 Chris Jackson/Getty Images
Queen Elizabeth is officially the longest-ruling monarch in British history. In June, she celebrated a whopping 70 years on the throne, but Her Majesty was forced to sit out much of her own celebration due to ongoing mobility issues, per People. Considering the queen turned 96 this year, it's not terribly surprising her health is deteriorating, but for the most part she seems to be pushing through while understandably scaling back her responsibilities.
After a relatively quiet few months, recent photos of the queen had fans concerned for her health all over again. As People reported, the beloved ruler greeted incoming British Prime Minister Liz Truss at her home in Balmoral, Scotland, notably opting not to travel back to London and swear her in there, as is the norm. Social media was considerably more interested in her hands, however, which appeared blue and purple, as one Twitter user pointed out.
In response, another commenter noted, "My mum and dad's hands went like that, I think it's to do with the skin becoming thinner with age and therefore more susceptible to bruises." The Independent subsequently confirmed that Her Majesty was under doctors' orders to take a day off, due to increasing concerns over her wellbeing. The situation appears to have worsened, with Camilla Parker Bowles pulling out of a planned appearance to be by her side.
The Duchess of Cornwall is headed up to Balmoral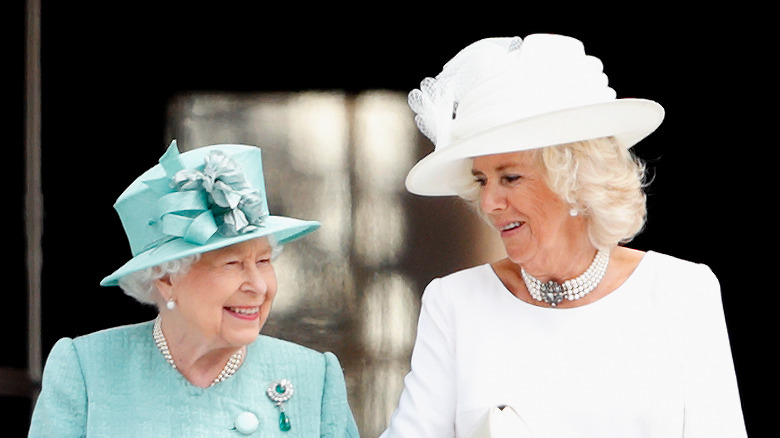 Max Mumby/indigo/Getty Images
Worries over the queen's health are mounting, leading to the royal family being called to Balmoral, Scotland, where she's currently resting up at her summer estate. And now, Camilla Parker Bowles, the Duchess of Cornwall, has cancelled a planned interview with "Today" so she can head up there. E! News confirms that, during the September 8 episode, correspondent Jenna Busch Hager shared, "I'm here at the Dumfries house in Scotland, where we were invited to interview her Royal Highness, Camilla."
She continued, "I was with Prince Charles last night and they have left now to go be with the queen ... They do not take these matters lightly. They had packed schedules, full of many appointments. So, we are thinking about them — we are thinking about this beloved queen, who was loved around the world, particularly here in Scotland." According to Busch Hager, her chat with Camilla, about her charity work, had been on the schedule for a while. Clearly, the duchess didn't abruptly cancel it for nothing.
Per Express, Prince Charles, Camilla and Prince William all headed for Balmoral after receiving news that Her Majesty's condition had changed. The Duchess of Cornwall was actually slated to open a new visitor center for the Great Tapestry of Scotland in Galashiels, tomorrow, but a royal spokesperson admitted it was "looking more likely" it wouldn't be happening.
The queen is currently under medical supervision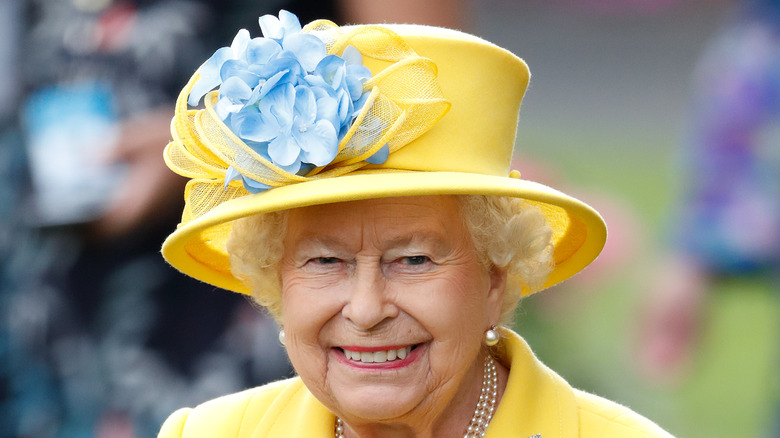 Max Mumby/indigo/Getty Images
After being instructed to rest up, following a busy few days surrounding the transition of power from former British Prime Minister Boris Johnson to incoming leader Liz Truss, E! News revealed the queen will be under observation by her trusted doctors for the foreseeable future. After a medical evaluation earlier today, Buckingham Palace released a statement confirming physicians are "concerned" for her health and "have recommended she remain under medical supervision" as a result.
Her Majesty has been suffering with mobility issues for months, even reluctantly missing the thanksgiving service during her Platinum Jubilee. According to The Guardian, in the wake of the latest news about her health, all four of her kids are either in Balmoral or on their way. Even Prince Harry and Meghan Markle, who are coincidentally in the UK doing a whistle-stop tour at the moment, are en route to Scotland. Buckingham Palace stated only: "The Queen remains comfortable and at Balmoral."
Newly installed Prime Minster Truss acknowledged, "The whole country will be deeply concerned," while the archbishop of Canterbury shared that his "prayers and the prayers of the people across the Church of England and the nation" were with her. Moreover, BBC News reported that tourists are already gathering outside Buckingham Palace to pay their respects, many of whom are in tears. Suffice to say, if Her Majesty does pass away shortly, British grief over the queen's death will be historic.