Why Steve Bannon Is Calling His Latest Indictment 'An Irony'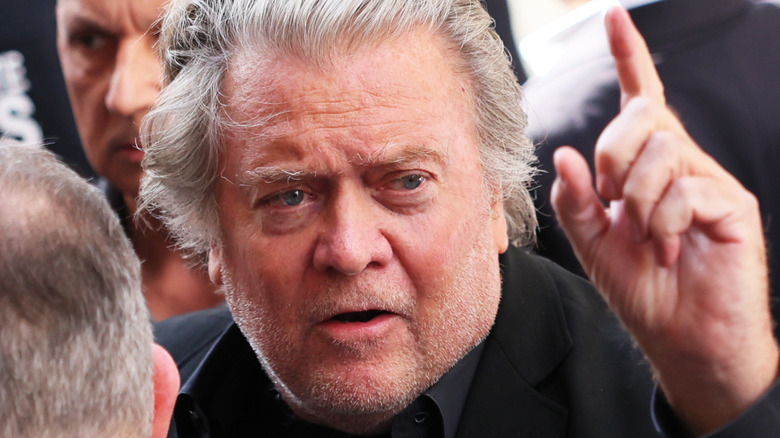 Michael M. Santiago/Getty Images
Steve Bannon, once the right-hand man to former president Donald Trump, took another step forward in his journey through the American legal system. On Thursday, September 8, 2022, at around 9:10 a.m., Bannon turned himself into the Manhattan district attorney's office, The New York Times reports.
This isn't the first time Bannon has been indicted, let alone indicted for the charges many are alleging he's facing today. Just two months ago, Bannon was convicted of contempt of Congress after refusing to comply with a subpoena request, per The Washington Post. Bannon had been asked to provide records and testimony for the January 6 Committee and refused to do so. The Washington Post reports Bannon was found guilty of contempt in July and has a sentencing hearing for that charge on October 21, 2022. He faces a minimum of thirty days in jail, with one year being the maximum.
Two years ago, Bannon was indicted by federal prosecutors for using donations that were supposed to go towards building a border wall to "pay for personal expenses," per The New York Times. At the time, prosecutors said Bannon used $1 million of the $25 million the border wall fundraising drew in. While Bannon pleaded not guilty at the time of the federal charges and continues to call these new state-level charges "nothing more than a partisan political weaponization of the criminal justice system," the two men he had originally been indicted with did plead guilty to all charges, per The Washington Post.
Steve Bannon finds his indictment ironic because of New York City's homeless crisis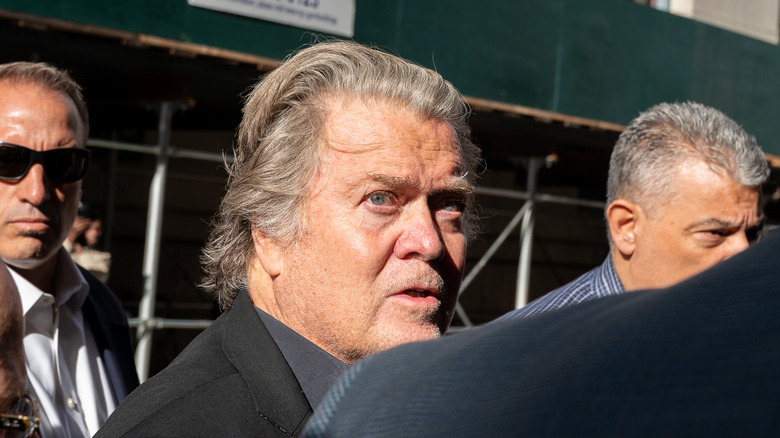 David Dee Delgado/Getty Images
The charges against Steve Bannon had originally been sealed by the court, though it was clear to him what case New York State was building against him. On his way to turning himself in to the Manhattan district attorney, The New York Times reports Bannon spoke to reporters, commenting that he felt his indictment was ironic. "On the very day the mayor of this city has a delegation down at the border," he said, "they're persecuting people here for trying to stop [migrants] at the border."
While Bannon had been indicted by federal prosecutors for money laundering and wire fraud, former president Donald Trump pardoned Bannon before leaving office in January 2021 (via The Washington Post). Today, he was indicted on those same charges, but on a state level which means double jeopardy shouldn't apply, The Guardian explains, especially since Bannon was pardoned before Bannon even stood trial.
Bannon's assessment of New York "persecuting people" trying to stop people from seeking asylum in the United States couldn't be more wrong. While there is currently a delegation from the New York City mayor's office visiting the U.S./Mexico border, the New York Daily News reports it's because of Texas' new migrant policy.
In response to the influx of immigrants crossing the border, Texas has allegedly been putting people on buses and shipping them to cities like Washington, D.C. and New York City, per The Texas Tribune.
Steve Bannon's feelings about immigrants have not changed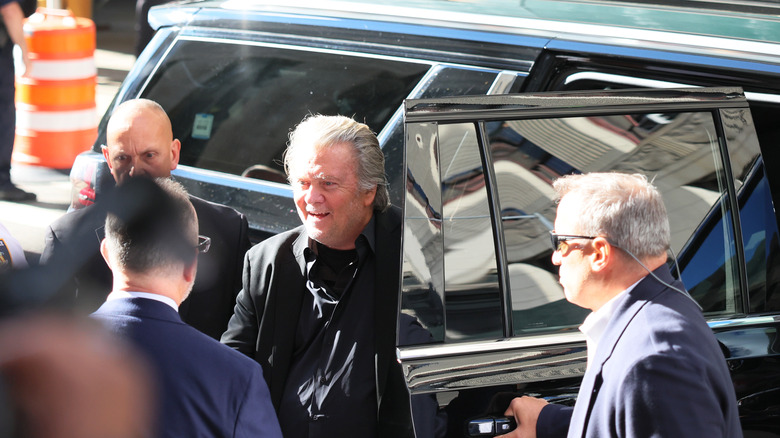 Michael M. Santiago/Getty Images
The comments The New York Times reports Steve Bannon made before turning himself in to the Manhattan district attorney sounded as if his feelings about whether the United States needs a border wall haven't changed. His opinion appears to be shared by Texas Governor Gregg Abbott as well, who has begun bussing immigrants out of his state.
One major with Governor Abbot's plan? He's refusing to communicate with the governments he's sending immigrants to, per the New York Daily News. Another problem New York City Mayor Adams has is Governor Abbot's treatment of migrants. At an unrelated news conference, The Texas Tribune reports Mayor Adams alleged that Texas is, "putting [immigrants] on a bus for the 44-hour ride, very few breaks, no food, no direction and clear information" about where they're going. Further, officials only know when immigrants are arriving from Texas because volunteer organizations like Grannies Respond have been stepping in to help try to bridge the gap in communication, per The Texas Tribune.
Once immigrants finally make it to New York City, Mayor Adams' administration is having a hard time finding shelter for them. According to the New York Daily News, New York City's "Right to Shelter" status means they need to provide "a bed in a homeless shelter to any migrant who needs one." As of September 02, 2022, New York City was home to nearly 6,000 migrants, leaving vacancies at homeless shelters at less than 1%, per the New York Daily News.