Why Prince Harry Didn't Get To Say His Goodbyes To The Queen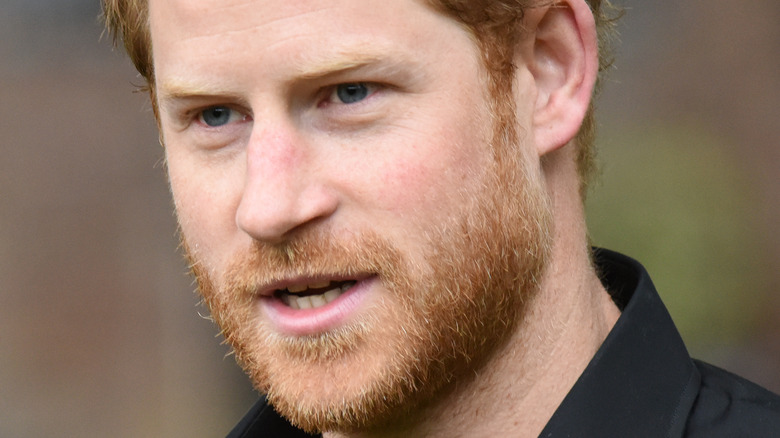 LINGTREN.COM/Shutterstock
When news broke on the morning of September 8 that Queen Elizabeth II was placed under medical supervision, Prince Harry, Duke of Sussex, rushed to be at her side (via Time). The queen was currently residing at Balmoral Castle in Scotland, and though the Duke of Sussex was in the United Kingdom for a charity engagement, he had to make the trek from London to Scotland to be with his family. This was a trip that he took solo, as only senior royals were in attendance — his wife, Meghan Markle, stayed behind in London.
Tragically, Queen Elizabeth II passed away before Harry could arrive in Scotland. While he quickly flew into the country and was privately driven to the estate, by the time he had reached the castle, the monarch's death had already been announced, as reported by TMZ. Since the Duke and Duchess of Sussex were in London and were set to give a speech at a September 8 event that is no longer happening, Harry was unfortunately too far away to reach his ill grandmother before her death.
While tensions have been high since Harry and Meghan, Duchess of Sussex, chose to step away from their senior duties and settle into a new routine in California, the prince and his grandmother have been close throughout his life. However, when the Sussexes were in the United Kingdom for the queen's Platinum Jubilee celebrations in June, they shared tea privately with Her Majesty and had a chance to catch up (via Newsweek).
Prince Harry and Queen Elizabeth met for perhaps the last time in June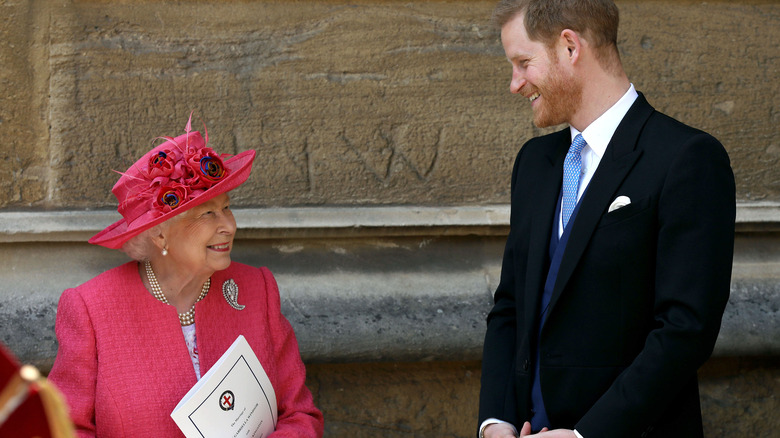 Wpa Pool/Getty Images
Though Prince Harry, Duke of Sussex, was tragically unable to reach Queen Elizabeth II at Balmoral before her passing (via TMZ), the pair were said to have had a productive and heartwarming meeting in June. According to a report from The Irish Sun, Her Majesty had a car sent to retrieve Harry and his wife, Meghan Markle, when the duo arrived in the United Kingdom for the queen's Platinum Jubilee celebrations. The Duke and Duchess of Sussex's meeting with Queen Elizabeth was reportedly way shorter than we originally thought — clocking in around 15 minutes — but this was primarily attributed to the couple's "whirlwind and jam-packed" schedule (per Hollywood Life). Prior to this brief meeting, Harry and Meghan were reported to have spent time with the queen in April during a private gathering (via Newsweek).
During an interview with Hoda Kotb for the Today show, the Duke of Sussex discussed in detail how things went between himself, his wife, and his grandmother during their time together in the spring. "Being with her, it was great. It was just so nice to see her. She's on great form," Harry said (via YouTube). He added, "Both Meghan and I had tea with her so it was really nice to catch up with her." 
Queen Elizabeth and Prince Harry have always had a close bond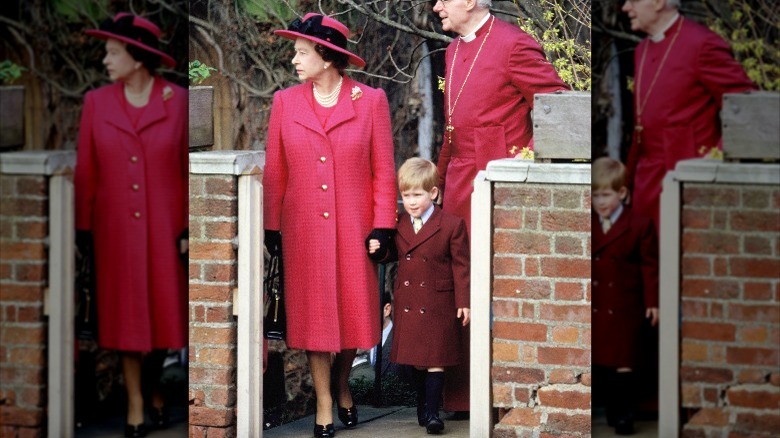 Georges De Keerle/Getty Images
Prince Harry, the Duke of Sussex, has always shared a wonderful, close relationship with his grandmother, Queen Elizabeth II. Following the news of Her Majesty's death, TikTok zeroed in on a touching video of Harry and the queen that highlighted this adoration. In the video, the prince can be seen sweetly holding hands with Queen Elizabeth when he was a young boy. One TikTok user aptly summed up the interaction in the comments, saying, "He is so lovely to his gran, Her Majesty."
While there has been much speculation about Harry's continued relationship with the queen following his decision to step back from his duties as a senior working member of the royal family, the 37-year-old attempted to clear the air personally. During Harry and his wife, Meghan Markle's bombshell interview with Oprah Winfrey in 2021, the Duke of Sussex stated, "I've spoken more to my grandmother in the last year than I have done for many, many years," (via Sky News). He added, "My grandmother and I have a really good relationship and an understanding ... She's my colonel-in-chief, right? She always will be."