Here's How To Start A Career As A Bartender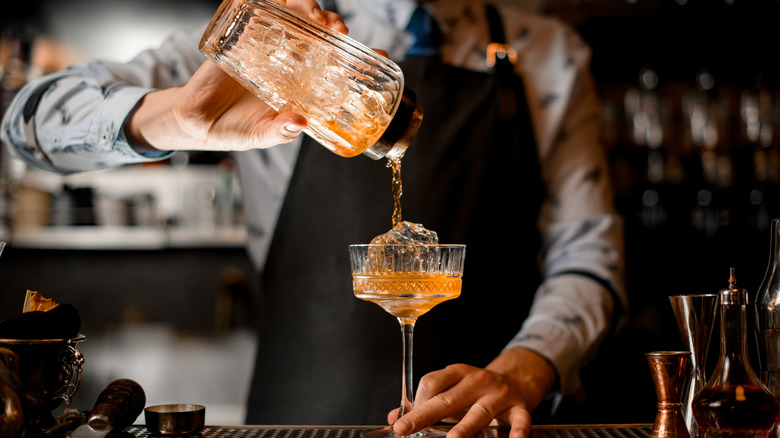 Maksym Fesenko/Shutterstock
Feeling unfilled and looking for a new start? You may be one of the millions of Americans who have decided it's time to make a career change. According to Forbes, millions planned to leave their old jobs for new ventures after the COVID-19 pandemic. Perhaps you're an extrovert who feels cooped up behind a cubicle or simply looking for a more hands-on job, maybe even one that requires you to be an expert in alcohol. If that is the case and you're looking to start your next stage of life as a bartender, you're in luck. 
The Bureau of Labor Statistics estimates that there are about 485,330 bartenders employed in the U.S., making an average income of $30,340. You may have been influenced by the hoards of media representations of bartenders on television and in movies, ranging from the stoic and handsome Jack on "Virgin River" to the fan-favorite female bartenders of "Coyote Ugly." But real-life bartending can be both a rewarding and a demanding gig. If you're looking to start a career pouring drinks, there are some steps to take before you can get behind the bar.
Applying to be a bartender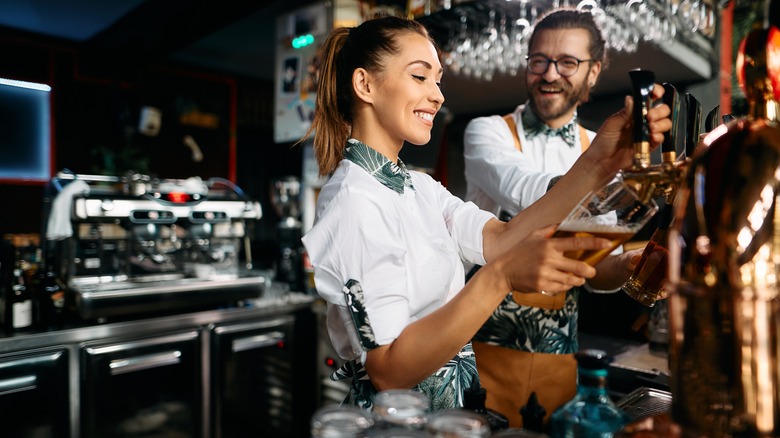 Drazen Zigic/Shutterstock
Most states do not require a license to become a bartender, but some states, like Washington, have specific requirements aspiring bartenders must complete before stepping behind the bar. Be sure to look up what, if any, licenses or certificates must be earned before becoming a bartender in your state.
Once you've done your training and filled out the necessary paperwork, it's time to network. If you live in a state that doesn't require a licensing process, this will be your first step. Once you're ready to start applying, you'll need to research job openings and begin the application process for possible employers. Bartenders need to be adaptable, accurate, and welcoming, according to The Balance Careers, so highlight past job experiences that have required those skills — even if they haven't been specific to the restaurant business. Of course, past experience in restaurants, distilleries, or as a mixologist is a plus.
Highlight your interests and stay professional in interviews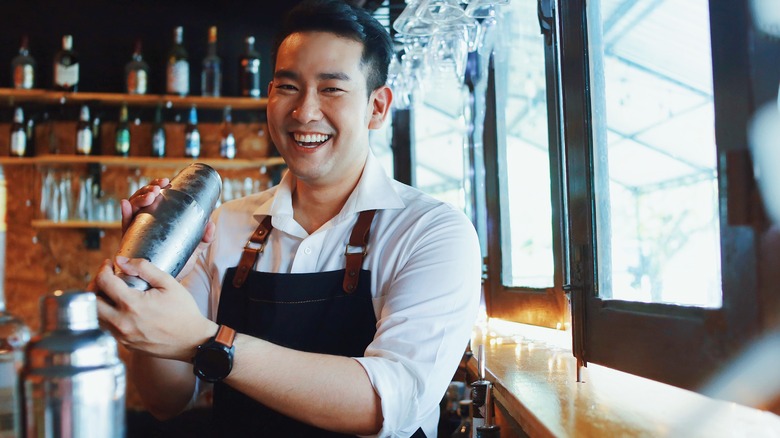 Mallika Home Studio/Shutterstock
Now that you have a chance to sit down with the owner or manager of your dream bar or restaurant, you'll want to make yourself stand out compared to other applicants. Throughout the application process, How To Become recommends thinking about your niche interests and comparing them to the kinds of bars and restaurants that have openings. If you're super into sports, look for openings at sports bars. Be sure to talk about how your passion for sports would make you a great buddy for fellow fans at the bar.
There are some bartender-specific skills to highlight during your interview, too. For one, know your alcohol. You don't want to walk into a bartending gig without knowing the difference between gin, tequila, or vodka. You'll also want to have a foundational understanding of some of the most popular cocktails. According to Bin Wise, every bartender should know how to make a margarita, martini, mimosa, and Moscow mule. Additionally, bartenders need to have a great memory and good communication skills, according to Indeed.
Finally, remember that this job is just that: a job. Being a bartender requires flexibility, hospitality, and the ability to multitask. It can be a worthwhile gig that opens doors to becoming a bar manager or owner. Stay on your toes and keep those glasses full.