Balmoral Staff Will View The Queen's Coffin In A Room With A Heartwarming Past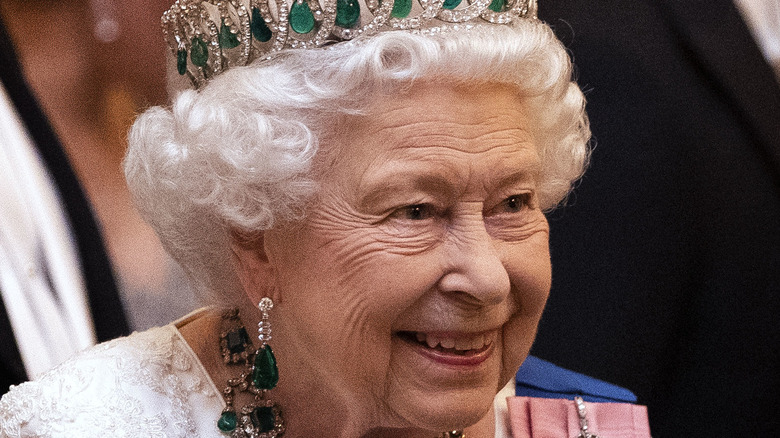 Wpa Pool/Getty Images
The death of Queen Elizabeth II on September 8 has put into action Operation London Bridge, the code name for the plan enacted once Her Majesty passes away, according to NBC News.
Queen Elizabeth II died at Balmoral Castle in Scotland, with family traveling to see her before her death, including Prince William, Prince Andrew, Prince Edward, and later, Prince Harry (per CBS News). Earlier in the day, Buckingham Palace released a statement that the queen was under "medical supervision," (via BBC News). Later in the evening, it was announced via The Royal Family's official Twitter that she had died peacefully that afternoon.
King Charles III, who ascended to the throne upon the queen's death, and his wife, Queen Consort, Camilla Parker Bowles, returned to London the following day. Queen Elizabeth's coffin has been placed in the ballroom of Balmoral Castle, "to allow her loyal household staff to pay their respects," reports the Daily Mail. The ballroom itself has a heartwarming past, which may lend insight as to why the queen's coffin is to be viewed there.
The queen has a long history with Balmoral Castle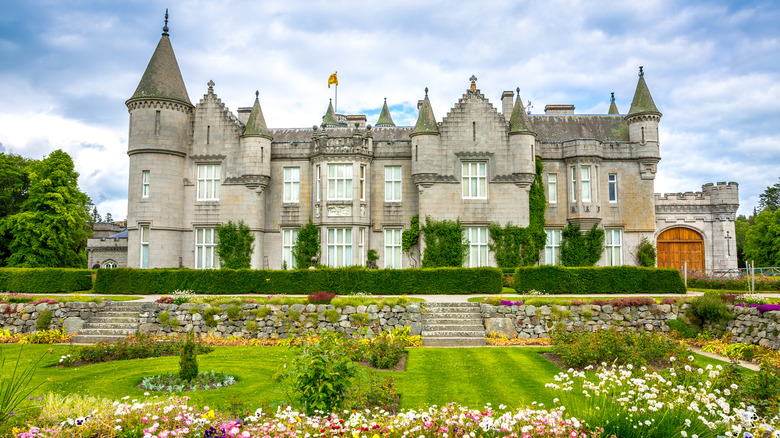 A. Karnholz/Shutterstock
Balmoral Castle has been in the royal family for ages, since Queen Victoria's time. While Buckingham Palace and Windsor Castle are both owned by The Crown Estate, this residence was privately owned by Queen Elizabeth II — she inherited the property from her family, according to Glamour. As such, the queen spent time there as a child, and at age 12 she enjoyed her first dance in the ballroom where her coffin now sits. The occasion was the Ghillies Ball, according to the Scottish Daily Express, an annual event held since 1852 to honor the castle's staff. Queen Elizabeth II attended several of these balls throughout the years.
Her Majesty also spent time at Balmoral Castle with her late husband, Prince Philip, Duke of Edinburgh, and other family members. "The castle has been a base for the royal family's summer vacations, a place for walks and secluded picnics," reports The New York Times. Multiple photos have been published of the queen enjoying her time on the grounds, including a gallery collected by Town & Country. The gardens surrounding the castle were personally renovated by Prince Philip, according to Hello!.
Where the queen's coffin will go after Balmoral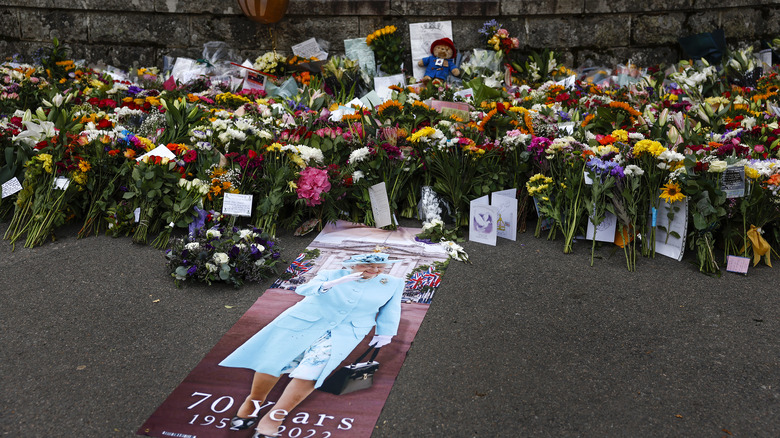 Jeff J Mitchell/Getty Images
Operation Unicorn is the code-name for the plan that was put into place should Queen Elizabeth II die in Scotland (per The Scotsman), to run in conjunction with Operation London Bridge. According to BBC News, the queen's coffin will remain in Scotland for several days. After Balmoral Castle, Her Majesty will be moved to her official residence in Scotland, the Palace of Holyroodhouse, in Edinburgh. Her body will then be brought to St. Giles' Cathedral in Edinburgh for public viewing.
Afterward, the queen is to be transported to Buckingham Palace, and, in a slow procession with military and members of the royal family, be carried to Westminster Hall. Once there, Queen Elizabeth II will lie in state for around four days before her funeral, per BBC News.
Upon her death, Her Majesty was fondly remembered with multiple tributes pouring in from around the globe. James Corden, Elizabeth Hurley, Daniel Craig, Harry Styles, and Victoria Beckham were among the mourners. Former president Barack Obama also joined in, writing on Twitter, "Time and again, [Michelle and I] were struck by her warmth, the way she put people at ease, and how she brought her considerable humor and charm to moments of great pomp and circumstance."