King Charles May Have Included A Nod To Princess Diana In His First Address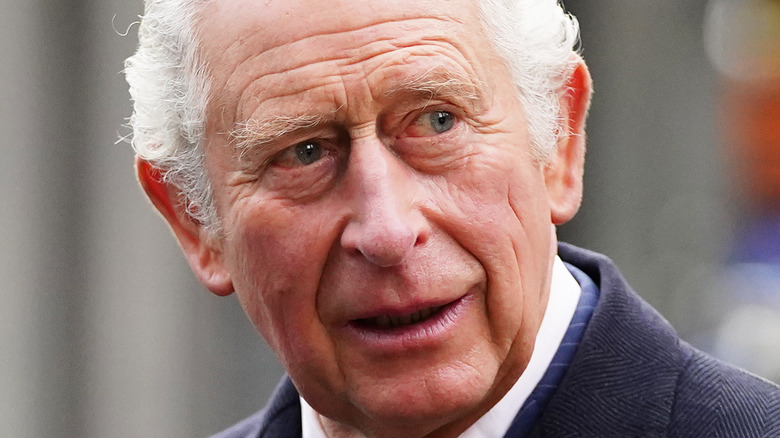 Wpa Pool/Getty Images
We may receive a commission on purchases made from links.
On September 9, 2022, King Charles III honored his mother, the late Queen Elizabeth II, in a touching tribute. With the backdrop of Buckingham Palace's Blue Drawing room behind him, he delivered his first speech as King as the world watched on, and stressed his utter loyalty to the United Kingdom, per CNN.
King Charles III's first speech in his new role as monarch has everyone saying the same thing, and pointing out that he has inherited a significant responsibility, as well as a legacy. His Majesty acknowledged this immense weight and duty in his speech. "As the Queen herself did with such unswerving devotion, I too now solemnly pledge myself throughout the remaining time God grants me to uphold the constitutional principles at the heart of our nation," he voiced.
In an unexpected move, the King gave a subtle nod to Prince Harry and Meghan after confirming the line of succession for the royal family. His first address to a mourning nation also stirred comparisons to his late ex-wife Princess Diana's funeral service because of a single poetic line connecting them together. 
The final line of his closing remarks was pulled directly from Shakespeare's classic "Hamlet," the Daily Mail reported. "May flights of angels sing thee to thy rest," the assist from Shakespeare read. "Song for Athene," the song performed at Princess Diana's funeral also referenced this exact line, making this already heartbreaking moment even more bittersweet.
Charles and Diana were on good terms before her death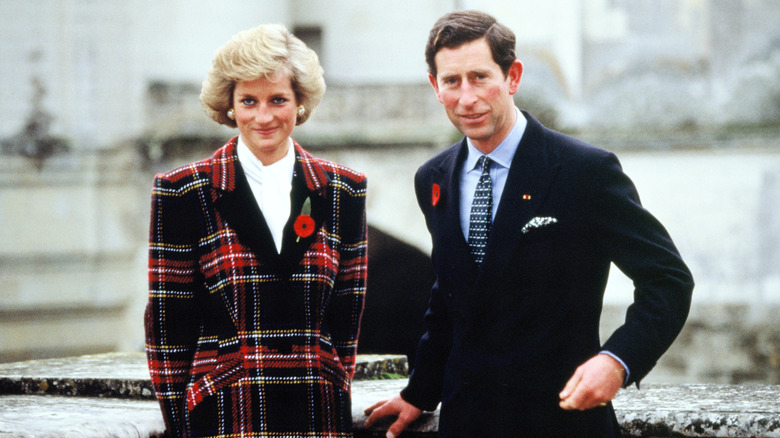 Georges De Keerle/Getty Images
Although they had a tumultuous marriage, sources revealed that King Charles III and Princess Diana were on good terms before her passing in 1997. "Charles got into the habit of dropping in on her at Kensington Palace and they would have tea and a sort of rueful exchange. They even had some laughs together," royal biographer Tina Brown told The Daily Telegraph.
Diana made the revelation to Brown during a dinner at the Four Seasons in New York City — just one month before Diana succumbed to injuries she sustained in a car accident in Paris. Surprisingly, the princess conveyed that despite the fact that Charles had been carrying on an affair with Camilla Parker Bowles throughout their marriage, Diana would "go back to Charles in a heartbeat if he wanted her," Brown said.
After her death, Charles was tasked with helping his sons, Prince William and Prince Harry, grieve their mother — he also had to deal with his own emotions. "There had been some moments of happiness in the morass of misery, but he was keenly aware that he had failed to make the happiness last, failed to make her his friend and failed to create the secure, loving home for their children that they both had dreamed of," royal author Penny Junor wrote in her book "The Firm." 
Diana had a complicated relationship with Queen Elizabeth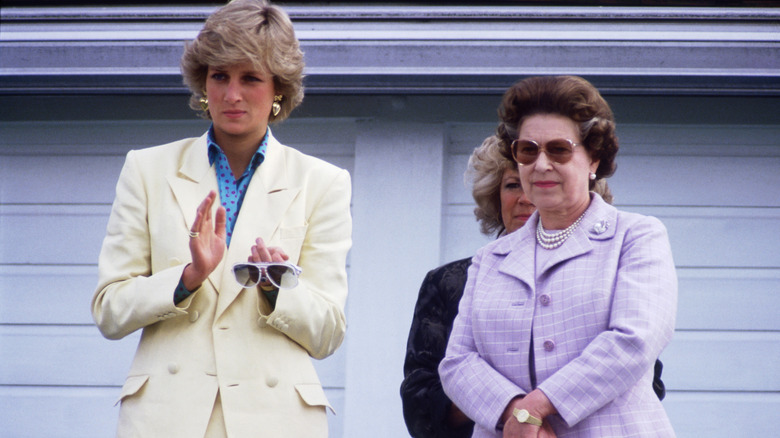 David Levenson/Getty Images
While Princess Diana's relationship with her ex-husband improved after their divorce, the same can't be said about her bond with Queen Elizabeth II. According to sources, Her Majesty was initially sympathetic to Diana's struggles in her marriage to Charles, but things changed after the publication of Andrew Morton's book, "Diana: In Her Own Words," which revealed intimate details of Diana's relationship with the entire royal family, including the queen. "In the early days, Diana was quite simply terrified of her mother-in-law. She kept the formal obsequies — dropping a deep curtsy each time they met — but otherwise kept her distance," Morton wrote.
After Diana sat down for a tell-all interview with then-BBC journalist Martin Bashir, where she spoke candidly about Charles's ongoing affair with Camilla Parker Bowles, Elizabeth wrote to both her son and daughter-in-law urging them to divorce. Yet when Diana died one year later, Elizabeth broke protocol by bowing to another person for the first time as Diana's casket went by. She also addressed the British people, who were mourning the loss of the "people's princess."
"I want to pay tribute to Diana myself," Elizabeth said. "She was an exceptional and gifted human being. In good times and bad, she never lost her capacity to smile and laugh, nor to inspire others with her warmth and kindness."