Fans Are All Saying The Same Thing About Prince William After The Queen's Death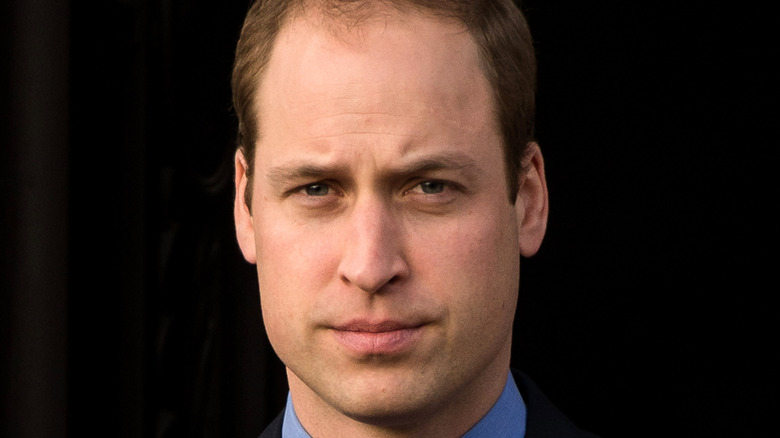 Richard Stonehouse/Getty Images
While the royal family is mourning the passing of Queen Elizabeth II, there are still duties that need to be carried out as her son, King Charles III, ascends to the throne. On September 10, King Charles III was formally proclaimed the sovereign of the United Kingdom during the Accession Ceremony, which was broadcast live on television for the first time, per NPR.
Although Charles inherited the throne upon his mother's death, the Accession Ceremony is used to formally proclaim and introduce the new monarch to the United Kingdom. Prime Minister Liz Truss — who was formally appointed by the queen just two days before her death — was in attendance, as well as several other senior politicians. The king was also joined by his wife, Camilla, Queen Consort, and his son, Prince William, Prince of Wales. It was the first time William had been seen out in public since his grandmother's passing, and royal watchers on social media were quick to point out how solemn the future king looked.
"I'm really feeling for Prince William and Queen Camilla at the Proclamation. They look so sad," tweeted one observer. "Prince William looks so sad," wrote another. 
During his private meeting with the Accession Council, Charles spoke about the grief everyone is feeling during this difficult time. "I know how deeply you and the entire nation, and I think I may say the whole world, sympathize with me in this irreparable loss we have all suffered," he said.
Prince William has grieved in the public eye before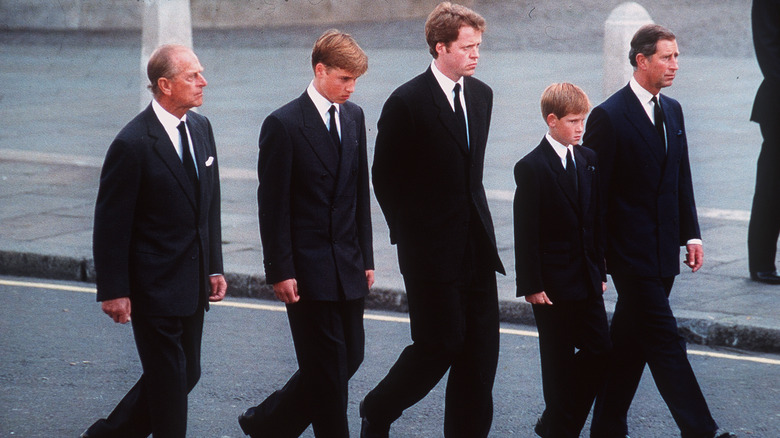 Anwar Hussein/Getty Images
Queen Elizabeth II's tragic passing is not the first time that the public has seen Prince William grieve the loss of a loved one. As many know, the young prince was only 15 years old when his mother, Diana, former Princess of Wales, died in a devastating car accident in Paris, France. While she was no longer married to his father, King Charles III, at the time, Diana was still a valued member of the royal family and an immensely popular public figure. As news of her untimely death at 36 years old traveled, the public outpouring of grief was immense — it was arguably only outweighed by the loss that William and his younger brother, Prince Harry, Duke of Sussex, felt. 
Speaking about his mother's passing while attending the General Assembly of the Church of Scotland in 2021, the new Prince of Wales shared that discovering his mother had died was by far the saddest day of his life. 
"I was in Balmoral when I was told that my mother had died. Still in shock, I found sanctuary in the service at Crathie Kirk that very morning," William shared. "And in the dark days of grief that followed, I found comfort and solace in the Scottish outdoors. As a result, the connection I feel to Scotland will forever run deep."
Further sharing that the country of Scotland — where Queen Elizabeth II also passed — holds an equally positive experience for him, William reflected on meeting his wife, Catherine, Princess of Wales, while a student at Scotland's St. Andrews, per People. 
Twitter has weighed in on William and Catherine's notable new titles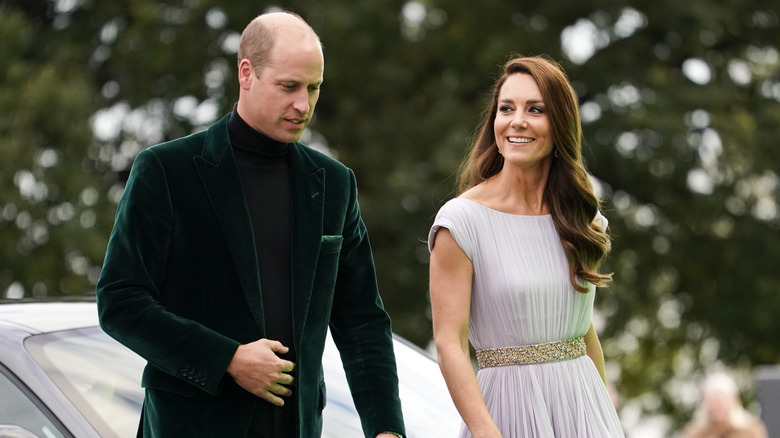 Wpa Pool/Getty Images
While Prince William is clearly in mourning following the death of his beloved grandmother, Queen Elizabeth II, her passing and the ascension of King Charles III has marked a significant — and touching — addition to his official title. The direct heir to the throne is now the Prince of Wales, and his wife, Catherine, is the new Princess of Wales. While the title was technically held by Camilla, Queen Consort, before her husband took the throne, the moniker Princess of Wales was directly tied to the late Diana Spencer both during her life and death. As such, William and Catherine's adoption of the titles for public use feels like a full circle moment, and Twitter weighed in on the heartfelt change. 
"Catherine is now Her Royal Highness the Princess of Wales. I can't think of a more deserving person," one Twitter fan commented. "Diana would have been so proud of her son and daughter in law, prince and princess of Wales," another wrote. Clearly, royal fans are touched by the meaningful title change.