The One Noticeable Royal Missing From King Charles' Oath Signing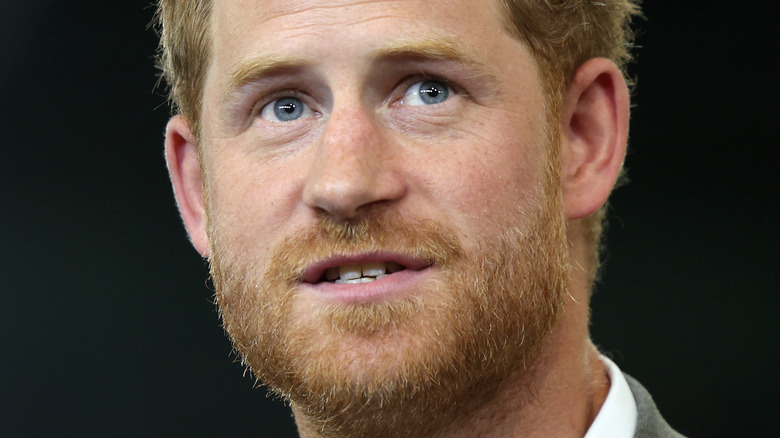 Chris Jackson/Getty Images
Around 200 Privy Counselors gathered at St. James's Palace to recognize the death of Queen Elizabeth and formally announce King Charles III as the new monarch, per CBS News. This group of attendees at the Accession Council included newly-appointed Prime Minister Liz Truss and the Lord Mayor of London. Prince William, the new Prince of Wales, along with Camilla, Queen Consort, were also present.
For the first time, the ceremony was televised, leaving viewers with questions about who could participate. "Why is Prince Harry not in attendance?" one royal fan tweeted. "Prince Harry should have went to his fathers thing..." commented another.
According to NBC's "Today," the Duke of Sussex was not there as he's not a member of the Privy Council. With 700 members, not even all Privy Councilors were guaranteed attendance due to space considerations. Current members were appointed by Queen Elizabeth, with William, now the Duke of Cornwall, joining the group in 2017. It's possible Harry was once part of the group as well. "It could be that he was taken off for one reason or another," Kim Hjelmgaard, world affairs correspondent at USA Today, told NBC. This change may have occurred when the Duke and Duchess of Sussex stepped back from their roles as working royals.
Despite Harry's absence, King Charles paid tribute to Harry and William at the ceremony. To sign the official declaration naming him king, Charles dipped his pen into a silver pot that his sons had given him in honor of the momentous occasion.
Despite tension, Harry and Meghan will remain in Britain until the queen's funeral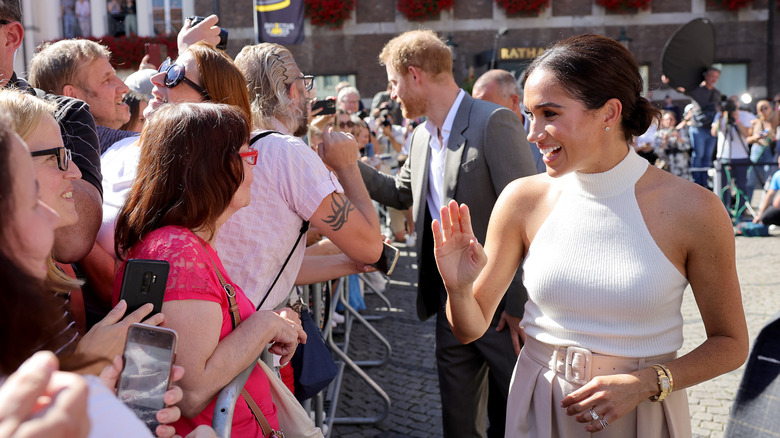 Chris Jackson/Getty Images
While Prince Harry, Duke of Sussex, was not in attendance at King Charles III's formal announcement, he and Meghan Markle, Duchess of Sussex, will be staying in the United Kingdom until Queen Elizabeth II's funeral, which is scheduled for September 19, the BBC reported. Harry and Meghan were originally in the U.K. for a charity event — their visit happened to coincide with Elizabeth's tragic passing. While he didn't make it to Balmoral in time to say goodbye to his grandmother before she died, People noted that Harry was with the royal family immediately following her death, allowing the relatives to mourn together. 
In a more dramatic twist, however, it has been said that Meghan was not invited to accompany her husband given the ongoing rift between the couple and the established firm. Royal expert Katie Nicholl told Entertainment Tonight that the duchess did not receive an extension, alluding to the ever-present tension between her and the royals. 
"It's understood that the family wanted Prince Harry to be there, even though he was unable to get to Balmoral in time to see his grandmother," Nicholl explained. "But Meghan, the Duchess of Sussex, was not, we understand, invited to join the family. She has said she will go to Balmoral another time. But I think it is quite significant that Prince Harry traveled to Balmoral on his own without his wife."
Harry and Meghan joined William and Kate to view tributes to the queen
The Wales's and the Sussexes have come together to view some of the many tributes for the Queen left by the public outside Windsor Castle. A Palace spokesperson says, "The Prince of Wales invited the Duke and Duchess of Sussex to join him and the Princess of Wales earlier." pic.twitter.com/YCXhu9yRlk

— Omid Scobie (@scobie) September 10, 2022
Although Meghan Markle, the Duchess of Sussex, did not accompany her husband to Balmoral, she and Prince Harry, Duke of Sussex, appeared alongside William and Catherine, the Prince and Princess of Wales, to view the many tributes, flowers, and personal touches mourners have left at Windsor Castle in honor of Queen Elizabeth on September 10. The foursome — who have not been seen together in quite some time — walked to the gates of Windsor together, with Harry and Meghan hand in hand. The couples were seen crouching down to the ground to get a closer look at the tributes left, all while giving royal fans a sight to behold: the two brothers together. 
Of course, Twitter was quick to weigh in on the high-profile reunion, with many people picking apart the footage. "The nonverbal communication always tells the story. There is no affection between William and Kate," one user weighed in. "The way Kate leaves Meghan hanging behind and then Harry closes the gap and holds her hand. These two love each other so much," wrote another. Time will tell if the two couples reunite again amid the ongoing events in the wake of Queen Elizabeth II's passing.