What Was The Queen Doing In The Days Leading Up To Her Death?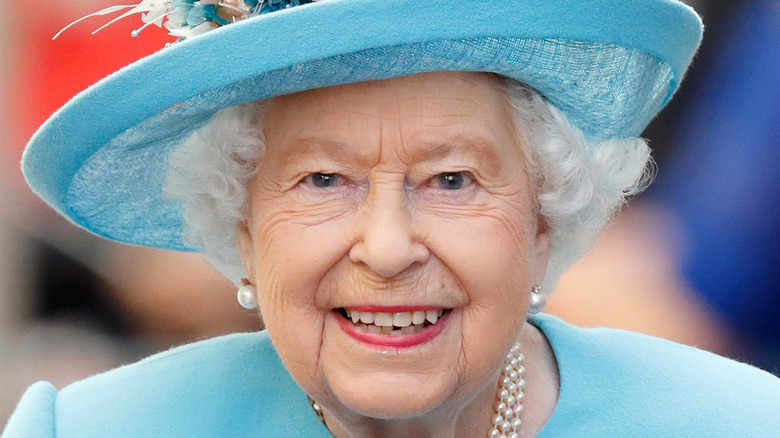 Max Mumby/indigo/Getty Images
The death of Queen Elizabeth was heartbreaking, for not only the family who knew and loved her, but also for people worldwide who had never known a time when she wasn't on the British throne. Wars, natural disasters, terror attacks, political coups, and assassinations all came and went under her 70-year watch, yet she remained a constant throughout — resolute and calm. Although it was accepted that a 96-year-old monarch was living on borrowed time, the queen's death still came as a shock of its suddenness. While she had been scaling back her official duties because of her mobility issues (per Vanity Fair), she was active and on her game up to the end.
Suppose there is any comfort to be taken from the sad news. In that case, it's that the queen died at her beloved Balmoral Castle in Scotland, where she and her family enjoyed decades of summer holidays and Christmas celebrations. She had traveled there in July, as was her custom, and spent her final weeks savoring the relaxed country lifestyle with family and honored guests (via Daily Mail). Guarded closely by her personal assistant, sergeant-at-arms, and "Tall Paul," her Page of the Backstairs, the queen took care not to overexert herself as she walked her dogs, did "light paperwork," and watched horse races on television. 
A source told the Daily Mail that, apart from age-related aches and extremely "sore feet," the monarch had no apparent health issues, which made her death even more unexpected.
The queen had a delightful final weekend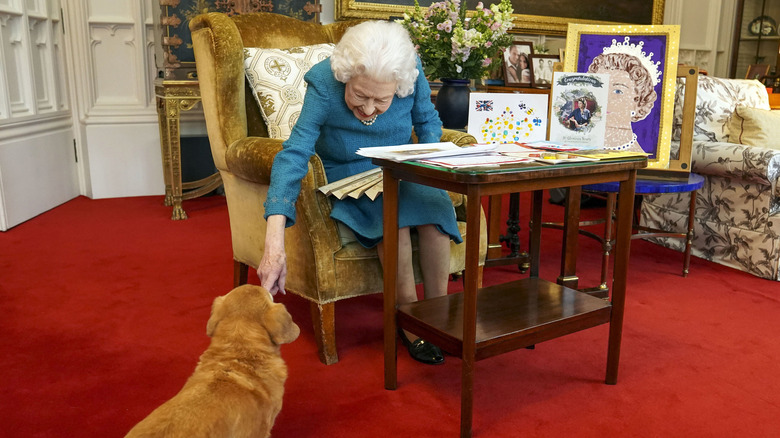 Wpa Pool/Getty Images
The queen was surrounded by love in her final weeks. Over the summer, visitors included her son Prince Edward and his wife, Sophie, Countess of Wessex, who was widely known as "the queen's favorite," according to The Sunday Times. Her late sister, Princess Margaret's children also spent time with her — as noted by the Daily Mail — as did the future king, William, Prince of Wales, his wife Catherine Middleton (now the Princess of Wales), and their three children, People explained. Prince Harry, the Duke of Sussex, opted not to visit (via Cosmopolitan).
The weekend of September 2, 2022, would be the queen's last, but it was a special time. Page Six reported she spent that Saturday having lunch with her son Prince Charles — now King Charles III — daughter Princess Anne, and the Reverend Iain Greenshields, a Church of Scotland minister. Rev. Greenshields describes the queen as being "full of fun" and "the life and soul of things." 
While her mobility may have been limited, the queen's mind most certainly was not. Rev. Greenshields recalls that she chatted readily about everything from the war in Ukraine to horses she'd owned decades earlier. The previous week, another minister visited and echoed those sentiments. "She was absolutely switched on about everything, current affairs and historical memories," said minister Martin Fair (via Page Six). "It was absolutely lovely to see her smile, and there was still that part of her that enjoys some fun."
The queen was beaming when her last photo was taken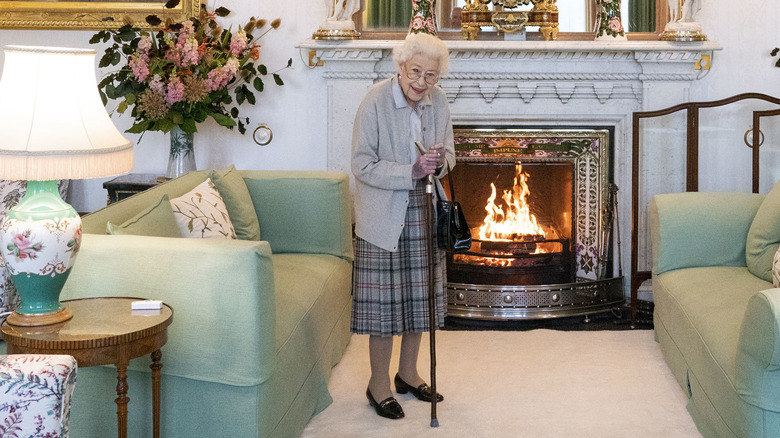 Wpa Pool/Getty Images
Just two days before her death, Queen Elizabeth met with Liz Truss, the newly elected British prime minister, in the drawing room of her Balmoral estate. While waiting for the prime minister, the queen graciously let photographer Jane Barlow take a few candid shots. The now-famous pictures of the queen in front of the fireplace would be the last the public would ever see. 
"When I came into the room with the Queen's press secretary she was very smiley and then moved across the room into position, and there was a wee while while we had to wait for Liz Truss to be announced, so during that short time she did comment on the weather," Barlow told the Daily Mail. Barlow described the queen as "very smiley," despite her obvious frailty. "It was just a lovely moment while we were waiting for those few minutes," Barlow recalled. Those final photos speak volumes about the queen's character: Despite whatever pain or concerns she may have had, she was ever the professional. Just as she had greeted 14 other prime ministers in her reign, the queen made sure to extend a handshake and a message of support to Truss.
Just 48 hours later, Truss would alert all of the United Kingdom that the queen was under medical supervision — a coded message signaling that a long and historic reign was about to end.