Twitter Can't Stop Talking About This Concern For The Mourning Royal Family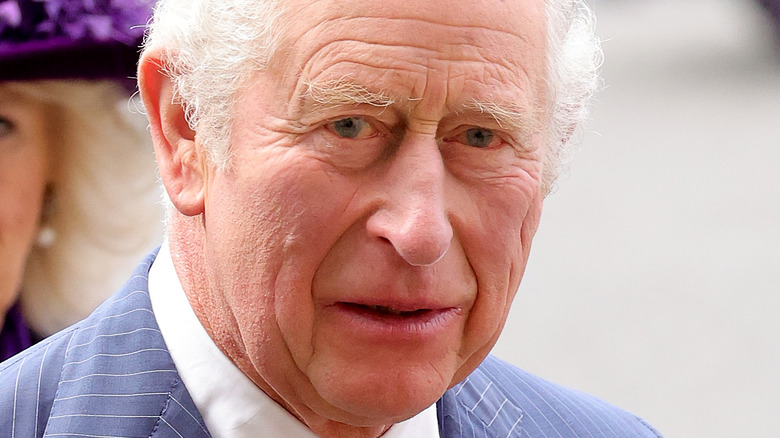 Chris Jackson/Getty Images
Queen Elizabeth II's death on September 8 triggered a series of strict protocols that were planned long before her passing. In 2017, leaked documents of what is now widely known as "Operation London Bridge" spread in the media, detailing an intricate sequence of events that would happen when the monarch passes. But what most people don't know is that Operation London Bridge was designed for the aftermath of the queen's death if it were to happen in London. Since she died at Balmoral Castle in Scotland, a contingency plan called "Operation Unicorn" has kicked into gear.
According to The Guardian, there will be a 10-day period of mourning, which involves the proclamation of the new sovereign, a gun salute, a string of church services, a ceremonial procession, and more. As of writing, the royal family is now on D+4 of the plans, in which the queen's coffin is transported to London, and King Charles and Queen Camilla travel to St. Anne's Cathedral to attend a service of prayer and reflection.
The public is concerned about the royal family's stamina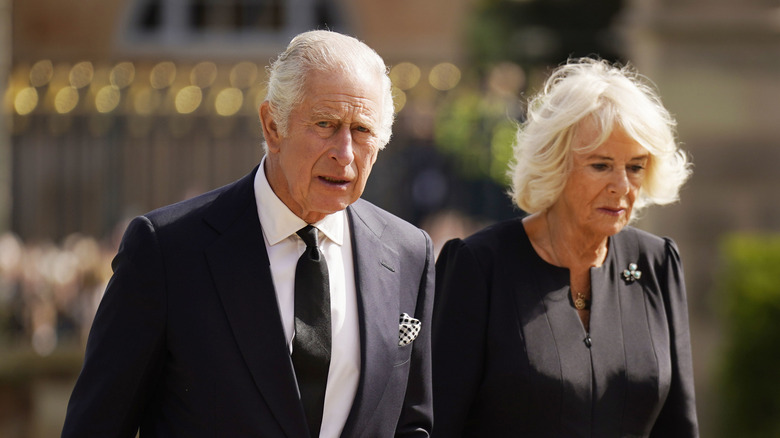 Wpa Pool/Getty Images
To say that it's been a long week for the royal family would be an understatement, and now the public is expressing concern. People took to Twitter to air out their sympathies. "They must be absolutely exhausted. With grief on top I feel so sorry for them. Is all this necessary at this precise time? Surely it could be spread out a little," one fan pointed out. "I keep saying I wish they could all just go home and be together and grieve instead of all this. We'd all be hunkered down with our families. Why can't they?" said another. "They must all be very tired still a long way to go till the 19th. Wishing them health and strength to see this though," tweeted another user.
These concerns are valid, considering how the royal family still has a lot ahead of them. Per CNBC, in the succeeding days, Queen Elizabeth's body will be transferred to the Palace of Westminster, where the public will get the chance to pay their respects. King Charles III is expected to lead the procession, with the rest of the royal family following on foot. The king will then proceed with his visits across the U.K. nations as well as meet with different heads of state and members of foreign royal families. On day eight, he is slated to meet the prime minister for his first weekly audience.
The royal family are still in mourning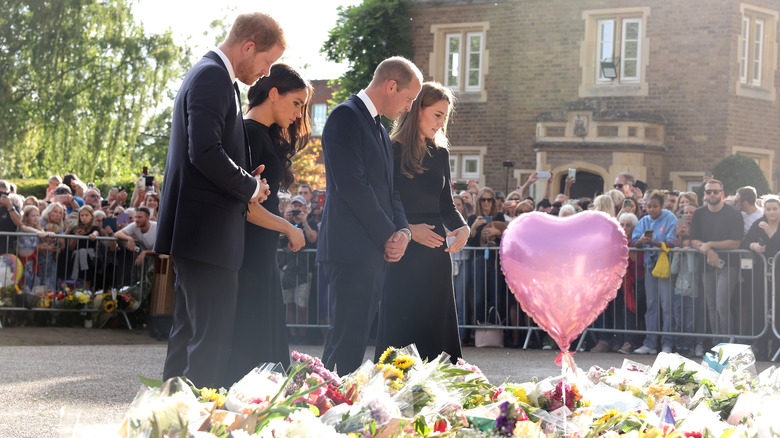 Chris Jackson/Getty Images
Ten days after Queen Elizabeth's passing, she'll finally get her official send-off at Westminster Abbey, with the royal family, prominent British figures, and heads of state present. A procession spanning up to 1.5 miles is expected as her coffin is carried from Westminster Abbey to her final resting place at St. George Chapel in Windsor. This is the only time senior members of the royal family will get to say their final goodbyes since the burial interment service is reportedly private.
While King Charles and Queen Consort Camilla have been traveling across the U.K. to attend public mourning ceremonies, a few members of the royal family have been mourning in their private time. Vanity Fair reported that Princess Anne, Prince Edward, Sophie, Countess of Wessex, Princess Eugenie, and Princess Beatrice were seen in Scotland paying their tributes to the late monarch. William, Prince of Wales, and Catherine, Princess of Wales were also spotted reuniting with Prince Harry and Meghan Markle.
In his statement following Queen Elizabeth's death, King Charles noted that his entire family is currently in a state of great mourning. "We mourn profoundly the passing of a cherished Sovereign and a much-loved mother," he wrote, adding that the entire family appreciates all the well-wishes from the public that they've been receiving.