Why Royal Fans Are Concerned About Prince Harry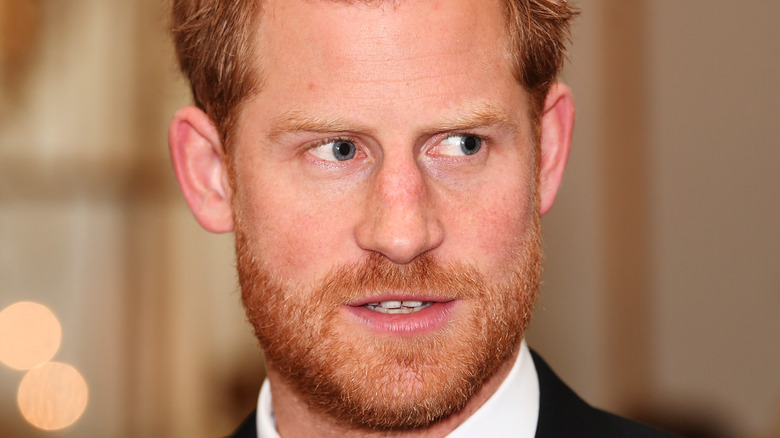 Wpa Pool/Getty Images
King Charles III and his sons, Prince William and Prince Harry, were part of the procession behind Queen Elizabeth's coffin from Buckingham Palace to Westminster Hall on September 14. CNN reported that King Charles's siblings, Princess Anne, Prince Edward, and Prince Andrew followed the coffin, too. Harry served 10 years in the military, but was not wearing his military uniform during the procession due to a decision made by his father. Yahoo! News royal expert Omid Scobie weighed in on the uniform decision, tweeting, "Unlike Prince Andrew at final vigil, Prince Harry will NOT be allowed to wear uniform at any ceremonial events. No doubt a huge blow for the Duke of Sussex, who served for 10 years and ...spoke of the queen being his 'commander-in-chief.'" But the youngest son of King Charles took the high road.
In the wake of the decision, a spokesperson made a statement for Harry, Duke of Sussex, per NBC's "Today." "Prince Harry, The Duke of Sussex will wear a morning suit throughout events honoring his grandmother. His decade of military service is not determined by the uniform he wears and we respectfully ask that focus remain on the life and legacy of Her Majesty Queen Elizabeth II." Some blasted the new king's decision, and one critic tweeted, "It's a self-inflicted blow to the RF, because the entire world is going to watch that funeral and witness that level of pettiness and spitefulness."
But some royal fans are concerned about Harry. And they may have good reasons to worry. 
Queen Elizabeth's funeral is likely a triggering event for Prince Harry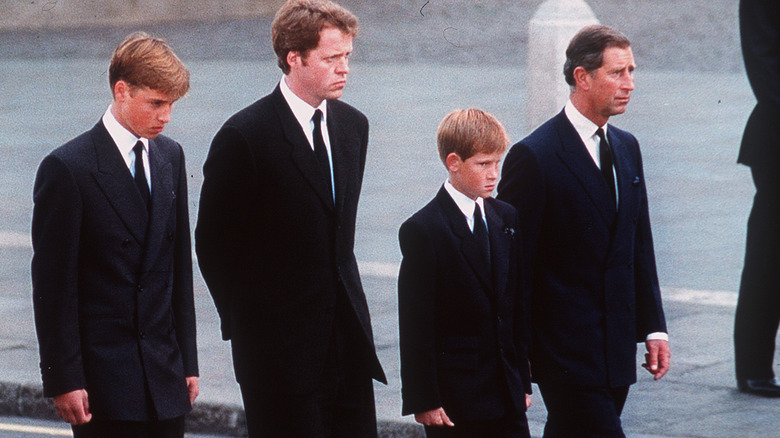 Anwar Hussein/Getty Images
Prince Harry and Prince William are reminding everyone of their most heartbreaking public appearance ever, as the boys walked behind Princess Diana's coffin in 1997. The iconic photo of Diana's sons is seared in the minds of many royal watchers. Harry, Duke of Sussex, talked about that horrible moment in "The Me You Can't See," his AppleTV+ docuseries. "It was like I was outside of my body," Harry explained. "I'm just walking along and doing what was expected of me, showing the one-tenth of the emotion that everybody else was showing." As a 12-year-old boy grieving, Harry thought, "This was my mum; you never even met her." Diana's youngest son recalled that he and William "were in shock." Some royal fans are worried about Harry in present time, as the queen's funeral is likely a triggering event. 
Harry wrote the forward for a children's book for kids who lost a parent, "Hospital by the Hill," by Chris Connaughton. People reported on the special message by Harry, who wrote, "When I was a young boy I lost my mum. At the time, I didn't want to believe it or accept it, and it left a huge hole inside of me. I know how you feel, and I want to assure you that over time that hole will be filled with so much love and support." But some question how much support Harry (and William) received after Diana's death. 
Media attacks make the UK toxic for Prince Harry and Meghan Markle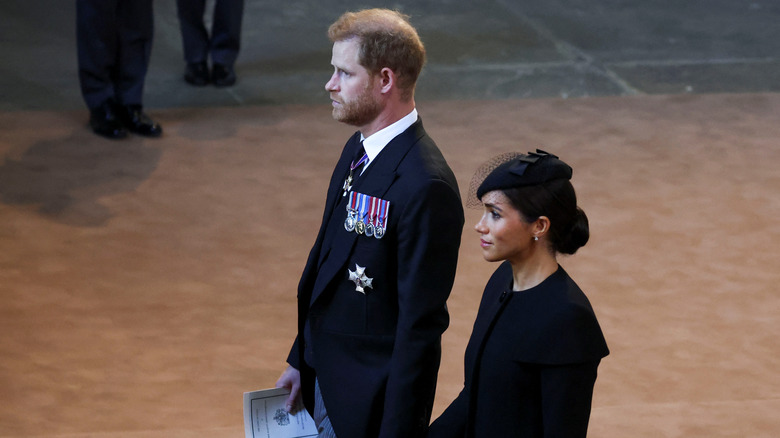 Wpa Pool/Getty Images
In addition to the tragedy of Queen Elizabeth's death, the harmful media attacks aimed at Harry and Meghan, the Duke and Duchess of Sussex, make the United Kingdom a toxic place for the couple. A video clip from Prince Harry's AppleTV+ docuseries, "The Me You Can't See," went viral on social media after journalist Nadine Batchelor-Hunt shared it.
In the video, Harry explains why he and Meghan had to leave Britain. When the Duke of Sussex said he was told he couldn't leave, he replied, "Well, how bad does it have to get until I am allowed to do this? She was going to end her life." Harry added, "My mother was chased to her death when she was in a relationship with someone that wasn't white. And now look what's happened. You want to talk about history repeating itself? They're not going to stop until she dies." In a heartbreaking portion of the video, Harry said, "I thought my family would help. But every single ask, [and] request got met with total silence...we spent four years trying to make it work." Even worse, Prince William might have helped in the attacks.
Yahoo! News royal expert Omid Scobie dropped a bombshell story indicating William "crossed lines" regarding the media attacks. Prince Harry's heartbreaking tribute to the queen shows how special their relationship was, but it will be interesting to see if Harry's relationship with his family heals after the queen's death.