Princess Diana's Friend Shares His Thoughts On The Odds Of Harry Reconciling With His Family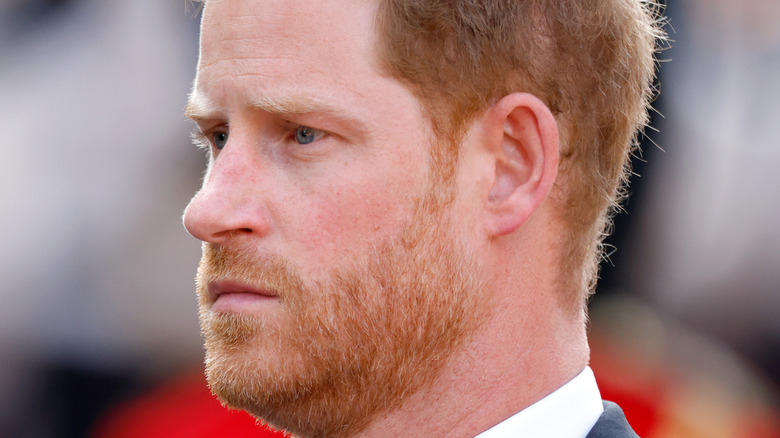 Max Mumby/indigo/Getty Images
The Prince Harry, Duke of Sussex is currently grieving the loss of his beloved grandmother, Queen Elizabeth II, who died last week at the age of 96. Sadly, after being unable to make it up to Scotland in time, Prince Harry didn't get to say his goodbyes to the queen. But he's been at the forefront of the mourning process ever since, with the duke even clarifying he had no issue with being prohibited from donning military dress while attending official events.
A source informed Us Weekly, "He has come to terms with not wearing uniform on these occasions." They added, "Whilst that's disappointing in some senses, he's just grateful to be present and honoring the queen. At the end of the day, it's only a uniform." With Harry back on home turf, royal watchers are wondering whether the Duke of Sussex might finally be able to make peace with his family, in particular William, Prince of Wales, and King Charles.
Per the BBC, fans were thrilled to see William and Harry reunited, alongside their wives, Kate Middleton, Princess of Wales, and Meghan Markle, Duchess of Sussex, during a walkabout at Windsor Castle. The group, formerly known as the Fab Four, enthusiastically greeted well-wishers and accepted flowers and condolences from them. However, despite putting on a united front on the day, a royal expert warns there's a long way to go before a proper reconciliation is possible.
The Sussexes have a lot of work to do to reconcile with the royals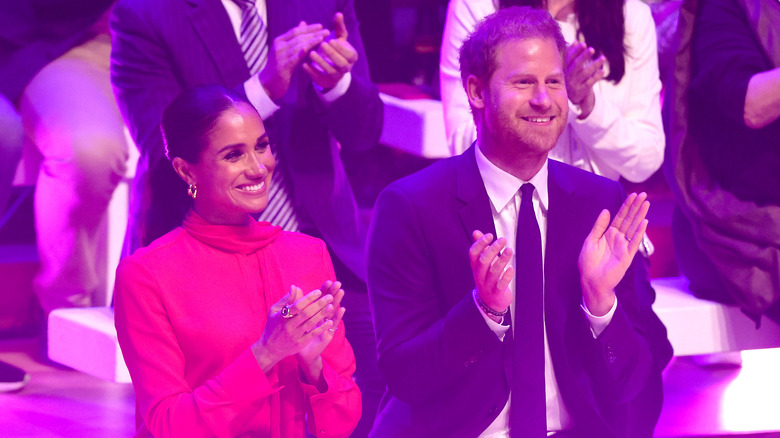 Chris Jackson/Getty Images
Royal fans were delighted to see warring brothers William, Prince of Wales, and Prince Harry, Duke of Sussex, reunited to mourn the queen's death, but according to royal expert Richard Kay, "Rarely has the relationship between princes once so close looked so strained, nor the gulf between them so wide." Writing for the Daily Mail, Princess Diana's long-time friend pointed out the striking differences between how the siblings looked while mourning their mother and grandmother. Kay noted how, earlier this week, both men stared firmly ahead, "impervious to those watching on who hoped for some small sign of reconciliation, some exchange of brotherly love, a flicker of forgiveness even." 
Sadly, according to the commentator, "There was none," since the princes were duty-bound by the formality of the occasion. Kay argued that, since the Duke and Duchess of Sussex have been invited to take centerstage alongside everybody else — in stark contrast to the Platinum Jubilee when they were relegated to the background — Harry should seize the opportunity to finally make things right.
But both sides must work together to do so, and Kay isn't convinced that the Sussexes will be willing to give up "commercializing" their lives to get back in the family's good graces. As royal expert Kinsey Schofield explained to TMZ, without the queen, it's likely going to be an uphill battle regardless, since the late monarch typically played peace-maker between the couple and the rest of the royals.
Prince Harry's bombshell memoir could make things even worse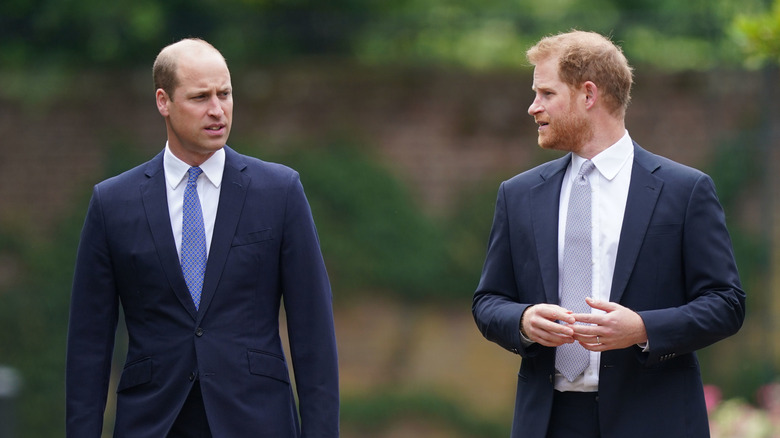 Wpa Pool/Getty Images
Although Prince Harry has made several attempts to resolve tensions with Prince William, one of the most important actions he could take, according to Richard Kay (via the Daily Mail), is to cancel the release of his upcoming tell-all book. However, another royal expert believes Harry is not changing his plans at all with his memoir. Author Tom Bower told GB News that the Duke of Sussex is "insisting" on sticking to the planned November publication date.
"Apparently the publishers are not too certain, but he says if they don't publish it's a breach of contract, that's what I'm told," Bower asserted. A source subsequently told The Sun such claims were nonsense. In fact, the release has been pushed back until 2023, in keeping with the royal mourning period. Either way, we probably won't hear much more about the memoir until at least after the queen's funeral. The book could still prove to be explosive, whenever it comes out. 
According to Piers Morgan, Queen Camilla may be Harry's main target (via Sky News Australia). The royal family is concerned he will "try and settle scores going back to his parents' marriage breaking." The prince is considering revising what he's written though, if certain sources are to be believed. Still, his beloved grandmother is safe, with an insider assuring Page Six, "He would never write anything bad about the Queen. He always has had the utmost love and respect for her."