Prince Harry Earned Back A Special Privilege In Time For The Queen's Vigil
Max Mumby/Indigo/Getty Images
Following the heartbreaking death of Queen Elizabeth II, Operation London Bridge went into effect, which lays out the initial 10 days of mourning for the United Kingdom's royal family, per NPR. The family will be carrying out traditions that follow when a monarch dies — many of these events have not been performed in years.
One of these events was the Vigil of the Princes, where the queen's children stood guard over her coffin at St Giles' Cathedral in Edinburgh, according to the Daily Mail. Prince Andrew, the Duke of York, was not allowed to wear his military uniform to this event, though he's being permitted to don it for the first time since the settlement that was reached in relation to the allegations of sexual assault he faced. Now, it appears Prince Harry, the Duke of Sussex will have the same opportunity. 
Prince Andrew and Prince Harry were previously banned from wearing their official military gear, though the reasons behind each man's change of titles vary severely. While both Harry and Andrew were excluded from a royal salute during one of the queen's celebrations of life, they will now have a chance to wear their military uniforms leading up to the funeral, as reported by the Mirror. Harry will wear his uniform for the first time since choosing to leave the United Kingdom for the United States in a ceremony on Saturday, and Prince Andrew will be able to wear his during a vigil on Friday evening (per Express). The event on Saturday is a 15-minute silent vigil where all eight of the queen's grandchildren will stand guard over her coffin at Westminster Hall.
If you or anyone you know has been a victim of sexual assault, help is available. Visit the Rape, Abuse & Incest National Network website or contact RAINN's National Helpline at 1-800-656-HOPE (4673).
Prince Harry had to receive special permission to wear his uniform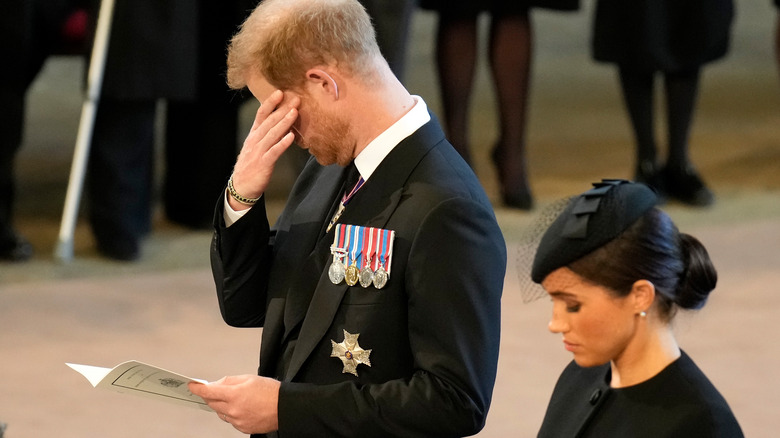 Christopher Furlong/Getty Images
Though Prince Harry, Duke of Sussex, was prevented from wearing his military uniform during Queen Elizabeth II's coffin procession from Buckingham Palace to Westminster Hall on September 14, the young royal was seemingly unfazed by the initial decision. Prince Harry made his true feelings about the morning suit drama crystal clear on September 13, one day before the procession was set to take place. A spokesperson for the duke stated that "His decade of military service is not determined by the uniform he wears," and went on to request that the focus remains on Her Majesty, not on Harry's clothing (via Twitter). So, what prompted the recent reversal?
According to the Mirror, Harry, Duke of Sussex, "has been given special permission" from palace officials to wear his uniform to the upcoming vigil at Queen Elizabeth's coffin on Saturday in Westminster Hall. The decision was reportedly sparked by general frustration and outrage surrounding Prince Andrew's ability to wear his military dressings to Friday's vigil, despite his tarnished reputation. A royal insider spoke to the Mirror about the sudden change for Harry, stating, "It was a ludicrous situation given the Duke of Sussex has served his country and is a highly respected member of the armed forces with everything he has done for veterans."
Harry served in the military for more than a decade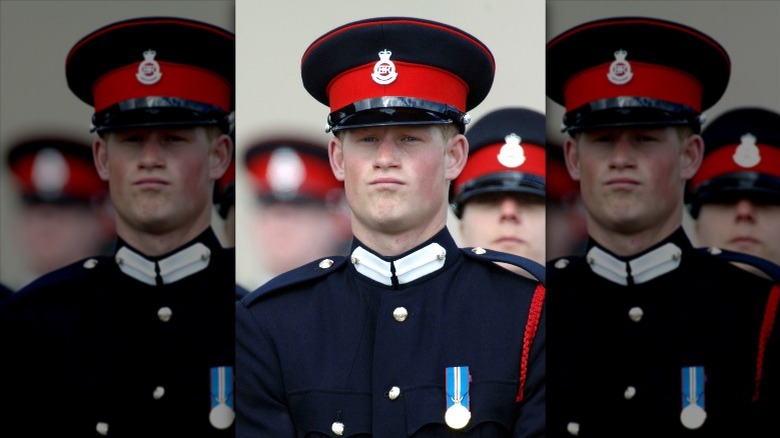 Getty Images/Getty Images
Prince Harry, Duke of Sussex revealed new details about his time in the British army during a gala appearance in 2021. Speaking at the event, Harry stated, "My experience in the military made me who I am today, and I will always be grateful for the people I got to serve with — wherever in the world we were," (via People). He also highlighted the myriad issues that military veterans face when they return home. The issue is close to Harry's heart, as he's committed much of his time to the Invictus Games initiative, which is dedicated to helping veterans "find the motivation to move on and not be defined by their injuries" following their military service (per Invictus Games Foundation).
The Duke of Sussex served in the British army "for ten years, rising to the rank of Captain and undertaking two tours of Afghanistan," according to the royal family's official website. He began his military career in 2005, and served his first tour in Afghanistan beginning in the latter months of 2007 (via Us Weekly). Harry has always been candid about his experience, stating in a letter published in 2014, "On my first tour to Afghanistan in 2007-8 and again more so on my second tour in 2012-13, I saw some horrendous things," (per The Times). It was this experience, and the subsequent aftermath of reconciling with what he witnessed, that initially prompted the Duke of Sussex to found the Invictus Games.