How Many Times Was The Queen Able To See Prince Harry's Children?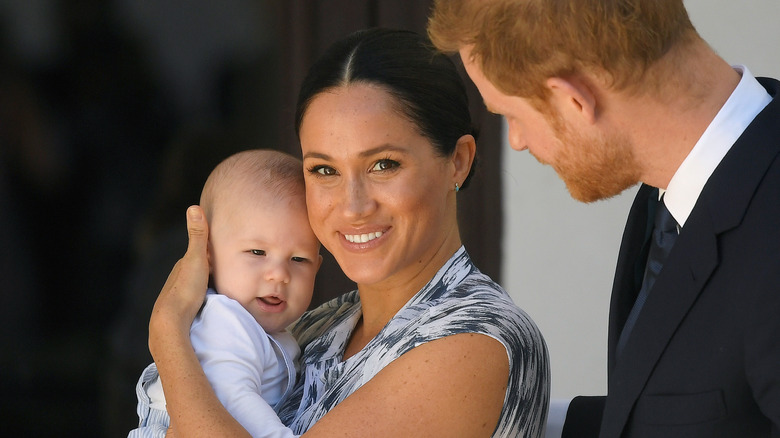 Pool/Getty Images
The Duke and Duchess of Sussex happened to be in Britain when Queen Elizabeth II's health took a turn for the worse. However, Prince Harry didn't get to say his goodbyes to the queen because he simply couldn't make it to Scotland in time, per TMZ. In the days since, the duke has presented a united front with his estranged family members, most notably doing a walkabout with Prince William and Kate Middleton, as reported by The Mirror.
It was his brother, WIlliam, Prince of Wales, who reached out to ensure Meghan Markle and Harry were there on the day, which has given royal fans hope that the warring siblings could finally be on the cusp of making things right. Regardless, it's clear the death of his beloved grandmother has deeply affected Harry. He posted an emotional statement to the Archewell website, describing the queen as a "guiding compass" and gushing about "her unwavering grace and dignity."
The Duke of Sussex also reminisced about some of the most special moments he shared with his "Granny," including "meeting you for the first time as my Commander-in-Chief," "the first moment you met my darling wife" and, of course, when Her Majesty "hugged your beloved great-grandchildren." But how much time did the queen actually get to spend with Archie and Lilibet in the end?
The Sussexes made time for their kids to meet Her Majesty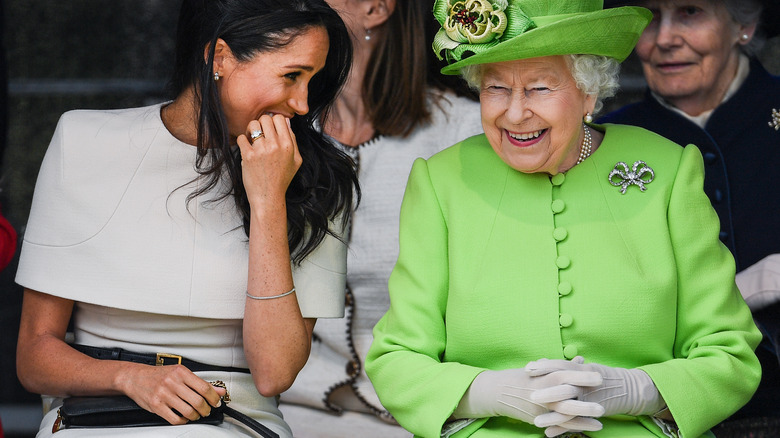 Jeff J Mitchell/Getty Images
Although she was getting on a bit, Queen Elizabeth II's death was still a massive shock, particularly for her family. Thankfully, the long-reigning monarch got the opportunity to spend some quality time with her great-grandchildren before she passed. Hello! Magazine confirms that, despite Prince Harry and Meghan Markle defecting to California in 2020, Her Majesty met their son, Archie, twice and daughter Lilibet — who's notably named after the queen's childhood nickname — once.
The famous family may have spent quality time together unbeknownst to the public, too. The queen and late husband Prince Philip met Archie at Windsor Castle in May 2019, alongside Meghan's mother, Doria Ragland. Likewise, she spent time with both Archie and his sister Lilibet during the Platinum Jubilee celebrations, in June of this year. According to the Sussexes' pal and biographer, Omid Scobie, they even enjoyed a private family lunch together to mark Lilibet's first birthday.
The COVID-19 pandemic, as well as the highly-publicized issues between Harry and his family, made things difficult. Likewise, you won't see Meghan and Harry's kids at the queen's funeral. Royal expert Bryony Gordon explained in The Telegraph, "The Duke is keen to shield them from the painful experiences he had as a child, the most agonizing of which involved having to walk behind his mother's coffin at age 12."
The queen may have met Lilibet even earlier than the Jubilee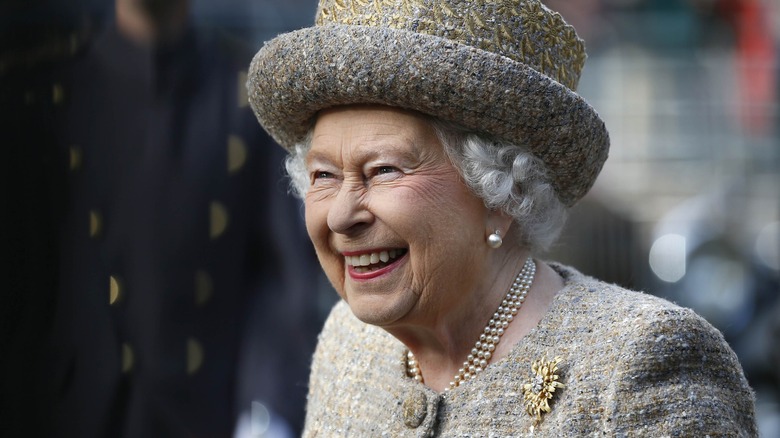 Wpa Pool/Getty Images
Although Queen Elizabeth II met her great-granddaughter, Lilibet, during her Jubilee weekend, there's reason to believe the beloved monarch may have been introduced to the little girl much earlier. According to People, shortly after Lilibet's birth, in June 2021, she met her namesake via video call. A source revealed the Duke and Duchess of Sussex "were very excited and couldn't wait to share that their daughter arrived." In fact, they hopped online soon after returning home from the hospital.
The celebrity couple obviously double-checked Her Majesty was happy for them to name their daughter after her, particularly since royal historian Robert Lacey described the queen as being "a sort of stepmother for both Harry and William" following Princess Diana's death. The Jubilee meeting was allegedly quite short — just 15 minutes total, per The Sun — but it meant the absolute world to Prince Harry and Meghan Markle regardless.
An insider confirmed to Hollywood Life, "Their trip was a whirlwind and jam-packed from the moment they landed but it all went beautifully." Crucially, they added that the Sussexes' "whole aim was to show the Queen their love and respect, and of course introducing her to Lili for the first time was a big highlight," noting, "Archie and Lili totally charmed her [and] getting to see her with them made the whole trip worth it."