Royal Expert Shares Why No One Really Knows Much About Princess Anne's Personal Life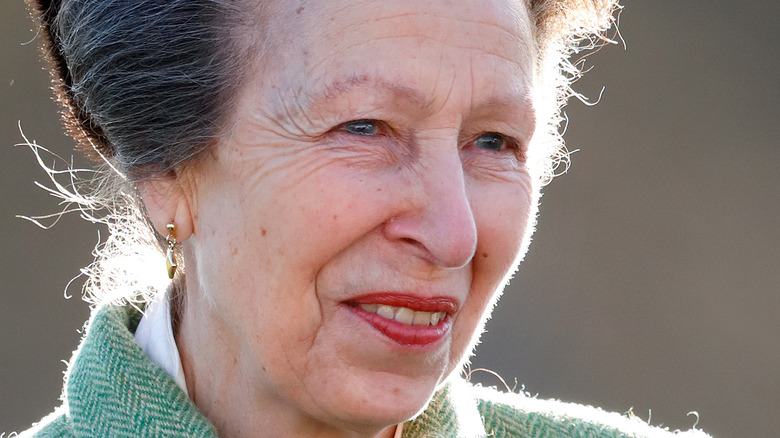 Max Mumby/indigo/Getty Images
Princess Anne is frequently referred to as the hardest working royal. In 2022, the Princess Royal participated in 387 official engagements, two more than her brother, King Charles, per Daily Mail. Anne also achieved the most royal outings in 2018, with 518 total events for that busy year (via People).
Anne and Queen Elizabeth II shared a close relationship, and Anne was influenced by her mother's dedication to service, per The Telegraph. "[I]f I'm going to be in London, I don't want to be hanging about," the princess told Vanity Fair just before she turned 70. "The program that I make up is a direct result of being asked to do these things. It would be a pity if you didn't try and do them."
While Anne is frequently on the go making royal appearances, the Princess Royal tries to keep a low profile when it comes to her private life. She hasn't always succeeded, and a few dramatic moments have made a splash in the media, such as her romance with Timothy Laurence during her marriage to Mark Phillips (via The Washington Post), as well as a terrifying kidnapping attempt in 1974. However, on the whole, Anne's home life is not well-known, and some royal experts have weighed in with the reasons.
Princess Anne values the work, not the celebrity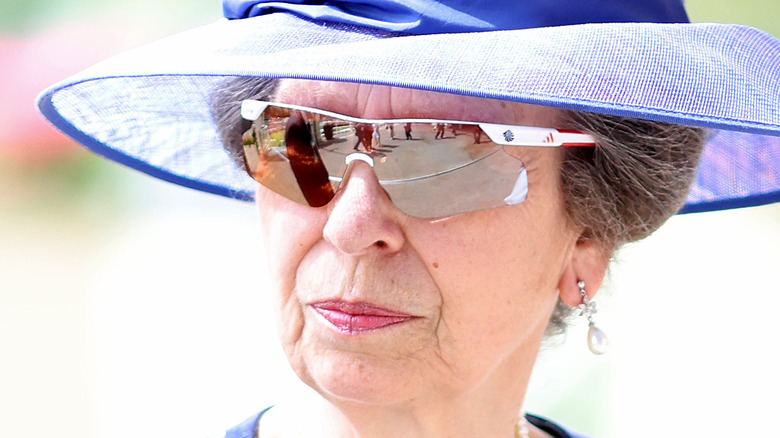 Chris Jackson/Getty Images
Like her late mother, Queen Elizabeth, Princess Anne often presents a stoic appearance, and she eschews the spotlight when it comes to her home life. "One of the reasons that not much is known about Princess Anne, is because that is the way she likes it," Richard Fitzwilliam, a royal commentator, told Fox News. "She is the hardest working member of the Royal Family but doesn't like the publicity."
According to The Telegraph, the Princess Royal is involved with approximately 300 charities, which she typically visits at a pace of three a day each week. Once the job is done, Anne prefers a down-to-earth lifestyle. For a time, Anne's children, Peter Phillips and Zara Tindall, said their mother would feed her chickens at the end of a busy workday. The princess even declined HRH titles for her two children to keep their lives as normal as possible. "I think it was probably easier for them, and I think most people would argue that there are downsides to having titles," Anne told Vanity Fair.
"She's never cared for celebrity. And I believe that's what people admire the most about her." Nick Bullen, True Royalty TV's co-founder and editor-in-chief, said to Fox News. "The key thing about her is that she's never thought of herself as someone special," Bullen explained. "In her eyes, she's just a civil servant working for her country, doing what needs to be done for the country."
At home, Princess Anne is very down-to-earth
In the ITV documentary "Princess Royal: Anne at 70," Princess Anne confirmed her dislike of celebrity. "The attention that had been brought on one ever since one was a child, you just didn't want any more. The last thing you needed was greater access," she said, per The Telegraph. When she's not working, Anne spends time with her family and her horses at Gatcombe Park in Gloucestershire. Both her children and her five grandchildren live on the property, per Express.
Occasionally, Anne offers glimpses of what her home looks like, such as when the royal family posted an Instagram picture of the princess and her husband, Sir Tim Laurence, in their living room. The room is a mix of patterns, stacks of books, and knickknacks galore. "She's just a normal person," one of Anne's friends told The Telegraph. "Her house at Gatcombe — it's quite cluttered. I'm sure it probably needs quite a lot of work doing to it, but she deplores waste. She'll always look to save costs wherever she can."
Anne is so skilled at remaining incognito that during events on her property, police stopped her a few times because they didn't recognize her (via The Telegraph). "She's out in the fields wearing old jeans, an old jacket, a headscarf and not much makeup," Nick Bullen, co-founder and editor-in-chief of True Royalty TV, told Fox News. "You see her walking her dogs across the fields. She's very straightforward and easy to talk to."