The Gesture Joe Biden Never Performed When Meeting The Queen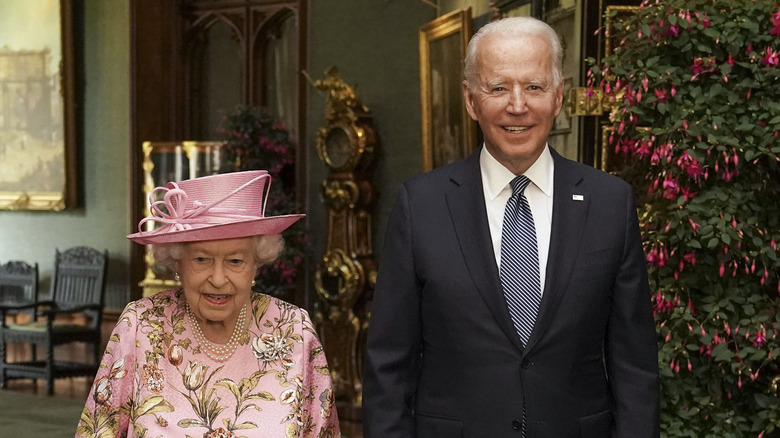 Wpa Pool/Getty Images
U.S. President Joe Biden and First Lady Jill Biden have arrived in London to attend the funeral for Queen Elizabeth II. The Bidens are scheduled to pay their respects as the queen lies in state at Westminster Hall, and they will join other world leaders at a reception hosted by King Charles III, per CNN.
President Biden has always made his feelings for Queen Elizabeth clear. When her passing was announced, he released a statement, calling Elizabeth "more than a monarch. She defined an era." He added: "Queen Elizabeth II was a stateswoman of unmatched dignity and constancy who deepened the bedrock Alliance between the United Kingdom and the United States. She helped make our relationship special."
While the president clearly admired the queen, however, there was one thing he refused to do in her presence: bow. Biden first met Her Majesty in 1982 when he traveled to the U.K. as part of a Senate delegation. Before leaving on his trip, his Irish American mother ordered her son not to bow down to the queen. He followed her instructions then and during subsequent meetings with Queen Elizabeth throughout the years.
But the lack of protocol shouldn't be mistaken for disrespect. During his recent call with Charles, the president "conveyed the great admiration of the American people for the queen, whose dignity and constancy deepened the enduring friendship and special relationship between the United States and the United Kingdom," the White House said, per CNN.