The Coffin Procession Was Actually A Loving Tribute To The Queen's Wedding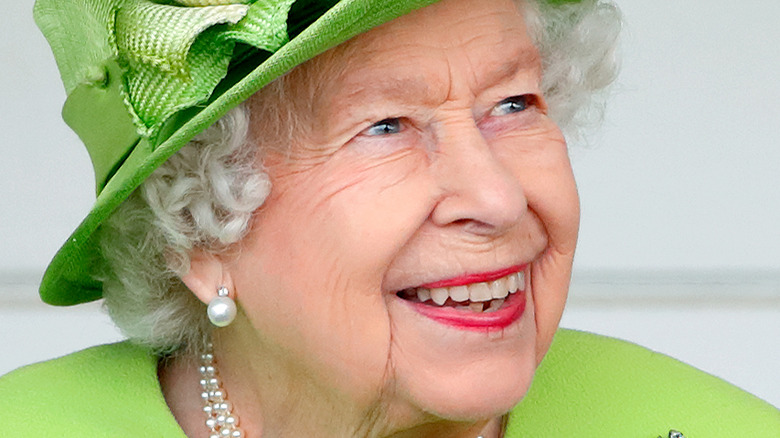 Max Mumby/indigo/Getty Images
The funeral of Queen Elizabeth II saw those who were nearest and dearest to the monarch pay their final respects to her on September 19. The event, which was televised and broadcast around the world, saw the royal family and many other important figures in the queen's life join together at London's Westminster Abbey (where many royal events have taken place over the years) to say goodbye.
"With gratitude we remember her unswerving commitment to a high calling over so many years as Queen and Head of the Commonwealth," The Dean of Westminster said at the beginning of the emotional ceremony, per BBC News. "With admiration we recall her life-long sense of duty and dedication to her people. With thanksgiving we praise God for her constant example of Christian faith and devotion. With affection we recall her love for her family and her commitment to the causes she held dear," he added.
The funeral — which also saw the queen's coffin led through the streets of London as mourners watched on — was filled with touching readings and several pieces of music, with one in particular during the late queen's coffin procession having a very poignant meaning.
'The Lord is My Shepherd' was also played at the queen's wedding
All stand to sing The Lord's My Shepherd - a hymn that was also sung at the wedding of the then Princess Elizabeth and Lieutenant Philip Mountbatten, in 1947. pic.twitter.com/MTu6R3awEA

— Royal Central (@RoyalCentral) September 19, 2022
A touching rendition of the Christian hymn "The Lord is My Shepherd" was performed during Queen Elizabeth II's funeral as those in attendance stood, and was actually one of the songs sung 75 years earlier at the wedding of the queen (who was then known as Princess Elizabeth) and Prince Philip (then known as Lt Philip Mountbatten). Westminster Abbey confirmed the song would be performed shortly before the funeral began, tweeting alongside a black and white photo from the couple's wedding day all those years ago. It's thought the hymn was chosen again in memory of the late Duke of Edinburgh, who died in April 2021.
The hymn is thought to have long been a favorite of the queen's, and it has been used at least once before in paying tribute to her in the wake of her death on September 8. A couple of days before the funeral, singer Alexandra Stevenson (who had previously celebrated the queen earlier in the year during her milestone platinum jubilee) performed a heartfelt rendition of the song in the queen's memory at The King's Chapel of the Savoy, per Classic FM. The song is inspired by the bible's Psalm 23, and discusses feelings of strength, protection, and guidance in the lord, which it's reported resonated with the queen throughout her long life.