Royal Watchers Didn't Miss This Unexpected Appearance At The Queen's Funeral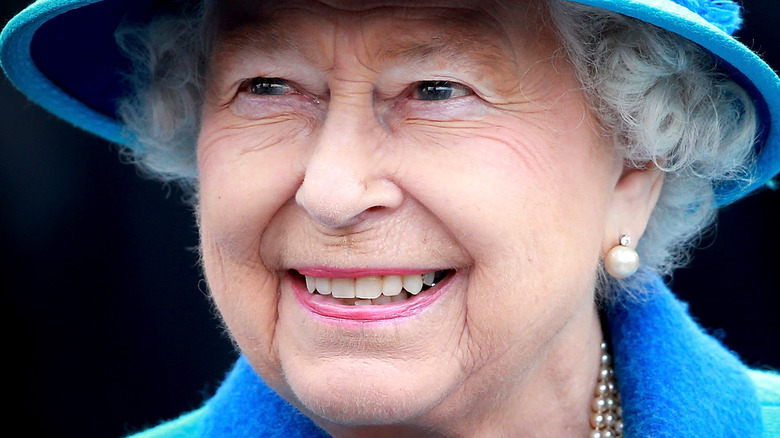 Chris Jackson/Getty Images
Queen Elizabeth II was laid to rest during a poignant ceremony at Westminster Abbey on September 19, while her coffin also travelled through the streets of London as thousands paid tribute to the late monarch. The royal family gathered together to say goodbye, with even some of the famous family's youngest members, Prince George and Princess Charlotte attending to pay their respects, per E! News. But there was one slightly more unexpected famous face there who not everyone was expecting — and not many missed, either.
Royal watchers watching the funeral — which was broadcast live across the globe — noticed that Sarah "Fergie" Ferguson, Duchess of York was there to say goodbye, despite a somewhat rocky history with the royals over the years and missing several previous public mourning events for the queen. The Duchess of York is the former wife of the queen's son, Prince Andrew, Duke of York, who she divorced in 1996, and is mom to two of the queen's grandchildren, Princess Beatrice and Princess Eugenie. Liverpool Echo reported that the Duchess of York's children gestured for her to sit with them, though she declined their offer and instead stayed further back.
Plenty commented on her attending the service on Twitter, with one writing, "I am really glad to see Sarah Ferguson at Westminster Abbey, she deserved to be there. The queen always liked her." Another commented on the social media site, "It's really lovely to see #sarahferguson at the funeral."
Sarah Ferguson's subtle tribute to the queen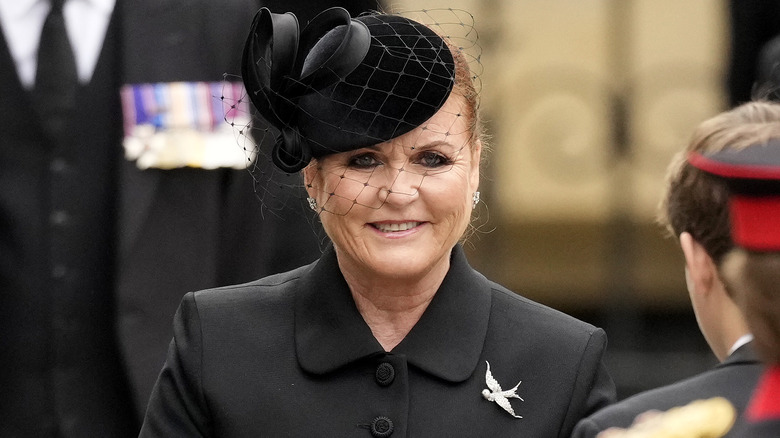 Christopher Furlong/Getty Images
Sarah Ferguson, Duchess of York, opted for a poignant accessory for Queen Elizabeth II's funeral, with royal watchers claiming she had a subtle nod to her former mother-in-law in her jewelry. The royal wore a swallow-shaped brooch on her black coat — which she accessorized with an all-black ensemble including a fascinator and gloves — which may have had a very special meaning. Elmwood's jewellers opened up about the meaning of the bird to Hello!, explaining, "Swallow brooches were often given to loved ones when they set out on a journey to keep them safe so they returned home safely."
Brooches appeared a popular way for the queen's family to pay tribute to her during her funeral. Queen Elizabeth II's great-granddaughter, Charlotte, Princess of Wales, also appeared to opt for an accessory in memory of the monarch, attending the September 19 event with a horseshoe brooch pinned on the left side of her chest near her heart. People reported that the brooch was given to William, Prince of Wales' daughter by the queen and is believed to represent the late monarch's love of horses. It's thought to be Princess Charlotte's first time wearing a brooch to a royal event.
Sarah Ferguson joined Prince Andrew in mourning the queen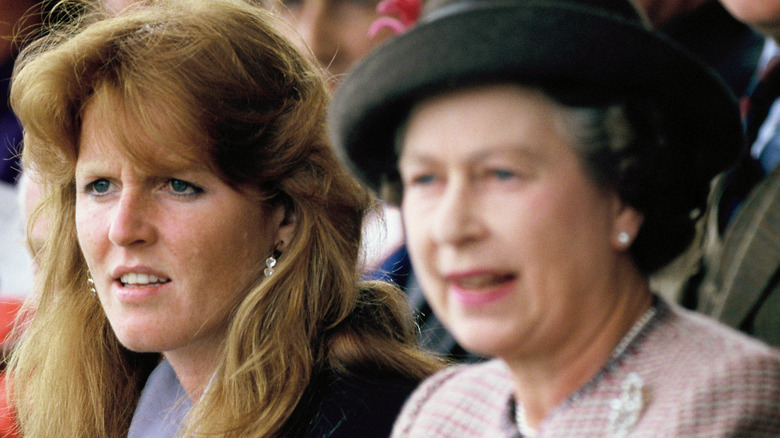 Georges De Keerle/Getty Images
Though Sarah Ferguson, Duchess of York had been absent from a few of the bigger events taking place for the late Queen Elizabeth II, she had been photographed paying tribute to the late monarch in the wake of her death. Mirror shared snaps of the Duchess of York joining her former husband, Prince Andrew, Duke of York, in looking at a slew of floral tributes that had been left for the queen at Windsor on September 16. The former couple walked around the grounds of the castle together, as she got close to the tributes and even read a few messages.
That came after the Duchess of York shared a touching tribute to the queen on Twitter on September 8. "I am heartbroken by the passing of Her Majesty the Queen. She leaves behind an extraordinary legacy: the most fantastic example of duty and service and steadfastness, and a constant steadying presence as our head of state for more than 70 years," she wrote alongside a photo of the late monarch smiling. In a follow-up tweet in the thread, the Duchess of York also thanked her former mother-in-law for the kindness she showed to her even in the wake of her divorce from Prince Andrew, Duke of York.