The Moment Meghan Markle Got Emotional At The Queen's Funeral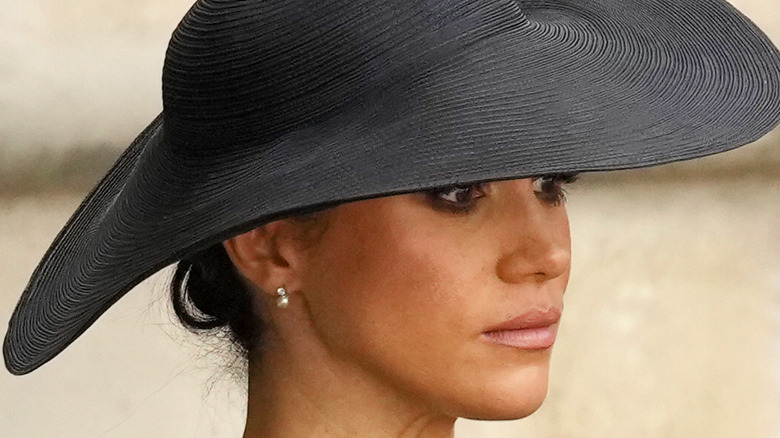 Christopher Furlong/Getty Images
In wake of Queen Elizabeth II's death at the age of 96, countries all over the world are paying tribute to Her Majesty after an undefeated 70-year reign in the British Monarchy. Since the queen died on September 8, Great Britain has entered a 12-day mourning period, with King Charles III requesting an extra week of time to mourn post-state funeral, officially concluding on September 26 (via Vox). 
Even before the funeral began, it was reported by Fortune that London transportation officials expect 1 million people to travel to the city's capital on September 19 while the ceremony is being secured by over 10,000 police officers throughout the 22 miles of barriers enforcing crowd control.
While England and the globe reel from the death of an icon, there isn't escaping the raw, grieving emotions seen by the royal family. Take the queen's only daughter, Anne, Princess Royal, whose photograph was taken in a car just days after her mother's death went viral, showing visible signs of sorrow.
Now, with the queen's state funeral well underway, non-blood-related family members in attendance like Meghan Markle are seemingly in low spirits, and it's causing some people to both attack and defend her for it.
The Duchess of Sussex shed a tear at Queen Elizabeth II's funeral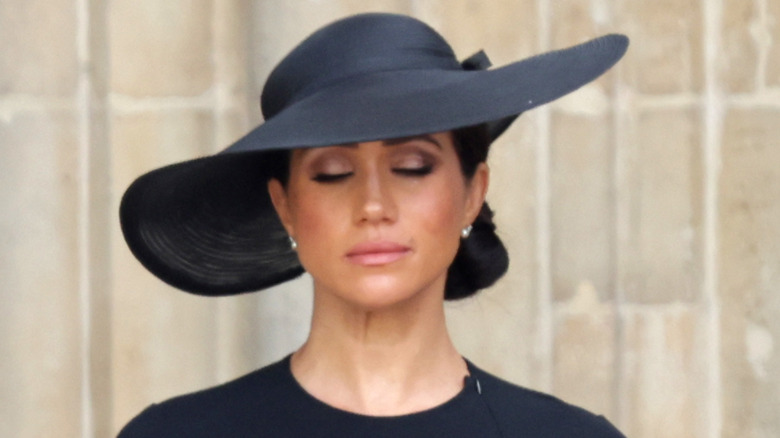 Chris Jackson/Getty Images
September 19 will forever go down in history as one of the most important in the entire century. However, for the royal family, it's an emotional goodbye to their beloved matriarch. Both supporters and critics can't seem to stop talking about how this catastrophic event is a highly publicized reunion between the royal family and Prince Harry and Meghan Markle. The California-based couple took a trip across the pond to take part in paying respect to the queen during this time of both commemoration and transition.
In fact, some Twitter users were quick to come to the Duchess of Sussex's defense after she attended multiple queen-related events with her husband. However, perhaps nothing has Twitter split in half over a moment of sadness Markle experienced at Queen Elizabeth's state funeral.
The Daily Mail published photos of Markle at the queen's Westminster Abbey funeral, tears streaming down her face. Outside of the landmark, photographers captured Markle seemingly wiping away a tear, and Twitter, naturally, had some thoughts.
"I'm so sorry but I really don't find Meghan Markle crying genuine," one user tweeted. "She's proud to say she can cry on cue. It's all for the show, for her gullible fans." Another said, "Right on cue, look at the comments attacking Meghan Markle for crying at the Queen's funeral. Damned if she does, damned if she doesn't . . . The woman isn't supposed to have any emotions."
Meghan Markle isn't one to hide away from her emotions
While Meghan Markle was seen crying at the queen's funeral, it isn't necessarily a rare occasion for the Duchess of Sussex to do so. In 2019, Markle spoke with ITV News for a documentary shortly after giving birth to her first son, Archie, and was seemingly trying to hold back tears while discussing the struggles she faced while in the media amidst her marriage to Prince Harry. When she was asked about the status of her mental health, Markle didn't shy away from getting vulnerable.
"Any woman, especially when they're pregnant, you're really vulnerable, so that was made really challenging . . . Also, thank you for asking, 'cause not many people have asked if I'm OK. But it's a very real thing to be going through behind the scenes," (via ITV News).
During her highly-talked about March 2021 interview with Oprah, Markle discussed an interaction she had with sister-in-law, Kate Middleton, where she openly admitted that Middleton made her cry after allegedly saying a comment that hurt her feelings.
Recently, in a video shared via Twitter, Prince Harry shared a personal anecdote about the way the media negatively affected Markle's mental health. The Duke of Sussex said one night he was "woken up in the middle of the night to her [Markle] crying in her pillow because she doesn't want to wake me up because I'm already carrying too much . . . She cried, and she cried, and she cried."