How Long Will Britain Be In An Official State Of Mourning Upon Queen Elizabeth's Death?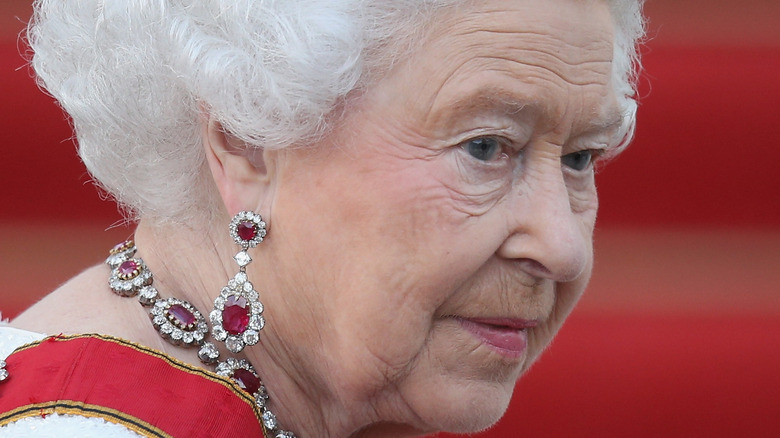 Sean Gallup/Getty Images
Earlier this year, Queen Elizabeth celebrated her Platinum Jubilee, marking a whopping 70 years on the throne. Although it was, obviously, a happy occasion for everybody involved, when the queen missed several events due to mobility issues, it sparked concern over how long she has left. After the Trooping the Colour parade, a spokesperson confirmed to Harper's Bazaar, "The Queen greatly enjoyed today's Birthday Parade and Flypast but did experience some discomfort." 
Her Majesty subsequently made a surprise appearance, on the balcony at Buckingham Palace, to mark the end of the celebratory weekend, as reported by The Independent. But she clearly wasn't able to do much more than that. Thus, worries over the long-reigning monarch's health have increased considerably in the time since. In fact, there were even recent death rumors about the queen, though they were quickly disproven. Still, it's likely the end is sadly in sight regardless. 
When the time comes, there's a whole host of procedures in place to deal with the earth-shattering event, including the declaration of a national state of mourning in the UK. 
Her Majesty's death will trigger a lengthy mourning period for Britons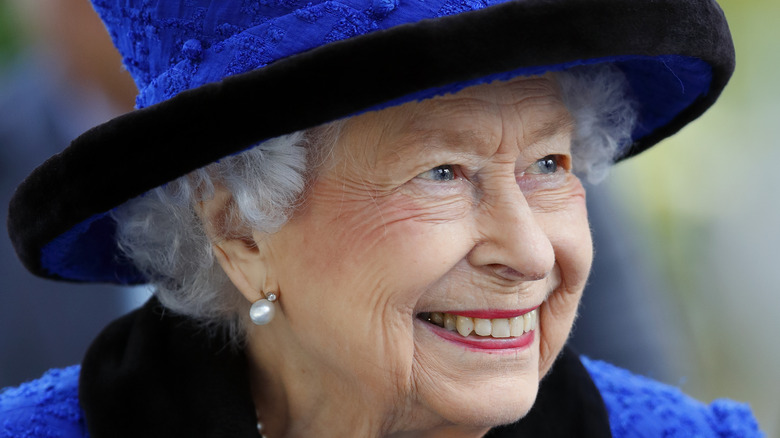 Max Mumby/indigo/Getty Images
Even "The Crown" is preparing for Queen Elizabeth's death, so it's safe to say there's incredibly detailed and super strict protocol in place for when it happens. When Operation London Bridge, as it's known, gets activated, a notice will be posted to the gates of Buckingham Palace, alerting regular folks to the sad news, per Politico. Her funeral won't actually take place until 10 days after the beloved monarch's death, with Britons and visitors alike given the opportunity to pay their respects while the queen lies in state. 
There will also be a national minute's silence on the day the announcement is made. Following that, The Mirror reports a 12-day national mourning period will be triggered once Her Majesty's death is confirmed, with Union Jack flags flown at half mast and books of condolence made available for signing all over the world. The stock market is also expected to close for the day of the funeral itself, and likely for several days afterwards too, causing concern over the potential negative effects on the British economy. 
Likewise, Politico points out that London could actually become "full" if enough people descend upon it to pay their respects. Considering, per The Mirror, over 200,000 people traveled to mourn the Queen Mother when she passed, it's highly likely Queen Elizabeth's death could have the capital city bursting at the seams given just how beloved she is. 
The queen's presumed successor will be sworn in almost immediately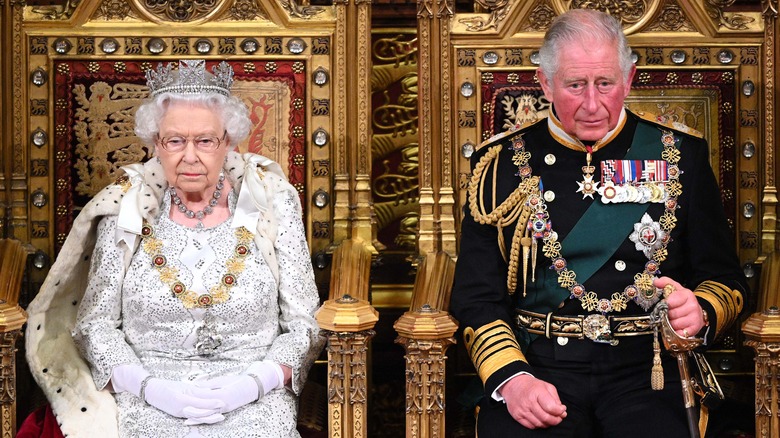 Wpa Pool/Getty Images
Unfortunately, as Grazia Daily clarifies, Britons won't actually get that much time off to mourn the queen's passing. Although adults, children and students of all ages will enjoy an extra bank holiday, the 10-day mourning period doesn't give everybody an excuse to forego work and school. However, the coronation of presumed subsequent monarch Prince Charles will also be a bank holiday, so there's that. 
Politico confirms Queen Elizabeth's eldest son will be proclaimed the new ruler the day after her death, aka D-Day+1. The Ascension Council will meet at St. James's Palace, alongside the British Prime Minister and a whole slew of other high-ranking politicians, to mark the occasion. An audience with the newly-crowned King Charles will be held that same day, with the motion of condolence subsequently taking place at Westminster Hall on D-Day+3. 
Britain's new ruler will then tour the country, visiting the Scottish parliament and Hillsborough Castle in Northern Ireland, where Charles will receive a second motion of condolence. Finally, a service at Llandaff Cathedral, in Cardiff, will ratify the decision in Wales. Preparations are already well underway to make the transition of power as seamless as possible, particularly in light of the queen's recent health issues, as a source told Page Six.