Canadian PM Justin Trudeau Is Being Criticized For Behavior Days Before The Queen's Funeral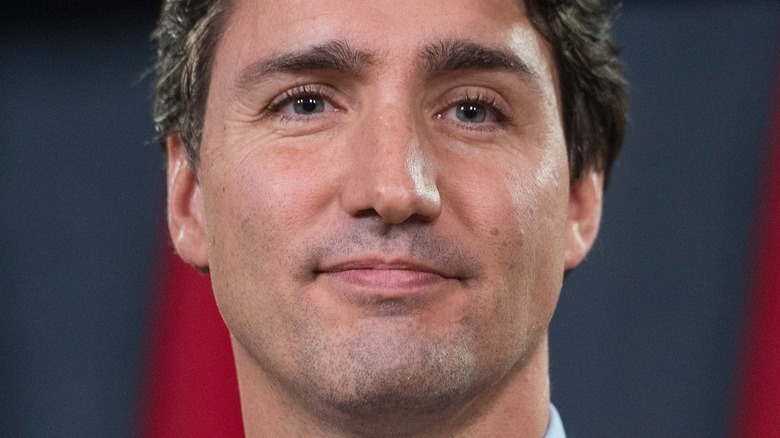 Shag 7799/Shutterstock
Canadian Prime Minister Justin Trudeau is no stranger to controversy. He's been criticized for everything from wearing blackface (repeatedly) to having his entire family don over-the-top Indian clothing multiple times during a trip to India (per National Post). He's also accustomed to having his unscripted moments captured on-camera by onlookers — photos of the grinning politician photobombing both a beach wedding (while he was shirtless!) and a prom picture went viral a few years ago. So it should come as no surprise to Trudeau that his latest gaffe was filmed and shared with the world.
Daily Mail reported that, on the evening of September 17, while in London to attend the funeral of Queen Elizabeth II, Trudeau belted out Queen's iconic song "Bohemian Rhapsody" while leaning on the piano in the Corinthia Hotel's lobby. Video of the incident shows Trudeau in casual attire singing Freddie Mercury's lyrics, such as "Easy come, easy go, little high, little low." Many of the articles and social media posts about the occasion speculate that Trudeau might have been drunk.
A spokesperson for Trudeau defended his behavior. "After dinner on Saturday, the Prime Minister joined a small gathering with members of the Canadian delegation, who have come together to pay tribute to the life and service of Her Majesty," the spokesperson said, per The Telegraph. "Gregory Charles, a renowned musician from Quebec and Order of Canada recipient, played piano in the hotel lobby, which resulted in some members of the delegation including the Prime Minister joining."
Justin Trudeau's behavior has people talking
Musician Gregory Charles told The Globe and Mail his time in London as part of the Canadian delegation to Queen Elizabeth II's funeral made him think of Caribbean funerals, which combine a celebration of life with more serious and reflective moments. "Everyone sang with me for two hours," the piano player said about the evening in question's impromptu event, in which Justin Trudeau accidentally played a starring role. "That was the feeling, that was a lot of fun."
But many people have criticized Trudeau's frivolity during Britain's official period of mourning. "On behalf of all Canadians thank you for allowing us to grieve with you at this moment of great sadness. I would also like to apologize for #JustinTrudeau, and his disgusting, highly disrespectful behaviour during this solemn time. Please know his actions do not represent Canada," one embarrassed Canadian tweeted to the royals. "Starting a support group for anyone who's seen the video of Justin Trudeau singing Bohemian Rhapsody before the queen's funeral," another person tweeted.
Daily Mail quoted various online commenters who called the prime minister's behavior crass, tone deaf, embarrassing, undignified, and inappropriate. Previously, Trudeau garnered praise for marking the queen's death in a massive way: by declaring September 19 a bank holiday in Canada.