A Touching Moment Between Kate Middleton And Prince George Has The Internet Talking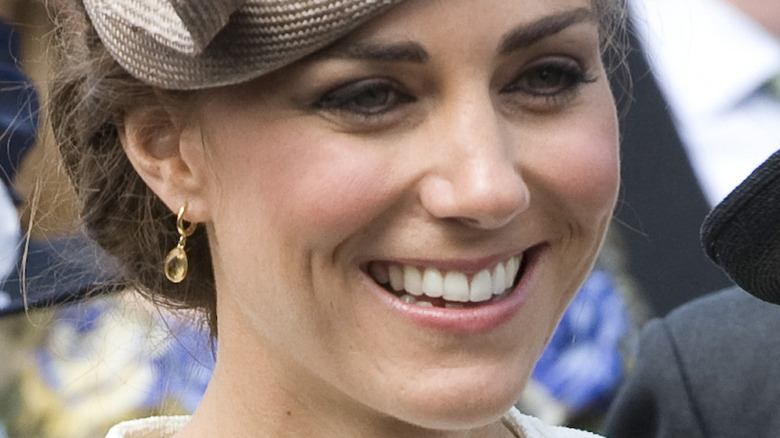 Featureflash Photo Agency/Shutterstock
The royal family showed their solidarity on September 19 as Queen Elizabeth II was laid to rest during her public funeral. The royals attended ceremonies at Westminster Abbey and Windsor Castle, with the late monarch's casket being transported through the streets in between as the public was given the chance to say their goodbyes, with many throwing flowers as a show of sorrow and respect.
The event brought out almost the entire royal family, including a somewhat surprising appearance from Prince Andrew, Duke of York's former wife, Sarah Ferguson, Duchess of York. Royal watchers were also unsure if the queen's great-grandchildren would attend, and, although some were missing (including the children of Prince Harry, Duke of Sussex, and Meghan Markle, Duchess of Sussex, plus William, Prince of Wales and Catherine, Princess of Wales' youngest son, Prince Louis of Wales) two of them lifted the public's spirits with a sweet appearance. Both Princess Charlotte — who paid a subtle tribute to her late grandmother — and her brother, the future king Prince George, were in attendance, and it was a sweet moment involving the future of the royals and his mom that had everyone talking.
How Kate Middleton touchingly comforted her children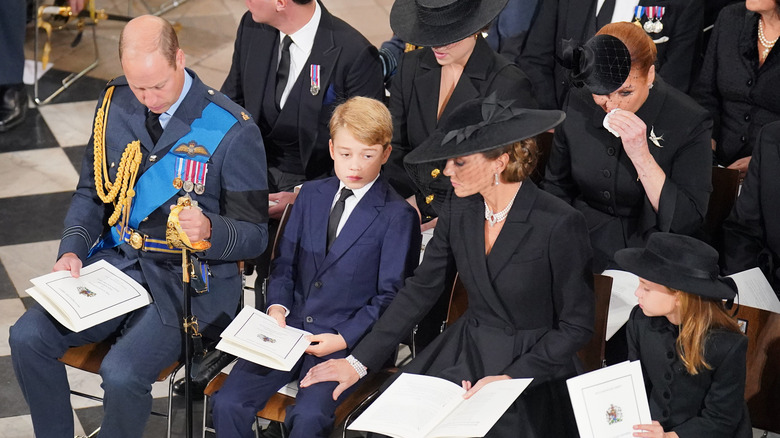 Wpa Pool/Getty Images
Though it's become customary over the years for the royal family not to show too much emotion in public, Kate Middleton shared a touching moment with her son, Prince George of Wales, as he said goodbye to his late grandmother, Queen Elizabeth II. Fans watching the funeral service, which aired live across the globe, noticed that the royal made sure to comfort her son during what was sure to have been a very difficult day, placing her hand lovingly on his leg as they sat together inside Westminster Abbey. Photographers captured the sweet moment, which saw young George looking solemn while sandwiched in between his Catherine, Princess of Wales, and his dad, William, Prince of Wales, with Princess Charlotte of Wales on the other side of her mom.
But that wasn't the only show of affection the mom of three offered her two eldest children as they appeared at the public event. Before heading inside Westminster Abbey, The Sun shared photos that showed her gently placing her hand on Princess Charlotte's back and seemingly stroked her hair before also placing her hand lovingly on Prince George's back as they made their way inside.
Many members of the royal family appeared emotional as they said goodbye to the queen, with Evening Standard sharing photos of Prince George seemingly wiping away tears while attending the events honoring his great-grandmother.
Royal watchers praised Princess Charlotte and Prince George's behavior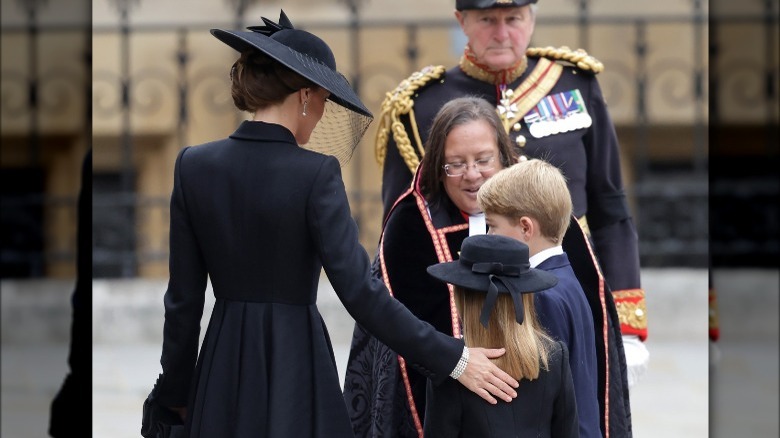 Chris Jackson/Getty Images
Fans were delighted to see the touching moments between Kate Middleton and her two children, Charlotte, Princess of Wales, and Prince George, Prince of Wales, and many praised the young royals for how well they behaved during the long and difficult day of Queen Elizabeth II's funeral. "The Princess Of Wales Kate & Prince Of Wales William you should be immensely proud of your beautiful children during the service of our late queen! They were amazing! Well done George & Charlotte," one person tweeted. Another wrote, "So well-behaved Charlotte and big brother George. All credit to their 'hands on' parents who have strived to give them as normal upbringing as they possibly can, while preparing them for life in the spotlight as a member of the Royal Family. Well done William and Catherine."
Though he didn't attend the ceremony, likely because his parents are so young, William, Prince of Wales, and Catherine, Princess of Wales' youngest son, Prince Louis of Wales, had a touching take on what had happened. The latter revealed the poignant thing her youngest said to her after he learned of his great-grandmother's death which was captured in a TikTok video shared on September 9, with the royal telling a well-wisher that Prince Louis had told her, "Mummy, don't worry. She's now with great-grandpa."