Expert On 'Stark Difference' Between Camilla And Kate At Queen's Funeral - Exclusive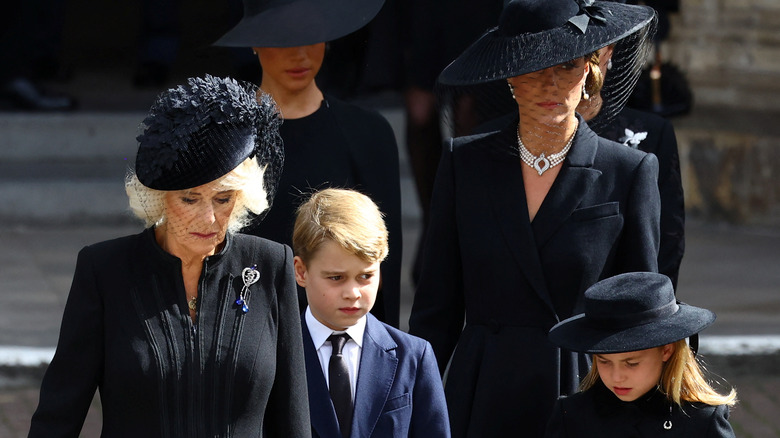 Wpa Pool/Getty Images
Following the heartbreaking death of Queen Elizabeth II, all eyes have been on the royal family. Over the last several days, many ceremonies have unfolded leading up to the funeral. The royal family has been involved in almost all of these events and royal watchers have been criticizing their every move throughout the process (via USA Today).
No event has been more important than the funeral, which took place on September 19 in London. The media showcased how various members of the family reacted to the event. Meghan Markle, the Duchess of Sussex, was seen crying, while Prince Harry, the Duke of Sussex, was observed sharing a special moment with his niece, Princess Charlotte.
The Duke and Duchess of Sussex weren't the only members of the family fans and critics alike were keeping tabs on during the service. Royal watchers had their eyes on Catherine, Princess of Wales, and Queen Consort Camilla as they arrived at the funeral for Queen Elizabeth II in corresponding black veils.
Two of the most powerful women in the family had completely different body language when attending the funeral, however, as an expert pointed out to us.
Camilla lacked confidence, an expert shared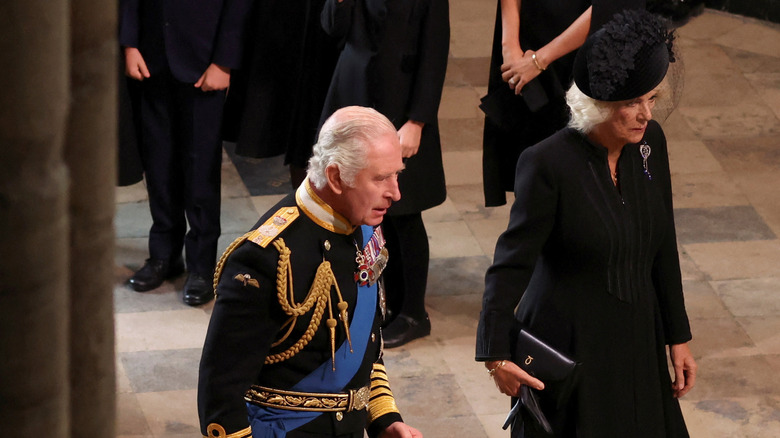 Wpa Pool/Getty Images
The Princess of Wales, Catherine Middleton, and the Queen Consort, Camilla Parker Bowles, arrived at the funeral service for Queen Elizabeth II together, pictures show. They were both wearing all black, paired with special jewelry pieces, and hats with a black veil attached. While their outfits looked similar, there was a stark difference in how their body language read, an expert told The List exclusively.
In a video posted by YouTube, you can see the royal family arrive at the service. As the family walked into the chapel, you can see the queen consort reacting as if she was in pain (she has been dealing with a broken toe throughout the queen's mourning period). That wasn't the only thing that seemed off about the way she carried herself into the funeral.
Nicole Moore, body language expert and host of "Reality of Love" on BSpokeTV, weighed in on how the two women reacted to the situation. Her opinion on Camilla's entrance can be traced back to her confidence level.
"Based on her body language at this moment, it's likely that Camilla will need a lot of time to adjust to the role of queen," Moore told us. She mentioned that her confidence compared to Catherine's was completely different.
Kate looked more at ease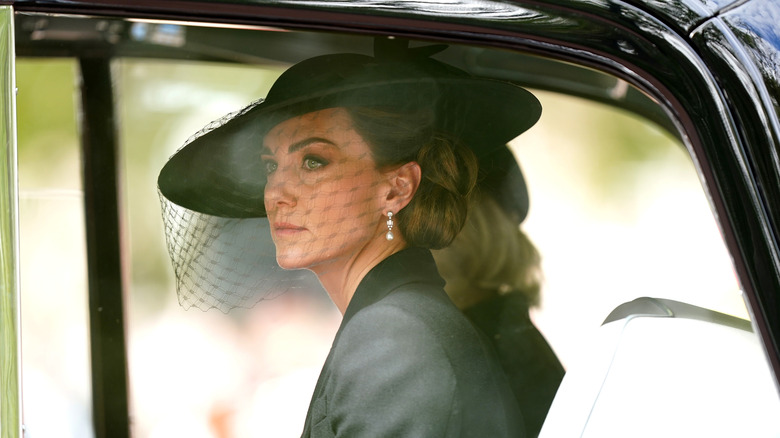 Wpa Pool/Getty Images
Body language expert Nicole Moore dished more to us about the stark difference between Queen Consort Camilla and that of the Princess of Wales, Catherine, when arriving at the funeral for Queen Elizabeth II. While she mentioned that Camilla would need some time to adjust, she noted that Catherine looked much more comfortable when entering the funeral service.
"If we compare Kate Middleton's body language to Camilla's as they entered the funeral, we see a stark difference," Moore told The List. "Kate walked into the funeral with a confident, poised energy as if she belonged there. There was no hesitation or fearfulness in her walk whatsoever. Camilla appeared to be overthinking it and nervous about making a mistake or about how she appeared as if she's just not comfortable in her role yet."
She added, "However, nervousness means she cares. It's likely that as Camilla feels more assured in her place as a royal, her wooden and nervous demeanor will change and she will appear more relaxed. Instead of appearing as if she's trying to do her role, somewhat robotically, she actually will."
Moore feels that Camilla will settle into her new role with time, stating, "My prediction is that Camilla will turn that nervous energy into action, doing her best to show up by King Charles's side as he needs her to."