A Professional's Tips For Bleaching Your Eyebrows At Home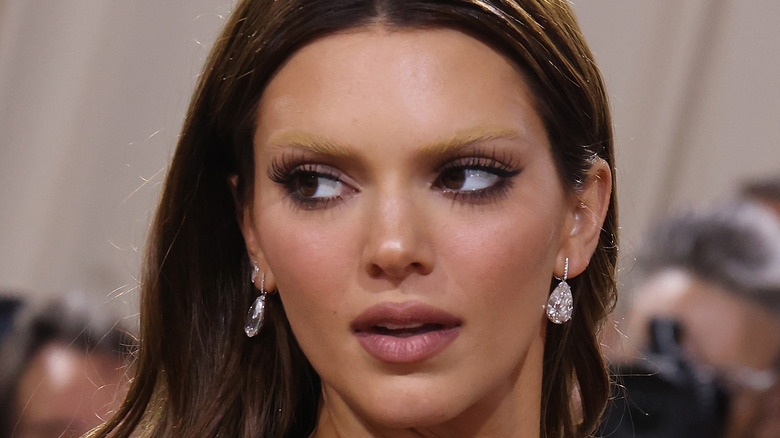 Taylor Hill/Getty Images
TikTok beauty trends come and go, from the moisturizing technique known as "slugging" to stick-on face lifts achieved with cosmetic tape. These days, bleached eyebrows are the newest craze. It's even a filter, making the fad all-the-more ubiquitous on social media. Though it may seem like brows disappeared overnight, this beauty practice is nothing new. According to W Magazine, the look can first be traced back to Elizabethan times — nearly 500 years ago. As explained by historian Rachael Gibson, "We see people really starting to remove their brows in Europe in the Middle Ages, and by the Elizabethan era it was popular to completely remove or bleach out the brows." Social elites were expected to boast "high" and "wide" foreheads, a look achieved by either plucking or bleaching brows. It wasn't until the 1990s that the aesthetic again achieved mass popularity. Celebrities like Madonna, largely inspired by the drag scene in the 1970s and 1980s, sought to achieve a more-futurist look with invisible brows, per Bustle.
It's 2022 and bleach is back. With celebrities like Kim Kardashian and Lizzo jumping on board, many are attempting to disappear their own brows from home (via Page Six). Though it's much safer to achieve this look with the help of salon experts — bleach can cause burns or blindness if not handled correctly – keep these tips in mind if you're set on transforming your brows from the comfort of your own bathroom. 
Take the necessary safety precautions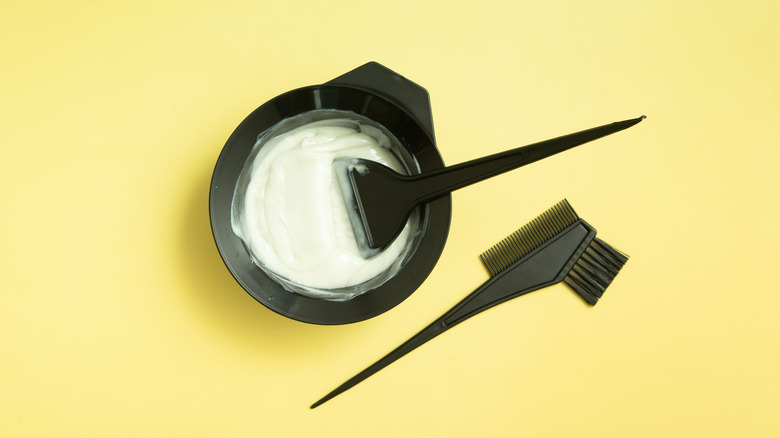 Vimaliss/Shutterstock
"You don't realize the impact of brows on a face until you've gotten rid of them," makeup artist Isamaya Ffrench told Vogue. Before you get to work bleaching, test out the look using a filter. This no-commitment trial run will give you a better idea of whether you can see yourself with permanently-blonde brows. Fashion Journal sat down with Melbourne stylist Madison Finn to get professional tips for at-home brow coloring. To safely start the process, Finn recommends putting vaseline on the skin surrounding your eyebrows — this will act as a protective layer. Cling wrap, too, according to the stylist, stops the product from dripping or getting onto eyelashes. It also "keeps the bleach damp — when bleach dries out it doesn't process as much."
Find a clean mascara wand to use for delicate application. Mix your bleach powder with cream developer and remember, "the thicker the mix the stronger the bleach," per Fashion Journal. Next, and as recommended by makeup professional Ffrench, "Coat hairs thoroughly from root to tip." Any leftover cream can be used to "cover the brows completely until you can't see them anymore." Finn recommends placing cling wrap over your brows as they develop. "Set a timer and have a look, wipe some off and see," she says. "If they aren't blonde enough re-apply and pop the glad wrap back on for 10-minute intervals." Most importantly, if you get bleach in your eyes, flush with water immediately
Keep your brows looking fresh with aftercare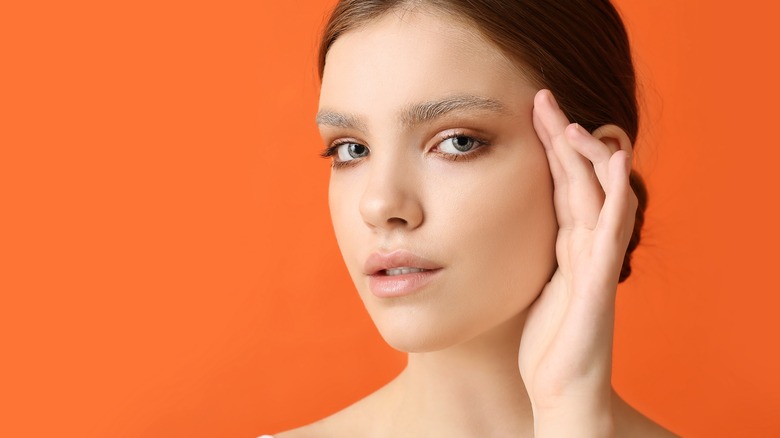 Pixel-Shot/Shutterstock
After you've completed the bleaching process and are satisfied with your new look, invest in a good purple shampoo. According to Nexxus, purple shampoo neutralizes those brassy tones that often result from bleaching, and will keep your dye job looking fresh for longer. If you're hoping to avoid potential irritation, also apply a vitamin E cream to your brows, per Madison Finn for Fashion Journal. According to Finn, "Eyebrows fall out and new ones grow. You just have to be sure you have enough new growth before you re-bleach or you could further damage the already bleached hairs." With this in mind, wait two to three months before re-applying bleach.
As noted by Bustle, the bleached brow look can also be achieved by applying a light concealer. For those hoping for a less-permanent aesthetic change, makeup can be the way to go. Though at-home bleaching is relatively simple, it's important to remember that this type of hair treatment may not be great for your skin, especially if you're going through a breakout (via Byrdie). When in doubt, call on a trusted friend to ask for support — you'll be channeling Kendall Jenner at the Met Gala in the span of an hour.