What Princess Anne Always Carries In Her Purse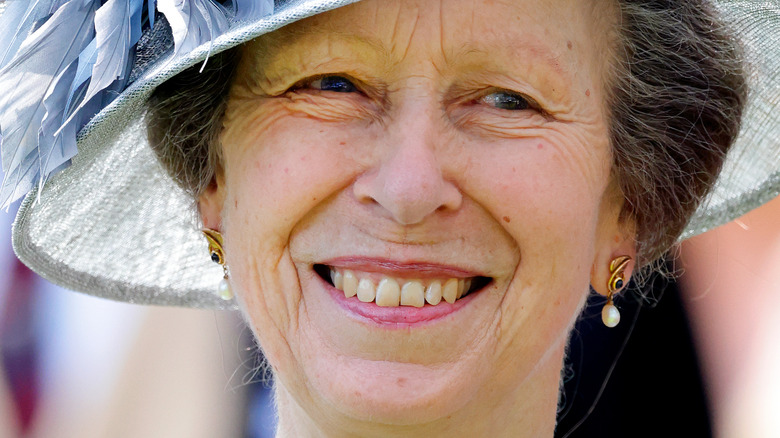 Max Mumby/indigo/Getty Images
As the only daughter of the late Queen Elizabeth II, Princess Anne has regularly made headlines over the years, giving the world a closer glimpse into her life as a member of the British royal family. She's gained quite the reputation in the United Kingdom over the course of her life, as detailed on the official website of the British royal family.
Case in point? Anne holds a number of military titles, according to the i. These include Colonel-in-Chief of the Royal New Zealand Army Nursing Corps and Commodore-in-Chief of the Royal Canadian Navy. In 2021, the Daily Mail reported that the Princess Royal also earned the title of "the year's hardest working royal" with 387 engagements. Following her mother's death in September 2022, Anne made history when she became the first woman to perform the "Vigil of the Princes" after the queen's funeral.
So what is it that fuels this remarkable woman with the energy to do all that she does? Her daughter, Zara Tindall, answered that question in the royal biography "Queen of Our Times: The Life of Elizabeth II." Part of the answer involves one simple item that Anne always keeps in her purse.
Princess Anne's purse-friendly, edible energy-on-the-go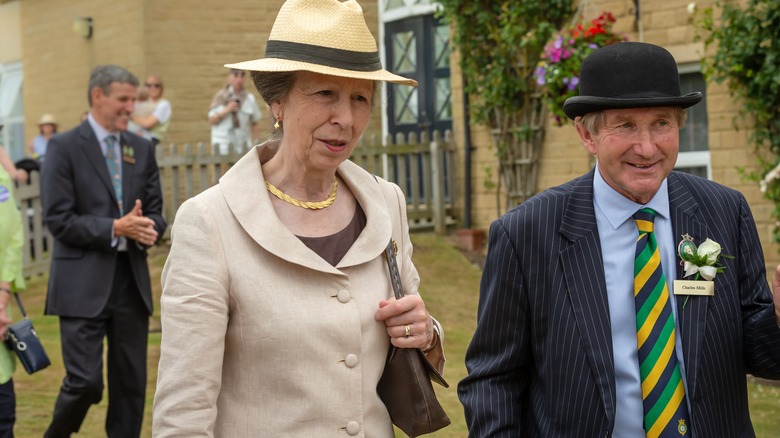 Anne Coatesy/Shutterstock
Have you ever attended a bridal shower and played the "What's In Your Purse?" game where you rack up points for having specific items in your purse? The more unconventional items tend to be worth the most points. Some games list foods like candy and chocolate as the higher-point items, but Princess Anne can one-up those items with another food, a healthier one.
In "Queen of Our Times: The Life of Elizabeth II," written by Daily Mail columnist Robert Hardman, Zara Tindall attributes her mother's health and vigor, in part, to one specific fruit that she always carries in her purse. "She always has a kiwi fruit," she said in the royal biography (via Express). In addition to being known for working hard, Anne's apparently also known for being health-conscious. Makes you think twice about carrying those M&Ms in your tote bag, doesn't it?
Packed with vitamins and minerals, kiwis provide a number of health benefits. According to WebMD, the fuzzy, heavily-seeded fruits are high in vitamin C, antioxidants, and fiber — all nutrients that benefit the immune system while stimulating health digestion. They also support heart health, among other benefits.
The other ways Princess Anne stays healthy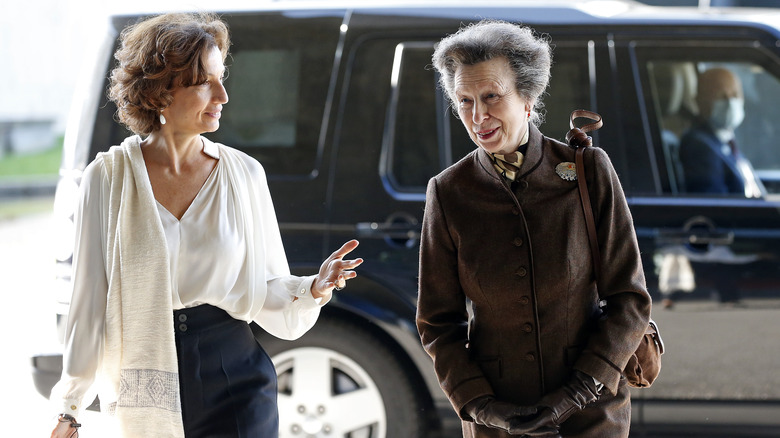 Thierry Chesnot/Getty Images
It's widely known that including fruit in your daily diet is a great way to get and stay healthy, but that's not the only way Princess Anne stays fit. In an Express interview, nutritionist Suzie Sawyer gave the world another glimpse into the Princess Royal's life, addressing how trim and healthy she looks. Although the article doesn't explicitly state what specific type of physical activity Anne engages in, Sawyer implies that she exercises regularly. "She is clearly very active, which helps with overall calorie burn and metabolic rate," Sawyer said. With so many engagements on her plate, it's possible they contribute to keeping Anne pretty active.
Darren McGrady, a former Buckingham Palace chef, also shared one of his observations of Anne. He told TODAY that while he was Queen Elizabeth II's head chef, both she and her daughter enjoyed bananas in peculiar ways. He said, "[Princess Anne] almost preferred the bananas almost black — overripe — because they digest easier." Bananas are known for their potassium and fiber content (via Healthline).
She may be a princess, but her love for kiwis and overripe bananas serve as a reminder that aspects of Anne's personal life aren't that different from those of a commoner.