Why Prince Harry Is Being Accused Of Snubbing King Charles At The Queen's Funeral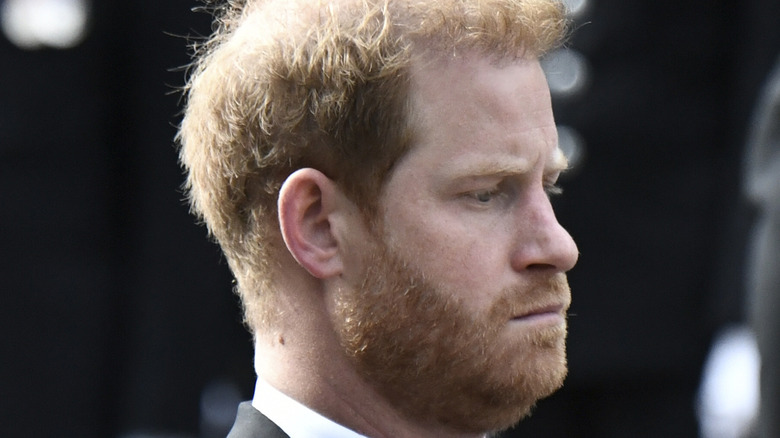 Wpa Pool/Getty Images
Prince Harry and Meghan Markle, the Duke and Duchess of Sussex, have long been blasted by the public and media alike. The level of scrutiny placed on the couple since the heartbreaking death of Queen Elizabeth II has been astonishing, though.
Growing up as a royal, Harry was subjected to an intense lack of privacy and had his every move recorded and discussed. The media's obsession with the royals shaped his life but never so intensely as when his beloved mother, Diana, was killed in a car crash after the paparazzi chased her back in the summer of 1997 (via The U.S. Sun). Harry was never the same and suffered immense loss, grief, and trauma as a result (via Today).
Now with the world's eyes locked on him and his wife during the entire week of funeral proceedings for Queen Elizabeth, some say Harry was being intentionally disrespectful to his father, King Charles III.
Some say Prince Harry wasn't singing when God Save the King played
Wpa Pool/Getty Images
People worldwide were captivated by the touching tribute to Queen Elizabeth II during her funeral on September 19. Billions tuned in to watch the service, per Newsweek, and many vocalized their observations on social media throughout the day.
According to the Daily Mail, Twitter was in a frenzy because many people were upset as it appeared that Prince Harry, Duke of Sussex, didn't sing the national anthem. They purport that when "God Save The King" was played, Harry remained tight-lipped and they felt it was a direct insult to King Charles III.
One Twitter user commented, "Prince Harry not singing God Save the King was like a petulant child throwing a tantrum!"
Another surmised that Harry is planning something sinister and wrote, " Prince Harry NOT singing the national anthem is purely down to the guilt he & Megan knows they will reveal soon. Shameful! He looks like a man pained with guilt and looks trapped like it's too late to pull out."
Prince Harry may have been having an emotional moment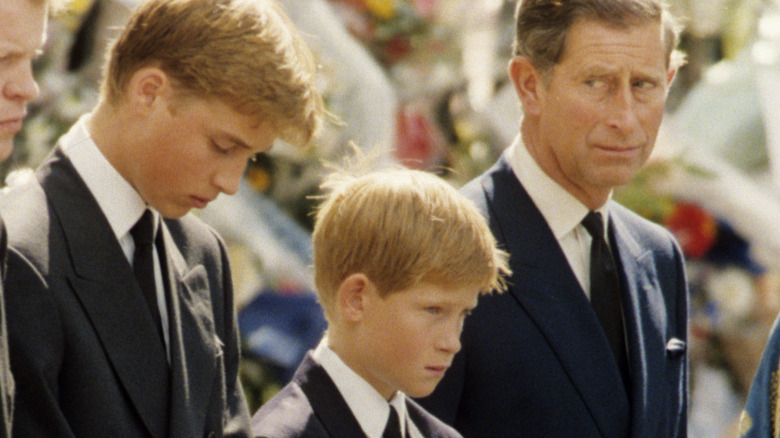 Anwar Hussein/Getty Images
In Harry's defense, a video shows his lips moving ever so slightly (via Today). and it's not possible to know what the Duke of Sussex was thinking during the funeral, which was undoubtedly a very emotional time. Royal fans were particularly worried about Harry since the queen's funeral mirrored his own mother's funeral, which was 25 years ago and was also in September and held at Westminster Abbey (via Town & Country).
Many on Twitter stood up for the duke. One person tweeted, "Harry is not a working royal and he doesn't get any money from the monarchy anymore. He is financially independent. FYI he was singing and he was also very emotional at the service. Leave him alone."
Others said that Prince Harry did at least try to sing, with one writing, "I watched the whole funeral People's Prince Harry WAS SINGING. If he stopped for a moment b/c he was upset so what. Leave him alone."
Another wrote, "Prince Edward didn't seem to be singing God Save the King either so please quit signaling Prince Harry out to cause strife and unnecessary drama/speculation."