Here's How Much Perfect Wedding Day Hair Really Costs The Bride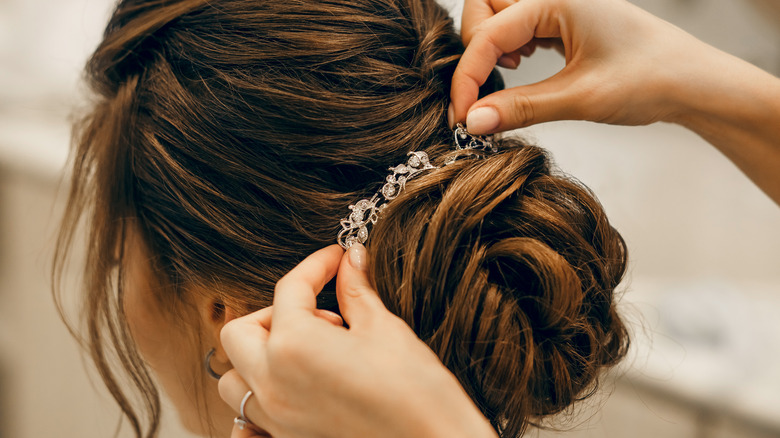 Artem Sokolov/Shutterstock
If you are newly engaged or hoping to be soon, you likely have all things wedding on your mind. But before you start adding ideas to your Pinterest page or mood board, the first step is to determine your budget. We all know weddings are expensive. In fact, according to The Knot, the average wedding cost was about $28,000 in 2021. This number can be hard to wrap your head around, especially if you are paying for some, or all, of the wedding on your own.
In order to still have the wedding of your dreams, you'll have to decide on your must-haves. You'll want to start with the big things, like the venue, the food, and your attire, but don't forget about the small details as well. Things like the cake, the invitations, and even the cost of an officiant can quickly add up, but you can budget for these things by going DIY or asking a friend to help you out. But for the bride, a non-negotiable is often their appearance on their big day. If you are dreaming of the perfect wedding day hair, here's what you can expect to spend.
Wedding day hair involves add-on costs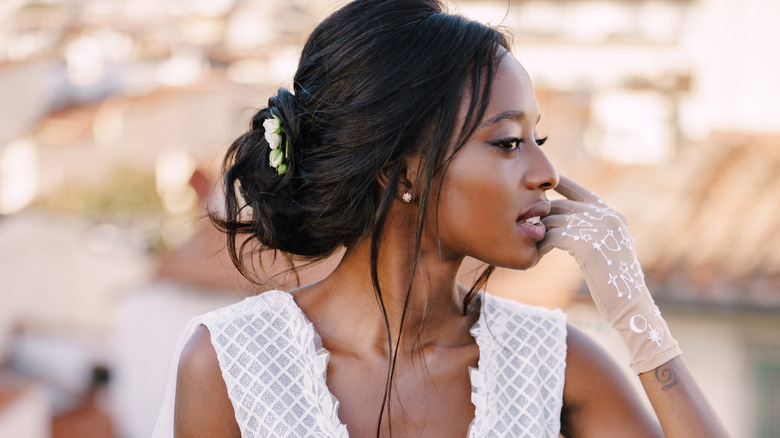 nadtochiy/Shutterstock
Your wedding day will be documented for the rest of your life and beyond, so it's important that you love the way you look. While some brides may opt to do their own hair and makeup (props to you!), those that wish to outsource it should understand the costs involved before booking a stylist. According to Brides, wedding hair usually costs the bride anywhere from $100 to $350, but this number can vary greatly.
The biggest factor when determining the cost of your wedding hair is the style you want. While it varies between hairstylists, most will charge more for a complicated updo than for a curled style with the hair left down. The Knot also recommends asking your stylist about extra costs. Many will charge for their transportation to your location, whether that involves taking a train, an Uber, or their own gas. But even with the cost, it's highly recommended a bride factor in a stylist for their big day as the benefit far outweighs any tailoring to your budget.
The bride may also need to factor in the bridesmaids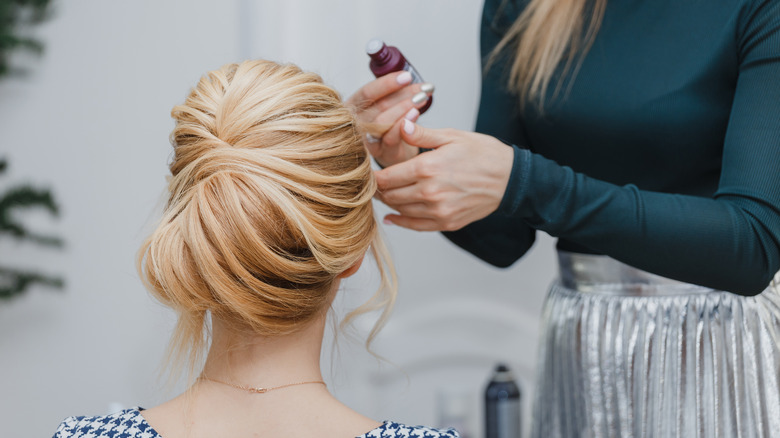 frantic00/Shutterstock
All weddings look different. In some, the bride's family may throw a lavish ceremony, leaving the budget open and more flexible to pay for things like the bridesmaid's hair and makeup costs. If you are a bride with a budget that allows for this, you should expect to pay around $150 per bridesmaid, per Zola. This number can change depending on the style you are hoping to achieve and the number of bridesmaids you have.
If you can't swing this, there are other options. According to The Knot, you can choose to split the costs of beauty with your bridal party, offering to pay for hair while they pay for makeup or vice versa. In many weddings, the bridesmaids are expected to pay for their own beauty altogether, which, according to event planner Jordan Williams, is part of the obligation when you say "yes" to being in a wedding. But, if you do go this route, consider giving your bridal party the option to have their beauty done by a professional or to do it themselves, as you might not be aware of their financial situation.