Five Below's Great Prices Led To A Fantastic Post-COVID Recovery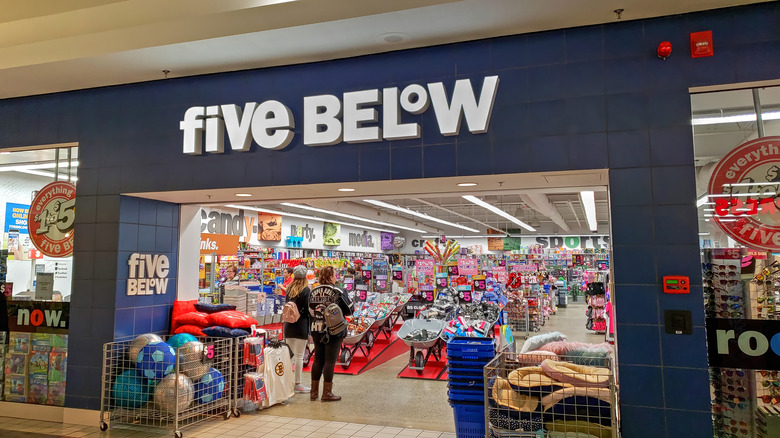 QualityHD/Shutterstock
"Let go & have fun" — not only is it great advice, it's a great slogan. Retailer Five Below coined the phrase, encouraging shoppers to indulge in the fun finds and trendy merchandise that line the shelves of their stores.
Per their website, Five Below calls themselves a "high-growth value retailer" that provides trendy products at a reasonable price. Five Below is more than just a name, it's a promise to shoppers that a majority of their products range from $1 to $5. Five Below keeps its prices low so that shoppers can spend more time enjoying their products and less time worrying about affording them. The value retailer carries everything from home decor to sweet treats, making it the ideal shopping destination for kids and kids-at-heart. According to Money Inc, the company was founded in 2002 by entrepreneurs David Schlessinger and Tom Vellios in Philadelphia, Pennsylvania. Today, Five Below has expanded across the United States, with nearly 1,200 stores in just over 20 years (via Zippia).
When the pandemic hit in 2020, most retailers had to close their doors to the public, causing many companies to struggle upon reopening. But according to foot traffic data, Five Below is doing just fine. The List created a graph via Data Herald that tracked foot traffic trends at Five Below over the past two years, and results show that the value retailer is as popular as ever.
Five Below survived the pandemic, but can it handle inflation?
Five Below's pandemic recovery is exceeding previous records, and shows no sign of stopping. According to The List's graph, pre-pandemic visitor averages ranged from 100,000 to 150,000, with a spike of over 350,000 visitors during the holiday season. After the COVID-19 shutdown in the spring of 2020, Five Below's foot traffic quickly rose back to previously expected numbers and maintained their averages through the summer. In the past year, foot traffic has reached over 200,000; the company is surely anticipating another spike to over 400,000 visitors during the 2022 holiday season.
Post-pandemic shoppers seem to favor Five Below even more as they navigate rising inflation costs. With essentials like gas prices and groceries at an all time high, many consumers favor value retailers over traditional brands and department stores, looking for savings wherever they can, per Retail Dive.
The location of Five Below might also contribute to its post-pandemic success. Money Inc reports that the company strategically places storefronts mostly inside strip malls and large shopping centers, enticing a larger audience to buy their products instead of competitors nearby who are more expensive. The store sees more casual shoppers in a heavily trafficked area that may find themselves inside a Five Below, even if they had no intention of visiting when they began shopping.
So next time you're looking for the best place to shop on a budget, look no further than Five Below.