Parenting Expert Has Something To Say About Kate Middleton's Interactions At The Queen's Funeral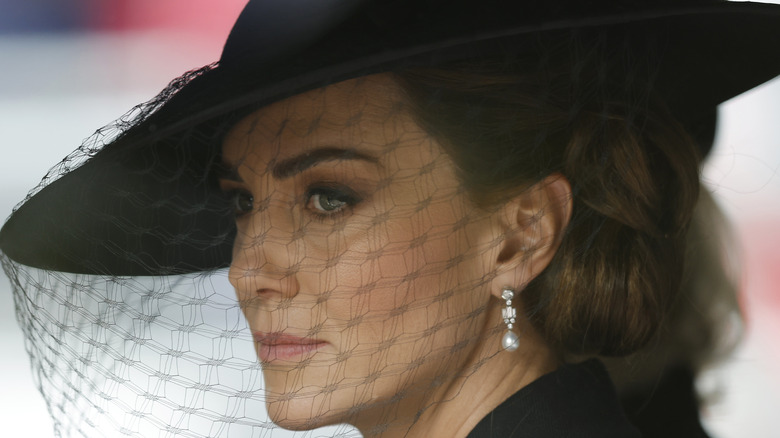 Wpa Pool/Getty Images
The day after Queen Elizabeth died, King Charles III made his first address as the United Kingdom's brand new monarch. In it, he named his eldest son the Prince of Wales, which means there's a new Princess of Wales in Catherine, who is using the title for the first time publicly since Diana Spencer. The title change also means a name update for their three children; the names of Prince George, Princess Charlotte, and Prince Louis now end in "of Wales" instead of "of Cambridge," per the royal website. This might cause a change at their school, as they previously were referred to using the last name of Cambridge, according to People.
Their new names were used in the Order of Service for Queen Elizabeth's funeral — both Princess Charlotte and Prince George, the eldest children of William, Prince of Wales, and Catherine, Princess of Wales, attended the state funeral and committal service of their great-grandmother Queen Elizabeth, though the youngest child Prince Louis wasn't in attendance. The young prince and princess walked into Westminster Abbey with their parents in procession behind the queen's coffin, and people online were impressed at how George and Charlotte behaved during the service. One funeral guest didn't hold back her praise about the young royals, telling People, "They looked like really incredibly well-behaved kids but a little like kids, a little like, 'wow, this is a lot.' For little Prince George, this will be him one day, and he doesn't really know that yet. And then I thought, 'Ah, he's just lost his great-grandmother.'" 
Now, a parenting expert speaking out about how the pair's mother interacted with them at the event. 
According to Gifty Enright, Kate Middleton is a confident mother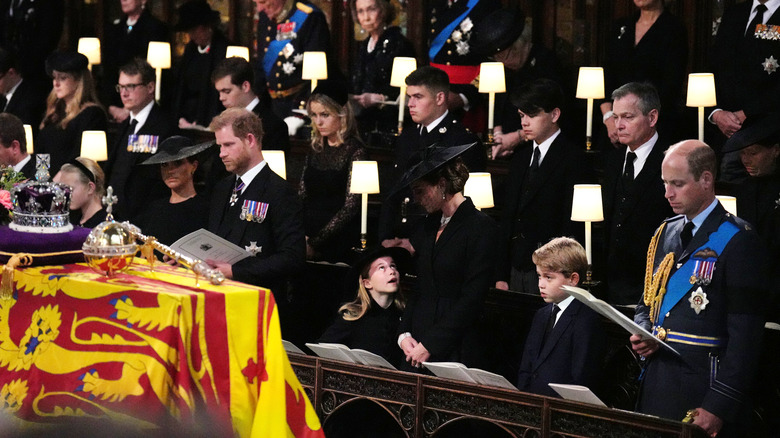 Wpa Pool/Getty Images
Millions of people around the world watched Queen Elizabeth's funeral and committal service, according to Deadline. In fact, the event broke a record previously held by the moon landing in 1969. But while countless royal watchers were glued to their screens, members of the royal family had front-row seats. This includes the second and third in line for the throne, Prince George and Princess Charlotte. During the lengthy and historic service, their mother sat between them, and parenting expert Gifty Enright told The U.S. Sun what she noticed about Princess Catherine's parenting skills.
She first noted that bringing a grieving 9-year-old and 7-year-old to a funeral had the potential to go awry, which makes the decision "nothing short of courageous" and "truly shows how confident they are as parents." During the service itself, the Princess of Wales gave her kids "reassuring pats and squeezes here and there, when she thought the children needed it. This again was Kate showing how confident and intuitive she is as a mother." The display received high praise from Enright, especially because it fought against the common parental urge to shield children from negative experiences and emotions. "That is how resilience is built in children, and both Kate and William seem to do it effortlessly," she said.
The Princess of Wales is preparing her children for their future roles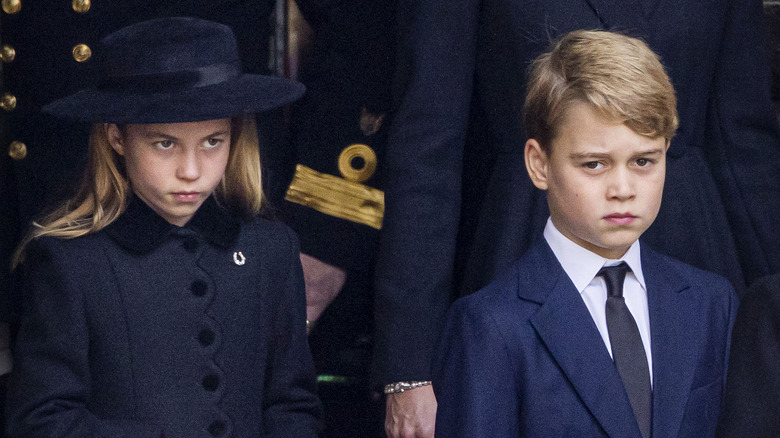 Patrick Van Katwijk/Getty Images
Attending the queen's funeral provided Princess Charlotte and Prince George with an opportunity to grieve their great-grandmother, whom they've spent their entire lives near. As Enright put it, "This normalizes their grief and validates their own pain and helps them navigate their confusion around death." However, there was another benefit the chance to attend the historic event provided. 
The fact that it was such a large, public ordeal gave them an opportunity to practice regulating their emotions, something they'll have to do throughout their lives in the public eye. "This is fantastic training for their future roles," Enright said, "and the earlier they start, the easier it will be for them. There is no better training for the job ahead than attending their grandmother's [sic] funeral at such a young age with the full glare of the world's media on them."