Foot Traffic Data Is Showing Bad News For IKEA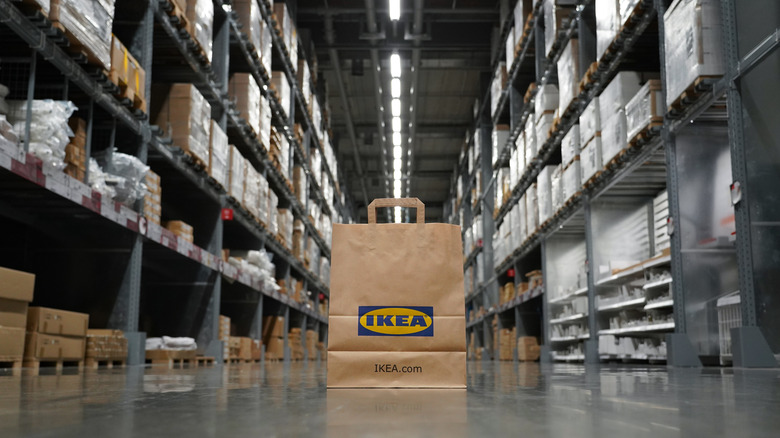 NP27/Shutterstock
Whether you're moving out of your parent's house for the first time or you're in need of a living room revamp, IKEA has everything you need to turn your house into a home. Ingvar Kamprad, the founder of IKEA, began selling furniture through a catalog that allowed people to purchase home decor items without ever leaving their home (via Insider). The first in-person shopping location opened in Älmhult, Sweden in 1958. Per IKEA, the furniture company gained so much popularity that other Swedish retailers felt intimidated and tried to sabotage IKEA's suppliers. Luckily, the company only grew, expanding to the US in 1985.
IKEA's products are cheap and reliable, although it may take you quite a while to put their products together. According to Insider, "flat packing," the process of selling furniture in pieces and having shoppers put together the products themselves, keeps shipping and labor costs low, allowing IKEA to sell products at an extremely affordable price.
Despite the inconvenience of having to put together every piece of furniture, Forbes reports that today, IKEA is one of the world's largest furniture retailers. But is the business model sustainable? Can IKEA adapt to changing consumer trends and keep their customers coming back? The List created a graph via Data Herald that tracked foot traffic trends at IKEA over the past few years. According to the data, IKEA is seriously struggling — and even the promise of delicious Swedish meatballs may not be enough to get shoppers through the door.
Can IKEA tempt shoppers back to their stores?
Shopping at IKEA can feel like a trip to an amusement park: there's a place for kids to play, a ton of things for adults to look at, and you follow a maze of products until you end at the delicious food court you've been smelling since the lamp aisle. But the novelty of IKEA may be wearing off amongst US shoppers. According to The List's graph, foot traffic has fallen significantly in the past year, with a steady decline well through September 2022. Surprisingly, the COVID-19 pandemic closure did not seem to affect IKEA's recovery too significantly; there was a drastic dip in the spring of 2020 to nearly zero visitors, but the following summer, foot traffic rose to previously expected averages, with around 200,000 in-store shoppers each month. It's not until April of 2022 that a noticeable decline emerged, with monthly visitor averages falling to less than 100,000. Shoppers hesitant to visit IKEA may be noticing higher prices and the rising inflation trends happening in the United States.
According to CNBC, IKEA raised their prices by roughly 9% in the past year as material and transport costs continue to rise. While demand was high during the pandemic when people were quarantined and reconfiguring their homes, this year consumers are less likely to purchase items for their home and more likely to spend their money on essential goods and experiences, especially as prices continue to climb.