The Rumors Surrounding Prince Harry Snubbing King Charles Have Officially Been Cleared Up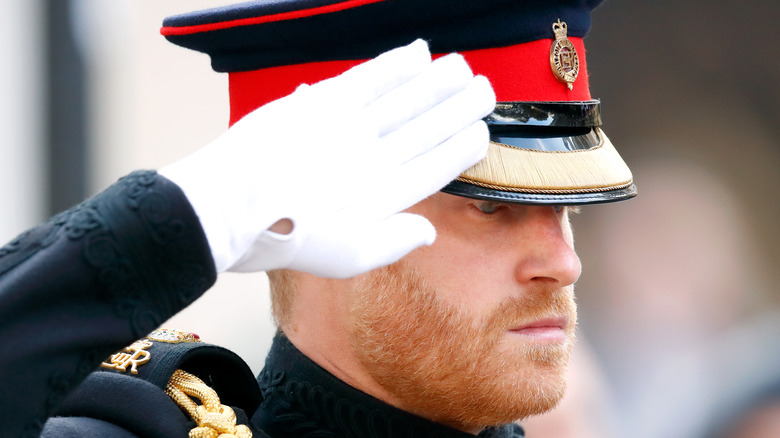 Max Mumby/indigo/Getty Images
The focus, since the queen passed away on September 8, should've resolutely been on collectively mourning the loss. But, with royal defectors Meghan Markle and Prince Harry back on British shores, they quickly became the story, whether intentionally or otherwise. Meghan and Harry's seating arrangement at the queen's funeral raised eyebrows, while there was also major drama surrounding whether Prince Harry would be allowed to wear his military uniform at funeral events.
Despite falling in line, it seemed the Duke and Duchess of Sussex were going to remain on the outs with his family, not least because they were invited and then swiftly un-invited from a reception with world leaders. Newsweek clarified it was an honest mistake, but sources admitted to The Telegraph that Meghan and Harry were left flummoxed regardless. The official reasoning behind the move was that only working royals were allowed to attend, but fans of the couple didn't quite buy it.
With renewed interest in The Firm's increasingly strained relationship with the Sussexes, one widely-circulated story is being swiftly disproven.
King Charles had already left by the time his youngest son arrived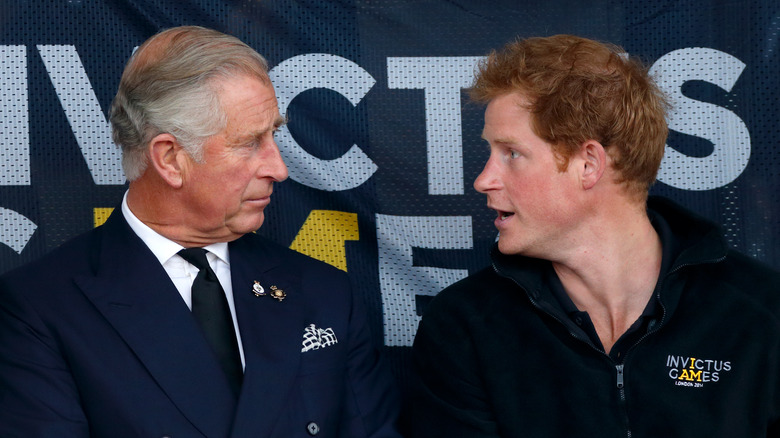 Max Mumby/indigo/Getty Images
At least one destructive royal rumor has been put to rest. Page Six confirms that widespread reports about Prince Harry snubbing an invite to have dinner with his estranged father, King Charles III, are completely inaccurate. The Irish Sun previously revealed that the Duke of Sussex was livid about his wife, Meghan Markle, being prevented from joining himself and the rest of the royal family up in Balmoral.
He ended up missing an RAF flight to Scotland and, as a result, Harry didn't get to say his goodbyes to the queen before she passed. The prince was so angry when he finally arrived that Harry refused to join Charles, Queen Consort Camilla, and Prince William for dinner. He also left first thing the next morning. An insider explained, "Charles has an open invitation for Harry to dine with him whenever he is in the country."
They added, "It was a massive snub. And he got out of Balmoral at the earliest opportunity to catch the first commercial flight back to London." Page Six clarified, however, that Charles had already absconded to his own private home up north by the time his son arrived and therefore didn't expect to have dinner with him. In fact, neither the king nor William even ate at Balmoral that night.
Where do the Sussexes and the other royals go from here?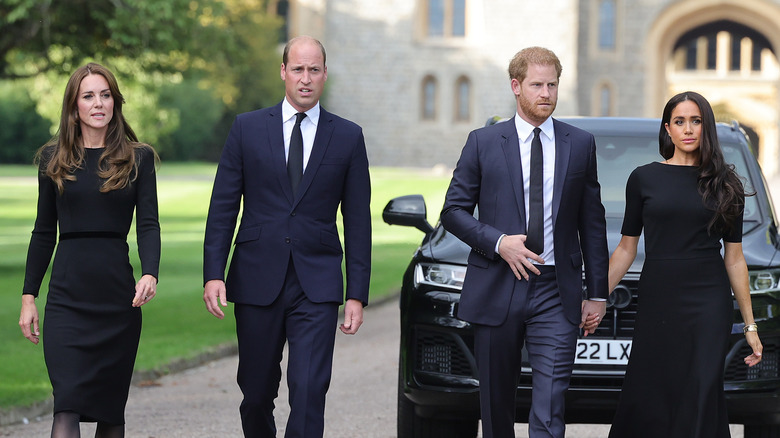 Chris Jackson/Getty Images
Regrettably, tensions are still high between Prince Harry and the rest of his extended family, particularly with King Charles and Prince William. According to Gayle King, a close friend of the Duke and Duchess of Sussex, while "there have been efforts on both sides" it's going to take a lot more to make things right between them, as she told Extra. King contended, "Big families always go through drama, always go through turmoil."
On where they go from here, the TV icon wondered whether their shared loss brought them closer together or drove the group further apart. Either way, "It was good to see Harry standing with his family." In an excerpt from her book "The New Royals," published in Vanity Fair, author Katie Nicholl revealed the Duke of Sussex had actually tried to make amends with his father and Queen Consort Camilla, but it didn't go down too well.
As Nicholl wrote, when Harry suggested bringing in a mediator to help them assess the damage, Camilla scoffed at the idea and that was that. While, as King noted, it was heartening to see the royals back together, there still seems to be a long way to go, and a lot of work to do, before they can fully reconcile their differences. At the very least, fans can take solace in the fact that Harry didn't ditch his father for dinner.