The One Reason Prince William Might Never Forgive Prince Harry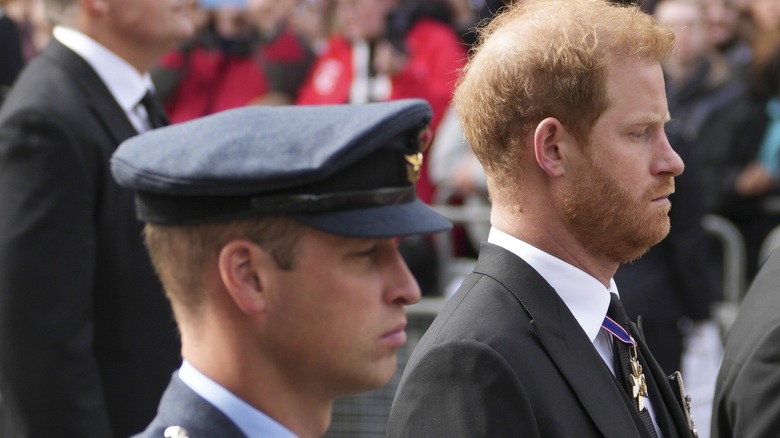 Wpa Pool/Getty Images
The heartbreaking death of Queen Elizabeth II forced William, Prince of Wales, and Prince Harry, Duke of Sussex, to show a united front as they mourned the loss of their grandmother. The brothers — along with their wives, Catherine, Princess of Wales, and Meghan Markle, Duchess of Sussex — surprised royal watchers when they greeted mourners together outside of Windsor Castle after William reportedly reached out to the Sussexes, per the Mirror. 
"It was awkward. Both couples found it hard," an insider told People. "They were in a stoic spirit of just getting through it for the queen."
Still, William continued to offer olive branches to his brother. While Harry and Meghan were regulated to the second row at the queen's funeral service at Westminster Abbey, the future king was seen encouraging the couple to sit with him and Kate, as well as their children, Prince George of Wales and Princess Charlotte of Wales, at the queen's committal service at St. George's Chapel. "William knew very well that it was no time to be holding onto grudges or distancing himself from his brother," a source told Us Weekly. "They needed to put on a united front and pay their respects for her sake as well as the monarchy as a whole and the people she served so tirelessly during her reign."
But while William was willing to put his differences with Harry aside to honor Queen Elizabeth, one source doesn't believe he'll ever truly forgive his brother.
William is hurt that he lost his 'wingman' Harry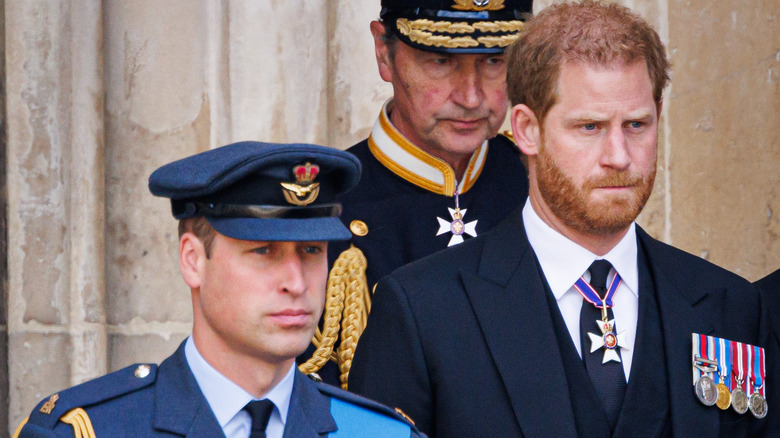 Patrick Van Katwijk/Getty Images
While royal watchers were hopeful that Queen Elizabeth II's passing would heal the rift between William, Prince of Wales, and Prince Harry, Duke of Sussex, one source claims that William has been unable to forgive his brother for stepping down from his royal duties in 2020. 
"William simply can't forgive [Harry], not just for his behavior and what he's done and how he's done it, but look at how much now rests on William," Katie Nicholl, author of "The New Royals – Queen Elizabeth's Legacy and the Future of the Crown," said on "Dan Wootton Tonight." "He always thought Harry would be his wingman, now he's doing it on his own. Thank goodness he's got Kate by his side."
As for hopes of a reconciliation, sources have revealed that William and Catherine, Princess of Wales, reportedly has no plans to see or speak to Harry or Meghan Markle, the Duchess of Sussex, until after the release of Harry's memoir. "I think it's likely that Catherine and William will try to avoid any contact with Harry and Meghan until they know the contents of Harry's memoirs and their Netflix documentary," royal biographer Angela Levin told The Sun. "They have lost their chance of being trusted as the chance is they will use any conversation. It's their own fault for vastly exaggerating and being rude."
Diana Spencer would be devastated by the feud, an expert claims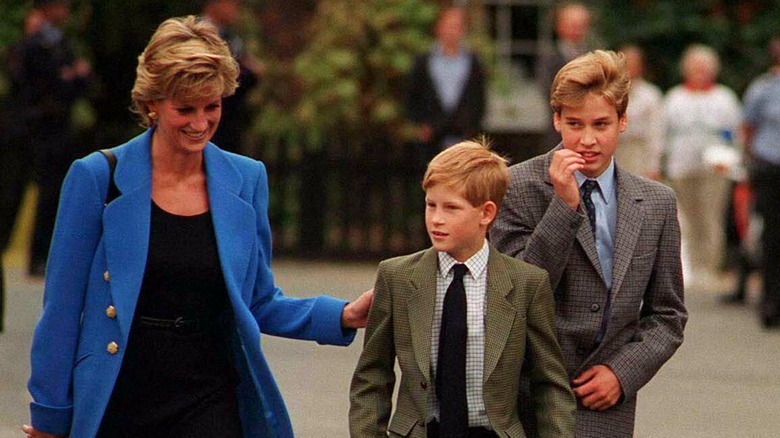 Anwar Hussein/Getty Images
Seldom can we talk about Prince William and Prince Harry without thinking of their mother, the late Diana Spencer. Killed in a tragic car accident in Paris in 1997, Diana — who was commonly referred to as the people's princess — made it clear throughout her public life that she considered herself a mother above anything else. "I live for my sons. I would be lost without them," the late princess said of her sons, further elaborating that she led from the "heart, not the head" (per People). Given her dedication to William and Harry, some royal experts have weighed in on the royal feud, asserting that Diana would be devastated by the rift that has driven her sons apart. One such expert is BBC's former royal correspondent Jennie Bond, who spoke to GB News about the ice-cold temperature that exists between the Prince of Wales and the Duke of Sussex. 
"I think she would have sorted them out somehow. I don't think this feud would have happened, or [at least] got so bad," Bond said, per Express. "She'd be mortified that William and Harry have got themselves into, what [biographer Andrew Morton] calls, an emotional tangle."
Will the brothers ever put their differences aside for the sake of their families, or will they continue to go down separate paths? Only time will tell.