Royal Staffers Make Brand New Claims About Meghan Markle's Behavior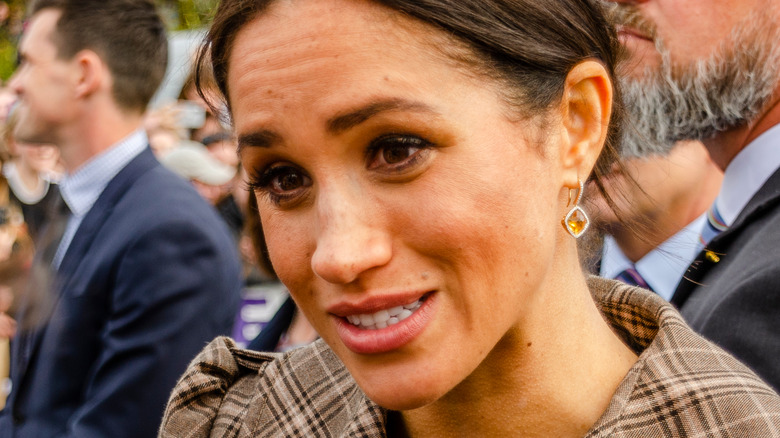 NataliaCatalina.com/Shutterstock
Another day, another acutely unflattering accusation about Meghan Markle. This time, it's a new book about the Duchess of Sussex that is throwing shade her way. The Valentine Low-penned tome, "Courtiers: the Hidden Power Behind the Crown," doesn't cast the former actress in a flattering light whatsoever, making several claims that will only further the theory that Meghan is a diva, despite her protestations about the use of that particular label.
Of course, this isn't the first book to try and take down the duchess, with Tom Bower's recent biography, "Revenge: Meghan, Harry and the war between the Windsors," thinly veiling the author's sinister plan to make the Sussexes look bad — Meghan in particular. Bower's account of the Duchess of Sussex included claims that she refused to reconcile with her father despite pleas from senior royals, including King Charles III, despised being compared to her sister-in-law, the new Princess of Wales and that Prince Harry's school friends found Meghan to be humorless and pretentious.
Now, Low's book adds to the body of work supporting the theory that Meghan is, well, pretty awful.
Meghan and Harry were allegedly insufferable toward staff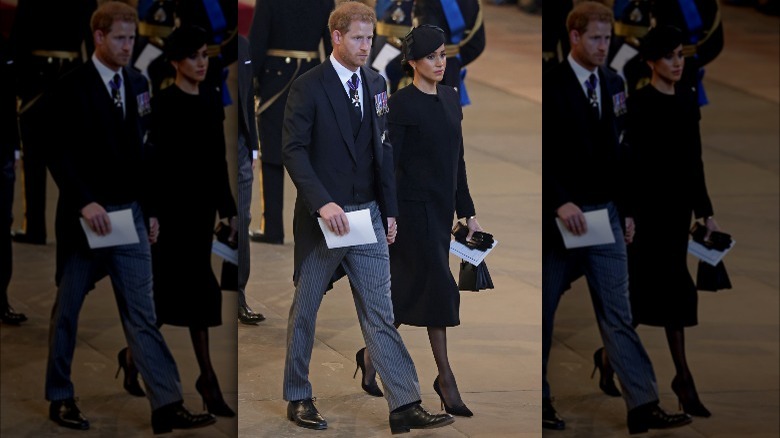 Wpa Pool/Getty Images
In excerpts from the new buzzy book on the block, Valentine Low of The Times alleges that the duchess was a nightmare when it came to how she treated staff, and even balked about not being compensated for carrying out royal duties (via Newsweek and Page Six). This would have been in 2018, right after Meghan Markle and Prince Harry said "I do" and engaged upon an Australian tour. 
According to a source who talked to Low about the tour, the Duchess of Sussex sure seemed like a monster. "Although she enjoyed the attention, Meghan failed to understand the point of all those walkabouts [and] shaking hands with countless strangers," the insider said (via news.com.au). Another so-called "insider" told Low about how Meghan and Harry acted toward those who worked for them, "There were a lot of broken people."
It's important to note that the sources quoted in the book are anonymous, which means the claims about the Duke and Duchess of Sussex's behavior are unsubstantiated. But if what Low writes is true, well, Meghan is not nearly as innocent as her accounts of mistreatment from "The Firm" would lead royal fans to believe.
Meghan Markle's private secretary was especially tortured according to the book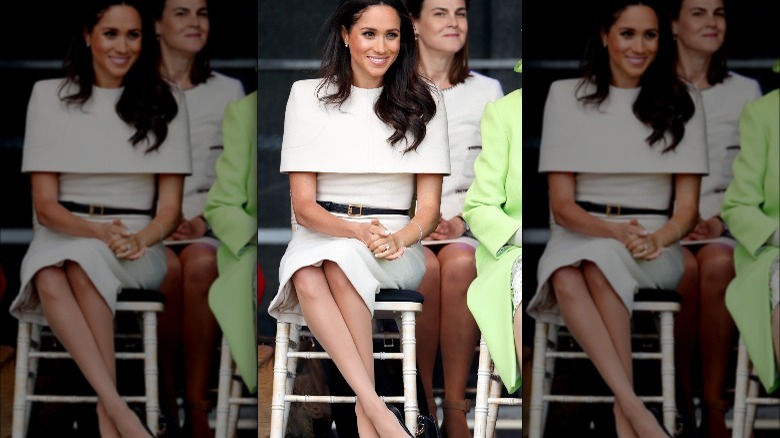 Max Mumby/indigo
The quotes by former staffers in Valentine Low's new book about the royals are pretty damning for Meghan Markle and Prince Harry, whose choice to exit the royal family had another author claiming left the Queen heartbroken. "Every ten minutes, I had to go outside to be screamed at by her and Harry," one staffer told the author, adding this treatment went on and on (via Newsweek).
Indeed, the duchess reportedly put down staffers and acted in a very condescending manner according to the new book (via Page Six). One account claims that private secretary Samantha Cohen was especially afflicted by the Duke and Duchess of Sussex behaving badly, with a source saying she felt like she was working for "teenagers" and was "miserable."
Could this be why Cohen stepped down in 2019 after having worked for the royals for 20 years (via Harper's Bazaar)?
Meanwhile, Low also alleges that attempts to correct Meghan's insufferable manners fell on deaf ears, with the Duchess of Sussex saying when confronted, "It's not my job to coddle people."
Ultimately, excerpts published in The Times ahead of the book's release next month do not do Meghan any favors, including claims that she left staffers "terrified," "shaking" and even feeling abused (via Sky News).